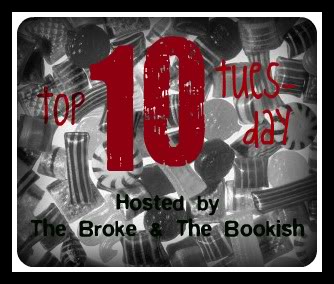 Click HERE to check out Top Ten Tuesday
at The Broke and the Bookish
Ten Books On My Wishlist For Santa!
Today I cheated and I'm not sorry!
I have one series that is so, so high on my wishlist – the entire thing!
The rest of my list is made up of backlist titles that would finish series that I have sitting on my shelves, unfinished.
Daughter of the Forest (Sevenwaters Series) by Juliet Marillier — This entire series is at the VERY TOP of my wish-list to Santa! I want all six books because these are books that I have and will be re-reading for a long, long time. I don't own a single one of them but once I start adding this series to my shelves, it will be a happy day around this place.
Cinder by Marissa Meyer — I have the second and third books in this series on my shelf, but I'm missing the first! I have a Kindle copy, but no actual print copy. For shame!
Nash, Rowdy, and Asa by Jay Crownover — I own paperback copies of the first three books in this series and I love them! I'm behind on acquiring these books – the next three are on my wishlist for Santa!
*****************************************************
My list is full of backlist titles today because I have quite a few unfinished series on my shelves and I'd like to fix that!


What's on YOUR wishlist for Santa?