Photo Credit goes to Broke and Bookish for
this rad-looking lil yellow and pink square!
Thanks for sharing, y'all!
Click HERE to check out Top Ten Tuesday
over at The Broke and the Bookish

Ten Goals for 2014!
(Bookish, NonBookish, or a Blend)
Note: I do not believe in resolutions. I don't keep them and I believe that they set me up for failure from the beginning. I choose rather to set goals, and I'm happy that this Top Ten Tuesday allowed us the wording resolution OR goal. This is my own personal believe and not the thought of anyone else.
**************************************************
Bookish:
1. I'd like to keep up with this book blog because I love it so much, which means bouncing back from a yucky blogging slump that was out of my control. It's really hard to catch up! Not only that, it's hard to find a groove of reading other blogs while catching up. I WILL FIND THIS GROOVE.
2. I'm pretty happy with the way I read and my reading habits. I don't want to change anything in that area.
3. TRY TRY TRY to attend bookish events in 2014. I plan to go to BEA in NYC again and I'd love to also hit some that are in some other places, even if travel is involved. YES I realize this is a pretty dang big goal.
4. Organize my Goodreads shelves the way I want them to be. I've been meaning to do this for such a long time. Just the other day I fixed it so my updates will not show up in anyone else's feed, SO I HAVE NO EXCUSE NOT TO GET STARTED. Let's do this thing, Asheley. Get on it.
**************************************************
Semi-Bookish & Non-Bookish:
5. Keep chugging along with my new blog project, Capes and Coffee. I recently started this newer blog based on several things – mainly because: I wanted more happiness in my life, my life is changing, and I'm reading The Happiness Project by Gretchen Rubin. It has become a place for me to really be transparent about myself, which is a little scary and a little crazy, but I want to keep up with it and see where it goes. It helps me clear my head.
Still building it. Still ironing out those kinks.
So far, all discussion: mostly personal but I have fun stuff in draft too.
100% raw and unplugged.
The link is above this picture.
6. Keep working on my Tumblr. I initially just wanted it to be an extension of my book blog, but it has really become a giant pot of…things I like. I have recently jazzed it up a bit after letting it sit for a while and I want to build it up a little bit because I like…tumbling? Is that what you would call it?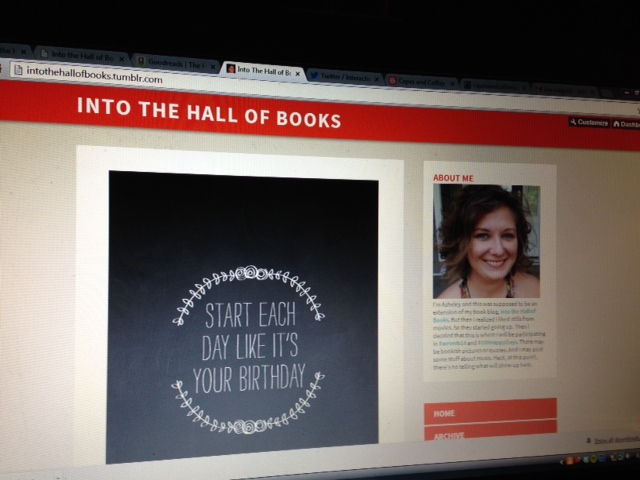 Um, go check it out if you want.
And if you have a one, let me know in the comments!
I love other interesting Tumblr pages!
The link is above the picture.
6. Stick with #100HappyDays for 100 Days. The challenge is simple: Can you be happy for 100 days in a row? Submit a picture every day of some thing in that day that made you happy. Seems simple, right? The website claims that 71% try but do not complete this challenge, citing lack of time. WHAT? I hope I can do better than that. I began yesterday and chose to put my pictures up on my Instagram. They may float around elsewhere too. More happiness is a goal of mine in 2014, so this seemed like a fun challenge to go along with it.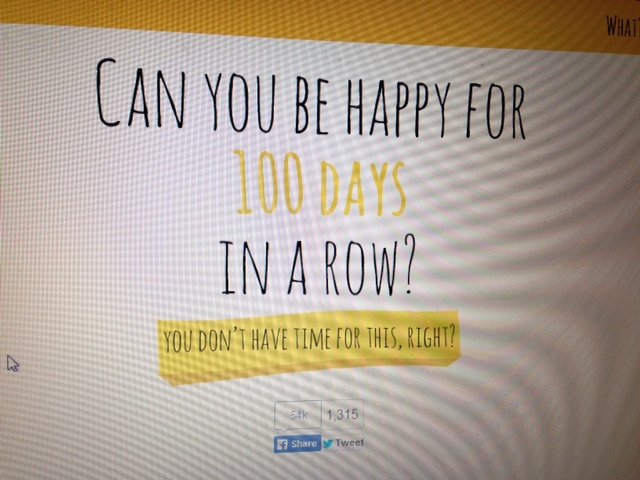 Check out the challenge HERE and join it too.
You can be happy for 100 days, right?
My first #100HappyDays photo!
Follow my challenge on my Instagram
:

7. #weVerb14 – Stick with #weVerb14. The best way I can explain what this is except that it is a way to look back on the past year and to look ahead at the coming year. The website gives you these small prompts (Day 1 was to compose a haiku for 2013 and one for 2014) and you work on it at your own pace, however you want. I have decided to put my #weVerb14 stuff up on my Tumblr.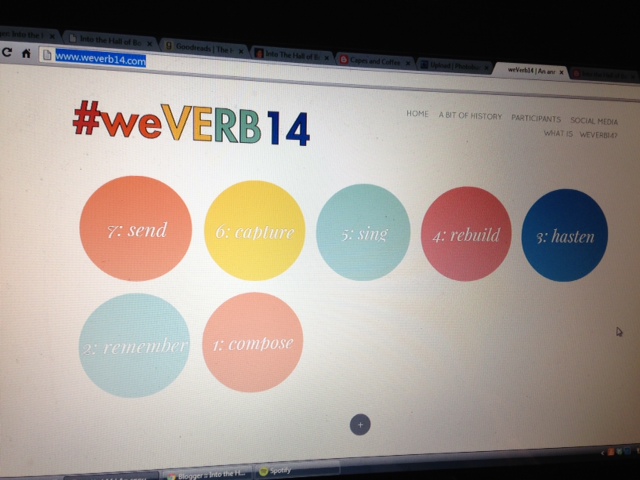 Check out the website HERE.
My first #weVerb14 post went up yesterday!
8. Continue with a healthier lifestyle: Eat even healthier. Run more. Amp up my exercise.
9. I have a burning desire – BURNING – to learn to play banjo in 2014. I'm currently looking for a used banjo to take lessons on/with. THIS IS NOT A JOKE.
10. I want to be a more positive influence to people in 2014. I've been through some tough sh$t in 2013 and if I can be an encouragement to at least one person that is going through similar issues – well, I won't hate 2013 so much. I won't look back in anger, like the old Oasis song says.
**********************************************************
Since I'm reading The Happiness Project by Gretchen Rubin,
I'm working on a little happiness project of my own,
which is kind of what #5 is about. BUT ALSO, based on that book, I have written out a list of GOALS FOR MYSELF for this year:


Some are BIG.
Some are kind of MEDIUM-SIZED.
Some are really EASY.


Those goals are ones that I haven't really shared with anyone yet. I've kept them to myself, close to my heart! One day I'll open up about them, perhaps when I'm a little less afraid of being so dang transparent! But I'll be sharing them on my other blog space, Capes and Coffee.

Leave me your link so I can visit
and check out other goals lists!
I might find a few that I'd like to try.
**************************************************
HEY NOW, Check out the giveaway for BEING SLOANE JACOBS by Lauren Morrill that I have running right up on the right top corner of this page! Or click HERE to enter.