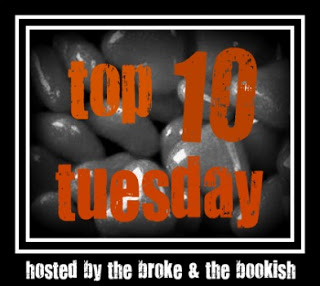 Click HERE to check out Top Ten Tuesday
at The Broke and the Bookish
Julie Kagawa's Iron Fey series has one of my favorite
settings EVER. I want to visit the Nevernever even though things there
are likely to be beautiful and also eat me, capture me, or burn me.
Pure by Julianna Baggott & Struck by Jennifer Bosworth
are two of my favorite apocalyptic-ish settings ever. So vivid in my head,
these books read like action movies and I loved it each time I read them.
Bethany Griffin's Masque of the Red Death has a setting so lush and vivid –
it almost feels like it is living and breathing, like it is another character.
One of the best I've read in a long time.

Daughter of Smoke and Bone by Laini Taylor is not only a basically perfect story,
but the dual-setting of Prague and Eretz is perfection as well.
Railsea by China Mieville gave a dusty, stark, gray, metallic life to the
apocalyptic salvage ruins where Sham had his adventures.

The setting is large in Patrick Rothfuss' The Name of the Wind. I spent months
on this book and because of this, I feel like I can almost describe
every setting in this book near-perfectly.
Cormac McCarthy's The Road is probably the very best example of a
post-apocalyptic wasteland. This book screams ashes, gray, dust, barren,
wasteland, sadness, hunger, everything a post-apocalyptic countryside should be.

John Connelly's The Book of Lost Things is a brilliant take on classic fairytales.
It's a child's odd adventure through a land where he meets characters we know,
but the setting is way off/kind of crazy and the characters are too.
It's perfectly realized with Connelly's style of writing.
Nobody does world-building like Paolo Bacigalupi.
Ship Breaker is claustrophobic and gritty and metallic and sandy. Perfect.

My Life Next Door by Huntley Fitzpatrick is an odd addition to this mix as
the only contemporary, but when we're talking settings – the setting of this story
is perfect. I could easily picture myself in every single scene,
be it either of the homes or any of the other scenes of this book.
Not talking world-building here, but the settings
are done with perfection on each and every page,
which is amazing coming from this debut author.
I was astounded by the skill with this book to transport me to whatever
place the characters were visiting.