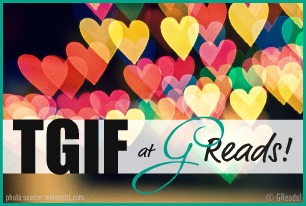 Ginger at
GReads!
created this fun weekly event called
TGIF at GReads!
to re-cap the week and ask us fun questions. This week she asked us this:
Reading Challenges:
Did you sign up for any this year?
How has your progression been?
Yes I did, Ginger! I actually signed up for two challenges: the Award Winning Reads Challenge and the Dystopia Challenge.
*******************************************
I *adored* this challenge so, so, so much! I read Newbery, Printz, and Alex Award winners and honors books anyway, so this was just plain fun for me. I was all geared up to finish as I planned when Hurricane Irene came through. I had two Newbery Winners set aside to read, along with my booklight, because I anticipated that I would lose power…what I didn't anticipate was that the storm would be so intense and we'd have damage that would keep us active throughout the length of the storm and for the next three or four days, nonstop. So while I had time to finish before the storm, the resulting damage from the storm sort of trumped the challenge in terms of priorities
(which BUMMED me out)
and I missed my goal and the cut-off by ONE BOOK.
I'm not a person who signs up for things and doesn't complete them, so this, to me, is like an itch that I can't scratch. If–and hopefully when–there is another challenge like this next year, I'm coming back with a blessed vengeance. I've said it before and I'll say it again: this is one of my favorite bookish things ever. The award winning books are award winners for a reason, and even the older ones still need to be read!!
*******************************************
The
Dystopia Challenge
is hosted by Bonnie from
Bookish Ardour
and runs from the beginning until the end of 2011. Because I started on May 18th, I aimed low and entered the challenge at the lowest level. I guess I underestimated my love for the genre, because I'm beyond my goal already and still have lots of time left in this year. In fact, I'm reading a dystopian book right now. Booya.
*******************************************
In the beginning of the year, I challenged myself to read 50 books through Goodreads. I blew through that challenge rather quickly and upped it to 100. I have currently read 85 books, although the doggone Goodreads widget on my blog holds fast at 1 book below my total, 84.

(It doesn't count If I Stay by Gayle Forman, which I totally read and loved. Why? I don't know. Because it is in my Read folder. Anybody have any ideas?)

I'm chugging through and plan to finish and probably go a little bit over.
I LOVE a challenge and really wish I was doing more of them. But truthfully, I moved my blog to Blogger in April of this year and lots of good ones were already started. I have my eyes on some for 2012 and I know of some possibly in the works for 2012 that make me
giddy with excitement
.
I can't wait to look around TGIF and see
what challenges everyone else is doing
that I may not have heard of before.
I'm gonna be peepin' today, for sure.
Thanks, Ginger! Excellent question, as always.