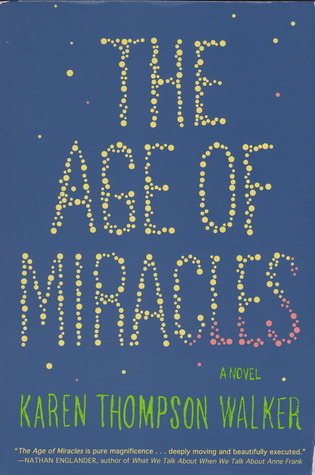 The Age of Miracles
by Karen Thompson Walker
Published by Random House
Publish Date: June 26, 2012
294 Pages
Source: Book – Publisher,
Audiobook – Library
Find it here: Goodreads / Amazon / B&N

"It still amazes me how little we really knew. . . . Maybe everything that happened to me and my family had nothing at all to do with the slowing. It's possible, I guess. But I doubt it. I doubt it very much."

Luminous, haunting, unforgettable, The Age of Miracles is a stunning fiction debut by a superb new writer, a story about coming of age during extraordinary times, about people going on with their lives in an era of profound uncertainty.

On a seemingly ordinary Saturday in a California suburb, 11-year-old Julia and her family awake to discover, along with the rest of the world, that the rotation of the earth has suddenly begun to slow. The days and nights grow longer and longer, gravity is affected, the environment is thrown into disarray. Yet as she struggles to navigate an ever-shifting landscape, Julia is also coping with the normal disasters of everyday life–the fissures in her parents' marriage, the loss of old friends, the hopeful anguish of first love, the bizarre behavior of her grandfather who, convinced of a government conspiracy, spends his days obsessively cataloging his possessions. As Julia adjusts to the new normal, the slowing inexorably continues. (excerpt from Goodreads)




My Thoughts: I'm stunned at myself for letting this one sit on my Kindle for so long. I really could give myself a good SLAP. I remember when I downloaded The Age of Miracles by Karen Thompson Walker. I was not only captivated by this simple-but-really-great cover, but I loved the summary. Now that I have finally read the book, I actually just want to curl up and read it AGAIN.
**********************************************************************


The Age of Miracles begins on a day that seems like any other day, except it is not. Young Julia finds out, along with the rest of the world, that THE SUN'S ROTATION HAS SLOWED. No one knows why or how, but everyone is caught off guard. The media speculates: television, newpaper headlines. There are people that are going on with life as usual, thinking that eventually – maybe in a couple of days – the earth will right itself and life with go on as before. There are people that panic – they abandon their children's soccer games, they begin stockpiling food, batteries, flashlights, and things like that. And then there are people all along the spectrum in between. The truth is that on the first day, everyone is just as clueless as the next person and everyone seems to be on alert, waiting for some sign as to what's next, what they should do, and how they should react.


11-year-old Julia is…well, she is a normal eleven-year-old. She is aware of what is happening, but she is also observing her surroundings VERY CLOSELY. Her mother is extremely panicked, but this is not abnormal for her. Her father is super-cool about the whole situation and is trying to keep Julia's mother calm, and this is also his normal. Julia is watching everyone in the neighborhood react differently, noticing that no one shows up for the soccer game that day, noticing that everyone walking by on the sidewalks seems to be glancing upward toward the sun. She notices that her mother begs her father to stay home when he goes to work as normal that night (he is a physician and has to work an overnight shift) and all of these things begin a series of events that unwind life as Julia knows it.


But in a way, Julia's life continues as normal.


She still goes to the bus stop every morning, even though she notices that fewer of her friends show up as their families move away from the neighborhood. She still watches her crush at school, at the bus stop, everywhere – out of the corner of her eye – never looking at him directly. (This is exactly the way I used to do it.) She is devastated when her best friend moves away, and then elated when her best friend's family moves back. When her best friend finds a better friend, Julia's heart breaks. (Mine did too.)



**********************************************************************
I have heard that some people found this book amazing and captivating and that they loved the prose and lyricism. And I have also heard that some people found the book slow-moving. I will say that I thought The Age of Miracles was absolutely extraordinary – it is not often that I read apocalyptic books that begin at the MOMENT the big life-altering, world-changing event happens, but this one does. It begins at the beginning and unfolds for readers just as it does for the characters on the inside of the pages. I loved that I was not finding out about the changing of the earth's rotation and the impact that it had on the people and the animals and gravity AFTER everything changed. I was watching it all unfold through Julia's eyes, as it happened. And I was fascinated.
I loved that the author chose Julia to tell the story. Her mother was panic-stricken at the uncertainty of their future and because of that, she was a little on the unhinged side at times. Her father…hmm. Her father had some issues of his own – neither parent would have been reliable narrators in my opinion. Julia's age and wonderment and curiosity kept her objective enough to give readers information about what was going on in the world outside with the days growing longer, etc – Julia is able to inform us enough about the world outside while also keeping us in tune with what is going on in her own life. And man, there is plenty going on in her life.
Aside from the regular issues an 11-year-old faces (OH HOW life is just beginning to get really hard at this age), Julia watches her parents relationship become a little crumbly. Is it because it was already crumbly or is it the added stress of "The Slowing"? Julia has to stop taking piano lessons from neighbor Sylvia and detach herself from other neighbors/friends because they've chosen to live on "real-time" (time based on the actual rising and setting of the sun) instead of the government-endorsed "clock-time" (time based on a normal 24-hour day). Julia learns some devastating truths about the adults in her life – real coming-of-age stuff – and she has to learn to navigate these issues without the help of her friends because her friends are all gone.
In this unusual apocalyptic world, the days grow to be minutes longer, then hours longer, then eventually much longer than that. As the days grow longer, the nights do as well. Temperatures react with the days becoming warmer, then hotter, and the nights becoming much colder. Gravity is affected, making changes in the bird population, which means there are no predators for insects and other pests. There are changes to the tides, to crop-growing, and to the human body (the "slowing sickness"). I thought this was so interesting. So, so interesting.
I loved the author's choice of a California setting. I could feel the warm and sunny climate, and this was only intensified as the days became warmer and sunnier. I loved the main characters and the secondary characters, with all of their complexities and issues that made them unique, because I feel like they all represented a good portion of the "regular" population and how people might possibly react if this was a "real" cataclysmic event. I loved Julia's ability to remain a child in the wake of disaster and her ability to recognize uncertainty but not dwell on it – she left that for the adults. As but book neared the end, it became bleaker, of course, but I felt that the end was not as dark as it could have been.
**********************************************************************
I cannot say whether or not choosing the audiobook format to accompany my print reading made me love the book more in this instance. I genuinely think I would have really liked it either way. What I realized late in the novel is that the book is narrated by an "older" Julia – she is talking about her experiences at the beginning of The Slowing. Somehow I did not realize this as I began the book – truthfully, it did not make a difference in how I feel about the story. In looking back, I guess I can say that the book isn't written with 11-year-old narrative and dialogue, but that's okay. I was SO LOST IN THE STORY, you guys. And I can absolutely vouch for great turns of phrase and lovely sentences that stood out to me. I think that facing the end of the world is something that would be so haunting, so being immersed in a world that was so well-crafted for me – I just enjoyed it so much.
Audiobook Notes:
The audiobook format of The Age of Miracles by Karen Thompson Walker
is published by Random House Audio
and is 9 hours, 3 minutes, Unabridged. It is narrated by Emily Janice Card who is new to me. I enjoyed this audiobook; I will add that I actually turned the speed up as I was listening to this audiobook, but otherwise I thought the production was great. The narrator provided a nice voice for a more mature Julia and I would be fine recommending this audiobook to others for a first listen or a reread with the accompanying advice that they will probably want to turn the speed up.
I recommend The Age of Miracles by Karen Thompson Walker to fans of young adult/adult science fiction/apocalyptic fiction. It's funny because this book feels YA in some ways and in other ways it feels very adult-fiction. (Reminds me of the Alex Award-type books because of the crossover appeal and because I can't really decide if I want to call it YA or adult fiction. You guys can decide.) I loved the setting, I loved main character Julia's voice, and I loved the concept. I want to read this again and feel super silly for waiting as long as I did to read it in the first place.
**********************************************************************
The Age of Miracles will appeal to fans of:


YA/Adult Apocalyptic/Science Fiction
The Age of Miracles
by Karen Thompson Walker
is currently available for purchase.