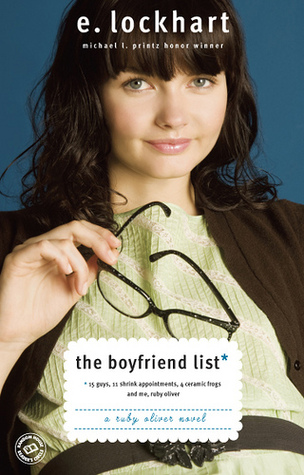 The Boyfriend List: 15 Guys, 11 Shrink Appointments, 4 Ceramic Frogs and Me, Ruby Oliver by E. Lockhart
Series: Ruby Oliver #1
Published by Ember/Delacorte
Publish Date: March 22, 2005
229 Pages
Source: Ebook – Library, Audiobook – Library
Find it here: Goodreads / Amazon / B&N


Fifteen-year-old Ruby has had a rough ten days. During that time she:

* lost her boyfriend (#13 on the list)
* lost her best friend (Kim)
* lost all her other friends (Nora, Cricket)
* did something suspicious with a boy (#10)
* did something advanced with a boy (#15)
* had an argument with a boy (#14)
* had a panic attack
* lost a lacrosse game (she's the goalie)
* failed a math test (she'll make it up)
* hurt Meghan's feelings (even though they aren't really friends)
* became a social outcast (no one to sit with at lunch)
* had graffiti written about her in the girls' bathroom (who knows what was in the boys'!?!)

But don't worry—Ruby lives to tell the tale. And make more lists. (from Goodreads)


My Thoughts: A while back I noticed that my library had both the digital and audiobook formats of this book available while I was browsing SO! on a whim, I downloaded both for my reading and listening pleasure. I've seen so much about Ruby Oliver everywhere around the internet and blogosphere – I figured it wouldn't hurt to see what this gal had going on for myself.


Oh my goodness gracious, Ruby Oliver. Bless your heart.



**********************************************************************


Ruby is urged by her therapist to make a list of all of her boyfriends. Alright. Okay. Well, Ruby decides to do this on personalized stationary and probably goes a little too far with her list – meaning she puts a few more people on there than are truly necessary. In a moment of "what-was-Ruby-thinking" – she balls the list up and throws it away at school. IN THE SCHOOL TRASH CAN. Naturally, her boyfriend list with her name on it is found and the worst is presumed about Ruby: she's the school slut.


Great. Just great.


And all of this happens around the same time Ruby has just lost her first boyfriend Jackson (a couple of days ago) and her best friend Kim (because Kim is now dating Jackson, who became her ex-boyfriend a couple of days ago). DRAMA. Ruby Oliver's life is TOTAL DRAMA.
So, to recap: Ruby is now the school slut – thanks to the list – but she can't lean on her friends because she doesn't have any friends anymore, nor does she have a boyfriend. She can't really lean on her family either because they're pretty certifiably crazy odd.
Basically Ruby Oliver simultaneously broke my heart and made me laugh the entire time she told me her story.



**********************************************************************
The Boyfriend List by E. Lockhart was refreshingly funny to read and listen to with plenty of charm, humor, and the reality of being a teenager in high school. Ruby transported me back to my teenage days – feeling "less than" everyone else, feeling like my family was different, feeling like I didn't have a boyfriend when all of my friends did, feeling alone when there was a friend-fight, that sort of thing.
E. Lockhart nailed this character, I think, and while it makes me really happy because the book was so entertaining, it kind of broke my heart a little because the book was so doggone realistic to how people are often treated when presumptions are incorrectly made and when teenagers make silly mistakes. Being a teenager can be so hard.
Ruby is so anxious – man could I relate to that! I still can relate to that. But I completely understand why she would be such an anxious young lady. She has an unusual family situation – living as part of an unusual family in a non-wealthy part of town and yet still attending Tate Prep, which is a pretty nice private school. Ruby is sent to a therapist, which sounds like a great idea but actually is the contributing factor to this huge social fallout – if the therapist hadn't required or suggested this Boyfriend List, it wouldn't have been created. Had it not been created, it wouldn't have been haphazardly thrown away in the WRONG PLACE. Had it not been thrown away in such a public place, it wouldn't have been found by Ruby's peers and used against her. Ruby's decision to throw the list (on personalized stationary, Ruby, really?) in the trash at school is just one of MANY not-great decisions Ruby makes throughout the book…but that's one of the things that I found charming about her. She makes her mistakes, she takes a deep breath, and she keeps going.
If you've read this one, you know that it contains footnotes – reading the book digitally means that they are still accessible. On my Kindle, they look like a pop-up box that appears over the text of the book whenever you touch the tiny number that indicated a footnote is present. KNOWING ME, you guys, I was audiobooking and reading simultaneously, so it took me a second to figure out why the audiobook and the book didn't always match up – this is because in the audiobook version, the footnotes are seamlessly integrated into the narrative. They just appear as part of the story; I suppose that's the only way or the best way to add footnotes? This was my first experience with them in Kindle + audiobook. Either way, they were great – pop culture references, additional information about secondary characters, additional information about events Ruby briefly mentions, etc. Very cool addition to make this book/series stand out (I assume the footnotes carry over into the subsequent books).


Audiobook Notes: The audiobook format of The Boyfriend List by E. Lockhart is published by Listening Library and is 5 hours, 48 minutes, Unabridged. It is narrated by Mandy Siegfried, who is no stranger to narrating young adult audiobooks with titles on her resume belonging to such authors as Laurie Halse Anderson, Aprilynne Pike, and others. This was my first experience with her reading and she was absolutely perfect for the part of Ruby Oliver. She sounded exactly the way I imagined Ruby would sound, and I will most likely continue this series in audiobook format (with print readalong) if I am able to.


I recommend E. Lockhart's The Boyfriend List to fans of Young Adult Contemporary Fiction with plenty of humor and a quirky female lead. I've seen this series compared to the this series but I don't want to make that comparison at all. I agree that both have quirky and funny female leads but both seem different enough that I can enjoy them both without feeling like I am reading the same thing twice.


**Sidenote: I like the cover I have pictured above WAY better than the cover with the frog on it. The white covers with the little figurines are kind of odd and creepy to me, although I can't really describe why.



**********************************************************************
The Boyfriend List will appeal to fans of:


Romance: No clue how to categorize this!
Humor
Quirky, Funny Female Lead
Footnotes
The Boyfriend List
by E. Lockhart
is currently available for purchase.
**********************************************************************
I KNOW some of you have read this.
What did you think?


If you haven't read it, is it on your to-read list?
Such a fun, quick read.