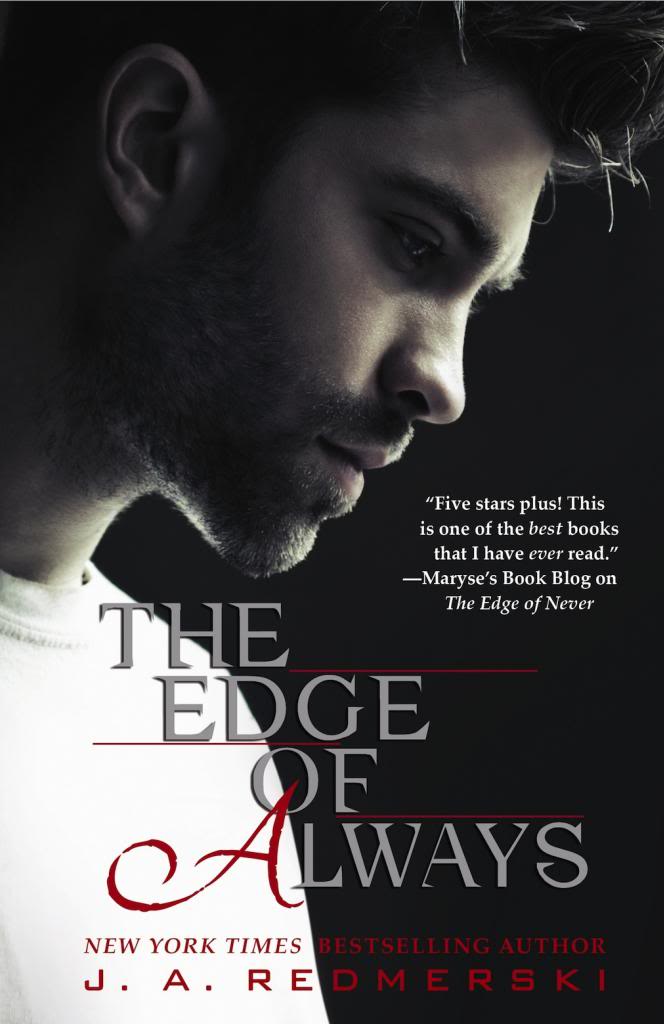 The Edge of Always by J.A. Redmerski
Series: The Edge of Never #2
Publish Date: November 5, 2013
464 Pages
Source: Publisher
Find It: Goodreads / Amazon / B&N


Camryn Bennett has never been happier. Five months after meeting on a Greyhound bus, she and her soul mate Andrew Parrish are engaged—and a wedding isn't the only special event in their future. Nervous but excited, Camryn can't wait to begin the rest of her life with Andrew – a man she knows in her heart will love her always. They have so much to look forward to—until tragedy blindsides them.

Andrew doesn't understand how this could happen to them. He's trying to move on, and thought Camryn was doing the same. But when Andrew discovers Camryn is secretly harboring a mountain of pain and attempting to numb it in damaging ways, there is nothing he won't do to bring her back to life. Determined to prove that their love can survive anything, Andrew decides to take Camryn on a new journey filled with hope and passion. If only he can convince her to come along for the ride… (excerpt from Goodreads)


**
You may not want to read any further if you have not yet read
The Edge of Never –
I've tried to keep this as spoiler-free as possible except for what is mentioned in the summary.
You've been
spoiler-warned
!
**
PLEASE DO ENTER THE GIVEAWAY AT THE BOTTOM, THOUGH,
AND READ THE EXCERPT PROVIDED BY THE AUTHOR!
IT IS SPOILER-FREE!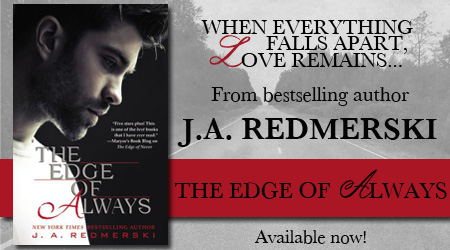 My Thoughts: The Edge of Always is the highly-anticipated follow up to J.A. Redmerski's wildly popular The Edge of Never. Readers will want to know what happens with Andrew Parrish and Camryn Bennett after the conclusion of the previous book, TRUST ME, and J.A. Redmerski hints at a happy, engaged couple with a tragedy on the horizon…
…and the tragedy that she hints at does indeed occur. No spoilers here, folks, but it's…tragic. And it sends Cam into a downward spiral, one that even Andrew can't seem to pull her out of. They try taking a break from Galveston and visiting family in North Carolina – doesn't work. They try visiting family in Chicago, and this seems to lift Cam's spirits for a while, but it ultimately doesn't really work either. By this point Andrew is more than worried that he's losing Cam and the love for life that he helped her fight for in the first book, so he decides to take her on another road trip – the road trip that they'd always planned – to see if he can help her out of her slump.
Over time, it does help. They spend a long time on the road, spending a while in each place. Sometimes they even take jobs at their various stops. Andrew helps Cam through what has happened, and also through some of the tragedies in her past that she never coped with – that she refused to cope with. And likewise, Cam helps Andrew deal with some of his past issues. So the road trip ends up being a great thing for the pair as far as their relationship goes because I'm convinced that if they would not have taken it, they probably would not have remained together.
BUT…as before, there were some wonky things that happened along the way. While I haven't experienced some of the tragedies in my life that Cam has experienced in hers, I don't understand some of her reckless behavior. It's true that people react to things in different ways, and that we should be compassionate to this – but this is a book and some of what Cam did kind of upset me. I almost felt like, for a little while, she reverted back to the old Cam, the one that I felt made poor choices in the beginning of the first book. Again – I haven't experienced all of the losses and tragedies in my life that she has, so let's not be harsh with me here. Also, the tragedy that occurred happened to them BOTH, and I didn't really feel like enough weight was given to Andrew and how he dealt with it – his grief, etc. He is such a protector and has been so good to Cam throughout both books, but he deserves to be able to cope when tragedy strikes him too.
Also, while on the road trip, there was at least one scene that was…unusual – like it didn't really fit in with the story. My understanding is that some of the supporting characters present during this scene are characters from one of Redmerski's other books, but at this point I'm uncertain as to the necessity of this particular scene in this book.
At any rate, I did love the road trip just as with the first book. I enjoyed some of the moments that Andrew and Cam shared even though they were not all as carefree and "happy" as they were in the first book. The Edge of Always carries a little more weight, and understandably so, since it takes place in the wake of a tragedy, but by the end of the book, things are much more lighthearted. Overall I enjoyed the story. I enjoyed seeing Andrew grow as a person – his maturity, his love for Cam and his brothers (love sibling relationships!), and his desire to settle down with the person that he loves most. It is absolutely evident that he is head-over-heels in love with this girl and that he would do anything for her, and I loved that. And I appreciated the things that Cam ended up going through and the way that, with Andrew's help, she was able to find herself again and even deal with some of the demons of her past.
I recommend The Edge of Always by J.A. Redmerski to fans of New Adult Contemporary Romance with Realistic Fiction/Issues, great settings, and music. The Edge of Always is not a companion book – it picks up where the first book left off, so you should read The Edge of Never first!
*********************************************************
I'm so excited to share an excerpt from
The Edge of Always!
I turn to Andrew again, waiting for him to spit it out. A cold breeze rushes through my
knitted sweater, and I hide my hands inside the sleeves.
"You have five minutes to throw all of your stuff in your bag," he says, and my heart
is beating erratically before he finishes the sentence. He taps his wrist where there is no watch.
"Not a second more."
"Andrew—"
"This isn't up for debate," he says. "Go get your stuff."
I just look at him, face blank.
My theory was right, but I didn't want it to be. I don't want to go on the road…I mean, I
do…but it's not right. It's just not right.
"You have four minutes now."
"But we can't just leave like this," I argue. "It would be rude." I point at Asher. "And
Asher just got here. Don't you want to visit with—"
"I can visit my big brother anytime," Asher counters. "Right now, I think you better do
what he says or you might end up on the road wearing the same panties for a week."
A few more seconds pass and I still haven't moved. I'm in a state of mild shock, I guess.
"Three minutes, babe," Andrew says and is looking at me with a serious face. "I'm not
kidding. Get up there, throw our shit in our bags, and get in the damn car."
Oh hell, he's back to his old self again…
When I start to argue again, Andrew's eyes get all feral-looking, and he says, "Hurry up.
Time's running out!" and he points to the house.
Finally, letting down my guard and going with the moment as much as I can allow
myself, I glare at him and say, "Fine." I'm only agreeing to it because I know he's trying make
things better. But I feel guilty as hell.
Disregarding his playful five-minute demand, I turn on my heels and walk very slowly
back toward the house, purposely taking my time, partly my way of silently arguing the situation.
I push open the bedroom door, set my bag on the bed, and start stuffing everything inside
of it. Then I go into the bathroom and grab our toothbrushes and various bathroom necessities. I
yank our phone chargers from the wall and then my phone from the nightstand and chuck it all
into my purse. I make my way around the room, hoping that I'm not missing anything.
Looks like Andrew already packed his stuff at some point and I never noticed.
Then I just stand here, scanning every inch of the place around me but not really seeing
any of it. I don't want to do this, but maybe it's the right thing.
I hear the horn honk three times, and it snaps me out of my thoughts. Grabbing my bag, I
swing it over my shoulder and grab my purse from the bed.
*********************************************************
The Edge of Always will appeal to fans of:
with Realistic Fiction/Issues
Romance: Romance already established.
Road Trips
Great Settings
Music
Alternating POV's
**This is NOT a companion series!**
The Edge of Always by J.A. Redmerski
is currently available for purchase.
*********************************************************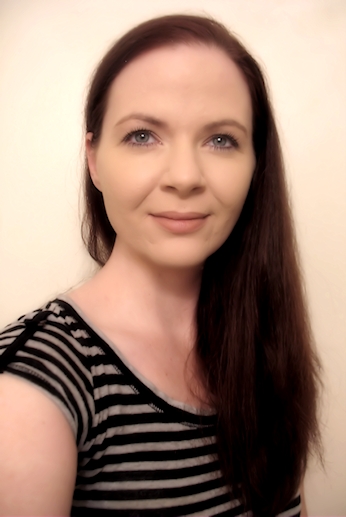 J.A. Redmerski,
New York Times
,
USA Today
and
Wall Street Journal
bestselling author lives in North Little Rock, Arkansas with her three children, two cats and a Maltese. She is a lover of television and books that push boundaries and is a huge fan of AMC's
The Walking Dead
.
*********************************************************
And now for the Giveaway!