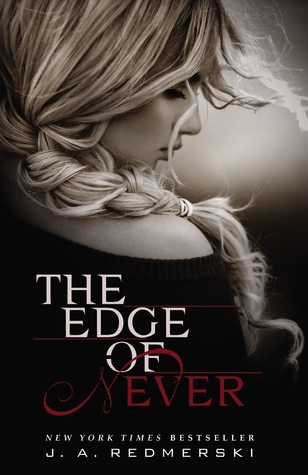 The Edge of Never by J.A. Redmerski
Series: The Edge of Never #1
Publish Date: July 2, 2013
(first published November 13, 2012)
Publisher: Forever Romance
426 Pages
Source: Bought from Amazon;
Audiobook: Bought from Audible
Find It: Goodreads / Amazon / B&N

Twenty-year-old Camryn Bennett had always been one to think out-of-the-box, who knew she wanted something more in life than following the same repetitive patterns and growing old with the same repetitive life story. And she thought that her life was going in the right direction until everything fell apart.

Determined not to dwell on the negative and push forward, Camryn is set to move in with her best friend and plans to start a new job. But after an unexpected night at the hottest club in downtown Raleigh, North Carolina, she makes the ultimate decision to leave the only life she's ever known, far behind.

With a purse, a cell phone and a small bag with a few necessities, Camryn, with absolutely no direction or purpose boards a Greyhound bus alone and sets out to find herself. What she finds is a guy named Andrew Parrish, someone not so very different from her and who harbors his own dark secrets. But Camryn swore never to let down her walls again. And she vowed never to fall in love.

But with Andrew, Camryn finds herself doing a lot of things she never thought she'd do. He shows her what it's really like to live out-of-the-box and to give in to her deepest, darkest desires. On their sporadic road-trip he becomes the center of her exciting and daring new life, pulling love and lust and emotion out of her in ways she never imagined possible. But will Andrew's dark secret push them inseparably together, or tear them completely apart? -(from Goodreads)



The Edge of Never by J.A. Redmerski


My Thoughts: This book is one that I initially read back in January 2013 and had a ton of feelings about it, so much so that I wasn't quite sure exactly how to put them down into words. Recently I re-read the book via audiobook and followed along in print, and I think that in doing that re-read plus discussing the book with a couple of great reading friends – I'm a little more equipped to give some words to all of the thoughts that have been swimming around in my head for so long.


The Edge of Never by J.A. Redmerski is basically the story of Camryn Bennett and Andrew Parrish – how they met and fell in love. Now, generally these are my favorite type of New Adult Contemporary Romances – this one tends to have an issue or two thrown in there, which makes it the type of book that I enjoy (because it is wildly discussable!) but there are a few things that I found that didn't exactly mesh smoothly with the story flow.


Basically I suppose you could say that there are things that I liked and things that I didn't really quite get. And to be perfectly honest with everyone, re-reading this via audiobook tends to intensify any emotion that I feel about a book, so those things that I liked – I really liked – and those things that I didn't get – I just didn't get at all.


Before I get to these things, let me set up the story a little bit in case there is a person or two out there that hasn't read this book yet: Cam has had a bit of a rough past few years – she's lost some people that are very dear to her and most recently her best friend has just stabbed her in the back in a pretty doggone big way. Cam knows she just has to get away so she does what I think is pretty cool and she up and decides to just…leave. She randomly buys a bus ticket and just…goes. On the bus, she is highly annoyed with this super-cute guy that plays his music entirely too loud, even through his earbuds. Although she stays annoyed with him for a little while, his smile is infectious and he has witty banter and before long, Cam finds herself conversing with him in short bursts here and there. His name is Andrew Parrish, and they discover that they're both riding across the country, so they'll be spending quite a bit of time together. And it's through this time that they become acquainted in a friendly way. Cam begins to drop her extremely high, extremely thick walls just a little bit – which is not such a bad thing since she is more than overly closed-off emotionally and every other way possible. And Andrew has been watching out for Cam since they got on the bus – Cam has no idea that there's a wildly creepy guy who has had his eyes on her, watching her every move, almost like he's memorizing her. Cam lies about why she's going across the country; Andrew tells the truth – his father is dying and he is hoping to arrive in time to say goodbye. By the time they both reach their destination, they are both honestly sad to say goodbye to one another…but they do.


Cam purchases another bus ticket – interestingly enough, it's to the place Andrew mentioned living. It seemed that she's developed quite a crush even though she'd never admit it. PLUS, she's wandering aimlessly with no agenda other than she needed to get away from home, so what does it matter if she changes her course and goes in his general direction? While she's waiting for her connecting bus later that night, she is freshening up in the ladies' room and that same creepy guy from the bus walks in. Now, Cam is absolutely horrified – it's already scary at a bus station at night and she's all alone. Andrew is gone and she's pretty sure she's about to be attacked or worse, violated, when suddenly Andrew appears from nowhere to *ahem* take care of that guy with his fists and rescue her. It seems that Andrew didn't have a good feeling about leaving Cam there alone, was still watching out for her, still had his eyes on that creepy guy, and postponed visiting his father to check on Cam and make sure she was okay. What a great guy, right? Absolutely.


Cam is floored. And she ends up riding to the hospital with him while he makes this difficult visit with his father. And then the two make a crazy, rash decision to take a road trip. It sounds crazy – sure – but in the context of the story, it makes sense. Andrew has noticed that Cam is closed-off and asks her to trust him enough to help her learn to live a little. So they set off on a whim, road-tripping, seeing the country. No plans, just a map. And Andrew does what he says he will do – he teaches Cam how to open up and live.


**************************************************************
Okay, so that is the extremely watered-down version of the story. If you look on Goodreads, this book is rated very high, so it is a very attractive story to many people. And I agree, the story is really great. I love the idea that you can meet someone and connect with them unexpectedly in a short amount of time. I absolutely loved the road trip aspect of the story – really, that may have been my favorite part. Andrew took Cam to some amazing places, completely unplanned, and it was not only fun to read but it felt like I was along for the ride. They spent some time in New Orleans, which is always a great setting in a book, and there are a few scenes in particular when they are out and about in the city that really seemed to come alive to me.
I liked Andrew as a character for the most part – I loved that he was, right away, a stand-up guy. He was funny and witty without coming on too strong while on the bus, but at the same time it was obvious to us readers (thanks to the alternating point-of-view story structure) that he was protective of Cam and mindful of that creepy guy that would eventually try to harm her. He was sexy and flirty and I found him attractive as a character. Plus! He was a musician that loved classic rock and sang for fun in small bars and clubs. He was up for anything as far as fun goes, and when he found himself falling for Cam, I love that he recognized it – I loved his totally shy boy-ish inner dialogue and then the fact that he owned his feelings for her.
As far as Cam goes – she was less easy for me to like initially. She was weak in the beginning, clearly making some poor choices right from the start. She had a horrible group of friends and just poor decision-making skills. I feel bad that she had a sucky string of losses, but the opening scenes didn't bode well for me and Cam striking up a great bookish friendship. In the beginning of the bus trip, she was a little rude to Andrew – even as he was nothing but kind to her – which only made me like him more and dislike her a little more. HOWEVER, as Andrew worked his magic of helping her to truly experience life freely, Cam began a slow process of character growth. It became much easier to like her once she was a bit stronger as a character and once she had a little bit of self-esteem. So by the end of the book, I can say that I liked her much better than I did in the beginning although I have to admit that I think she has a little further to go in the next book before I like her as much as I like Andrew.
BUT BUT BUT…even as I list all of these things that I enjoyed about the story, there were a couple of things that felt a little out of place for me. And by a little, I actually mean a lot out of place.
There is a portion of the story when Andrew and Cam are moving in their relationship from friends to more-than-friends (love that!) and when they decide to take their relationship to a physical level, things get a little…weird. And by weird, I mean there's a dominant/submissive subplot for a short time. WHAT WHAT WHAT? Okay, this is sweet Andrew we're talking about, and I felt like WHAT WHERE IS THIS COMING FROM AND WHY? It would have made more sense to me if there was a back story involving that type of behavior on Andrew's part (and Cam's part – that girl is not innocent in this!), but there isn't. It kind of comes from nowhere, lasts for a relatively short time, and then that's kind of it. It is mentioned a time or two more, but it isn't a large part of the story. So, why is it in there? It was not necessary to the story flow, in my opinion. In other words, their relationship would've still been fantastic and progressed at an amazing rate PLUS would've still had plenty of romantic tension without it. It was just…awkwardly placed. This is my opinion as a reader.
Also, the ending of the book also was a bit on the unnerving side. (I will not be spoiling the ending AT ALL.) Yes, I realize that many females kind of go for that kind of ending, but once again – I think that a contemporary romance such as this one would have stood nicely without the drama and emotion of that entire ending and epilogue. I really do not know what else to say about it.
Do these things mean that I did not like the story? No. I enjoyed it much more on the re-read after being confused about my feelings for many months. I think that I was mostly confused about Andrew as a character, but what I found is that I really do like him a lot – he's a great character with far more positive attributes than bad ones. I just hate that he was represented in that way for a short time in the story without any kind of back story because it just didn't really fit, in my opinion.
Will I read the next book? Yes, I will. I want to see where the story will progress after that ending. And I want to see if this unusual dominant/submissive behavior will continue given the things that happen in the book after those scenes. I hope not – I hope that these two kind of grow out of that because this book just doesn't really feel like that type of book. It feels like a case of a mixture of too many genres/categories – but I won't know how The Edge of Always is until I read it.
Audiobook Notes:
The audiobook format of The Edge of Never by J.A. Redmerski
is published by Audible, Inc.
and is 13 hours, 12 minutes, Unabridged. It is narrated by Lauren Fortgang, who has tons of audiobook titles under her belt in terms of voice narration. There were several instances of words being misspoken or mispronounced (one in particular, Eurydice – very important to the story – kind of got on my nerves since it was used so many times – this word does not have an "s" on the end). I feel like this could have probably been an editing/directing problem more than a problem with the voice acting. Ultimately I was not displeased with this audiobook since it was an easy $1.99 purchase after purchasing the book on my Kindle. I would still easily recommend this audiobook title to others looking for a fun listen in this category/genre.
I recommend The Edge of Never by J.A. Redmerski to fans of New Adult Contemporary Romance with Realistic Fiction/Issues and road trips and music and great settings. While I listed a couple of things that were a little odd about the book, my overall take from the story is positive enough that I will continue with the series because I am curious about where Andrew and Cam are headed with their relationship.
**************************************************************
The Edge of Never will appeal to fans of:
Romance: Slowly developing romance.
Road Trips
Great Settings
The Edge of Never by J.A. Redmerski
is currently available for purchase.