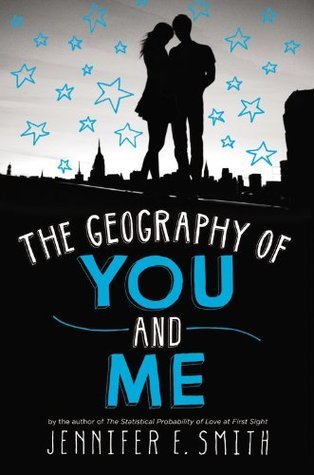 The Geography of You and Me
by Jennifer E. Smith
Publisher: Poppy/Hachette
Publish Date: April 15, 2014
337 Pages
Source: Publisher
Find it here: Goodreads / Amazon / B&N

Lucy and Owen meet somewhere between the tenth and eleventh floors of a New York City apartment building, on an elevator rendered useless by a citywide blackout. After they're rescued, they spend a single night together, wandering the darkened streets and marveling at the rare appearance of stars above Manhattan. But once the power is restored, so is reality. Lucy soon moves to Edinburgh with her parents, while Owen heads out west with his father.

Lucy and Owen's relationship plays out across the globe as they stay in touch through postcards, occasional e-mails, and — finally — a reunion in the city where they first met.

A carefully charted map of a long-distance relationship, Jennifer E. Smith's new novel shows that the center of the world isn't necessarily a place. It can be a person, too. (from Goodreads)

The Geography of You and Me

I've read two of this author's previous books (HERE and HERE) and loved them in very different ways. After reading the two, and now The Geography of You and Me, I'm seeing that this author has some things about her writing that are almost a trend (for lack of a better word) AND I REALLY REALLY LOVE IT.


Lucy and Owen meet when their elevator becomes stuck between two floors in their NYC apartment building. They aren't stuck for a massively long time, but it is enough time for them to become acquainted where they weren't really before. The two strike up great conversation while they are there and just generally enjoy the company of one another. Once the elevator is in working condition and they are rescued, they spend the night together doing fun things – wandering the streets of New York, looking at the stars, talking about their respective lives. Sparks fly, I tell you.


I LOVED LUCY AND OWEN SO MUCH.


Then Lucy moves. And Owen moves. There is this fantastic wonderful thing that happens afterward that I'm realizing that Jennifer E. Smith does so well. Let me explain as I flail and re-live this book and basically want to re-read all of her books RIGHT NOW.

Long Distance. Lucy and Owen are all over the globe, each moving in different directions. No matter where they are and no matter how they try to fit in, neither one can forget the other. In the brief time they were stuck in the elevator, Lucy and Owen each invaded the mind of the other one in this super-sweet and wonderfully swoony way. Even when they each tried to have different relationships, they couldn't stop thinking of each other. LOVED THIS.
Pen Pals. They began writing to one another! The majority of their long distance relationship is maintained with postcards, which is how they kept up with where the other one was at the time the card was sent. Obviously this is not the most efficient way of doing things these days, but you guys WHO DOESN'T LOVE GETTING A PIECE OF MAIL THAT JUST SCREAMS HELLO I'M THINKING ABOUT YOU? Yes, yes, yes, that's what I thought.
Friends vs. Romance. Yeah, it takes a while but those feelings they're feeling? Um-hmm. The problem is, they live a bazillion miles away. So what will they do? WHAT WHAT WHAT?

Final Thoughts: So I've figured out that Jennifer E. Smith does THIS THING so well. This is my third book by her and I'm see that what I can potentially expect from her books is some sort of unexpected romantic feeling that comes from either a chance meeting or a friendship – Y'ALL I LOVE THIS SO MUCH. I don't want it to get much deeper than this. I like her books on the lighter side, if this is what we all are calling it. (When I read This Is What Happy Looks like, I was a little bit confused because I thought I had misread the "romance" portion of the book – but NO NO NO – I need to re-read that book immediately. It contains these same elements that are in this book, sort of.)


THIS IS NOT A BAD THING.


This is a glorious thing, especially when these are elements that I love so much. This author makes different stories but includes these things that I/we loves so much, and they are written in ways that are fun, and that do not bog us down with stuff that is too overly emotional and heavy. Sure, there is "stuff" in The Geography of You and Me – Owen has issues with his parents and so does Lucy, things like that. (Family relationships are a thing that Smith also often deals with, just different family issues in each of the books that I've read.)


You guys, now that I'm late to the party and have figured out that not only are the COVERS so cohesive but the themes are a little on the cohesive side, I want to re-read the books or perhaps maybe listen to them. I am so excited about this.


I absolutely loved The Geography of You and Me. I've loved the previous two books I've read by this author, but I can be a big girl and admit that now that I've figured this stuff out – these themes that this author tends to include – I KNOW, I KNOW, I KNOW I will enjoy This Is What Happy Looks Like even more…which is pretty crazy because I liked it a lot. But THIS ONE, this one stole my heart just like The Statistical Probability of Love at First Sight.


Oh, how I love this author and these books! I'm not sure that digital copies of her books are enough anymore. I might just need physical copies too. I recommend The Geography of You and Me by Jennifer E. Smith to anyone that enjoys young adult contemporary with light romance, family relationships, friends-to-romance, pen pal relationships in books, and travel in stories.
**********************************************************************
The Geography of You and Me will appeal to fans of:


Young Adult Contemporary
with Romance
Romance: Slowly Developing. No Triangle.
Travel
Friend-to-Romance
Standalone
The Geography of You and Me
by Jennifer E. Smith
is currently available for purchase.
**I received a review copy from the publisher in exchange for an honest opinion and review. I received no compensation for these thoughts and they are my own! Thank you Little, Brown BYR!