The Islanders
by
Meg Mitchell Moore
Published by
William Morrow
on June 11, 2019
Pages:
432
Source:
the publisher
Buy from Amazon
|
Buy from Barnes & Noble
Goodreads
"One of my own favorite writers." –Elin Hilderbrand

J. Courtney Sullivan's Maine meets the works of Elin Hilderbrand in this delicious summer read involving three strangers, one island, and a season packed with unexpected romance, well-meaning lies, and damaging secrets.

Anthony Puckett was a rising literary star. The son of an uber-famous thriller writer, Anthony's debut novel spent two years on the bestseller list and won the adoration of critics. But something went very wrong with his second work. Now Anthony's borrowing an old college's friend's crumbling beach house on Block Island in the hopes that solitude will help him get back to the person he used to be.

Joy Sousa owns and runs Block Island's beloved whoopie pie café. She came to this quiet space eleven years ago, newly divorced and with a young daughter, and built a life for them here. To her customers and friends, Joy is a model of independence, hard-working and happy. And mostly she is. But this summer she's thrown off balance. A food truck from a famous New York City brand is roving around the island, selling goodies—and threatening her business.

Lu Trusdale is spending the summer on her in-laws' dime, living on Block Island with her two young sons while her surgeon husband commutes to the mainland hospital. When Lu's second son was born, she and her husband made a deal: he'd work and she'd quit her corporate law job to stay home with the boys. But a few years ago, Lu quietly began working on a private project that has becoming increasingly demanding on her time. Torn between her work and home, she's beginning to question that deal she made.

Over the twelve short weeks of summer, these three strangers will meet and grow close, will share secrets and bury lies. And as the promise of June turns into the chilly nights of August, the truth will come out, forcing each of them to decide what they value most, and what they are willing to give up to keep it.
I received this book for free from the publisher in exchange for an honest review. This does not affect my opinion of the book or the content of my review.
REVIEW:
I'm joining the chorus of others that are saying: The Islanders by Meg Mitchell Moore is a great beach read, a great pool read, a great summer read, a great everything read. I enjoyed each of these characters right away when I met them and only grew to love them more as the story progressed. I could totally see some of myself in each of them, even when they were doing stupid things. The Islanders ended up being one of my favorite kind of stories: where there are several different, quirky, unrelated characters that eventually have intersecting storylines.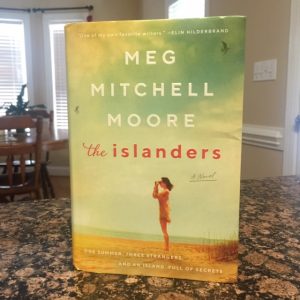 Anthony is hiding away on the island because he made a Very Stupid Mistake and the entire world knows about it. Who doesn't want to hide away when they're deeply embarrassed and feeling shame and regret? We all do. He begins the story broken and feeling unworthy, and it is sad. It is nice to watch him redeem himself and it is hard to watch him have to own up to the mistakes he makes along the way. But, we all have to do that sometimes and I love his growth and the way things work out for him in the end.
Single mother Joy is raising a young teenage daughter while running her own business: Block Island's only bakery, specializing in whoopie pies. As the summer begins, Joy's routine is thrown off balance when a new food truck appears on the island. The islanders and tourists love it, but Joy is shocked at how much it threatens everything she has worked to build for the past several years. I love Joy; she is feisty and independent and a hard worker. I love how fiercely she protects what is hers. I also love how truthful she is with herself about how hard things are, have been all along, and how afraid she is to lose everything if she takes risks.
Lu has come to the island for the summer with her two young boys. Her husband is a very busy surgeon who spends most days working at a hospital off-island, then he catches a ferry over for a night with his family here and there. Lu's in-laws are also on the island, and they are happy to be able to spend more time with the kids-although Lu is certain they really want to spy on her and check up on how she really manages her home. This is a huge problem. Because Lu has a HUGE secret.
Of course, these three people will intersect throughout the course of the story-Block Island is far too small for their lives not to become mixed up a little bit. But it's in the HOW that is so good. What I love most about this story isn't that the bad things are prevented and someone comes in to save the day. No, that doesn't happen. These three people that already have secrets and are experiencing difficulties will go through some even tougher times, have to make some big decisions, and have some major heartaches before the story is all said and done. I love that the author went there with the characters and gave us a chance to see how things turn out for them before she ended the story.
The Islanders is completely engaging. The characters and the setting are great. I found that I wanted good things for everyone. I never wanted to put the book down, even though I had to so I could be an adult and do things like cook and sleep and drive my kids to their various places. This is the first Meg Mitchell Moore book that I've had the pleasure of reading, but I enjoyed it so much that I'm now really curious about her others!! I agree with the synopsis when it says this is a "delicious summer read" and with the positive comparison to Elin Hilderbrand's stories.