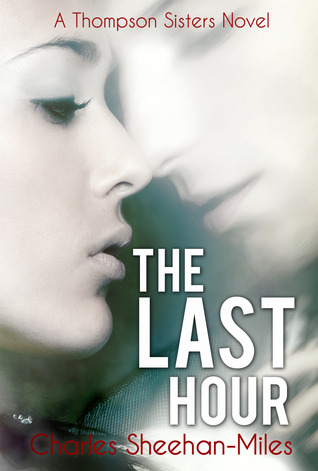 The Last Hour
by Charles Sheehan-Miles
Series: The Thompson Sisters
Publish Date: April 19, 2013
482 Pages
Source: Author for review – Thank you!
Find It: Goodreads / Amazon / B&N


Twenty-seven year old Carrie Thompson-Sherman has the life she always wanted: her PhD, a prestigious fellowship, and an amazing husband.

Her life begins to unravel as a jealous colleague puts her fellowship in jeopardy and a haunting secret Ray Sherman carried home from Afghanistan comes to light.

Hounded by a federal investigation and the ensuing media feeding frenzy, Carrie and Ray desperately lean on each other, until a disastrous accident puts both Ray and her sister's lives at risk.

In the last hour, Carrie and Ray will each find themselves faced with a choice.

A choice that will change everything. -(from Goodreads)



The Last Hour is the third book in Charles Sheehan-Miles' Thompson Sisters series. The books are companion stories that obviously follow the Thompson family and MY GOODNESS they are excellent. I've read A Song for Julia (HERE) and Just Remember to Breathe (HERE) and absolutely loved them both. Every time I pick up one of these books, I think it can't be possible to love it as much as the one before it – but every time, I'm wrong. I'm so invested in this family and I feel like I know them all so well, it's ridiculous. It's fiction, you guys.
The Last Hour is the story of sister Carrie Thompson and Ray Sherman – I've met them before in the previous books so I was overjoyed to spend some time with them on a more intimate level. If you've not read either of the previous books IT'S OKAY, you don't have to – these books can be picked up in any order, really.
Within the first paragraph, which was a horrible car accident, I was holding my breath. Not everyone in the car walks out conscious and talking – a couple of the people on the inside have some pretty serious injuries. I'm telling you, there was some tough, emotional, gut-wrenching stuff written into these pages and it was hard to read after I have spent so much time getting to know and love these characters so much. But I've grown accustomed to Charles Sheehan-Miles writing really great, emotional, and sometimes tough stuff into his stories and it felt really good to be back in shis world with this family again even though they were having some of the worst times of their lives.
Neither of the previous books hooked me in quite the same way as The Last Hour. That isn't to say they are not really wonderful stories, because they are. But this one is a little different in terms of what is at stake for this couple and their future together. I was on the edge of my seat, I had to remember to actually inhale and exhale, and there was some mad Kindle-clicking involved. I almost think I need to read it again just to take the time to absorb everything because I was trying to devour everything on the first go round.
I highly, highly recommend any and all of the books in The Thompson Sisters series by Charles Sheehan-Miles to anyone that is looking for a great story. Again, you can pick them up in any order and start the series. Fans of strong family relationships and sibling stories will absolutely love these books, and they are wonderful New Adult romances. I wrote about them when I recommended New Adult books HERE and I will continue to throw these titles out to people in real life and online. I'll quickly pick up the next title by this author. This series is solid, friends.
**************************************************************
The Last Hour will appeal to fans of:


New Adult Contemporary Romance
with Issues
Romance: No triangle. Already established.
Stories with Military subplot

The Last Hour by Charles Sheehan-Miles
is currently available for purchase.
**************************************************************
Charles Sheehan-Miles has been a soldier, computer programmer, short-order cook and nonprofit executive. He is the author of several fiction and non-fiction books, including the indie bestsellers Just Remember to Breathe and Republic: A Novel of America's Future.
**************************************************************
reviews, promotional posts, and chances to win.