The Last Widow
by
Karin Slaughter
Series:
Will Trent #9
Published by
William Morrow
on August 20, 2019
Source:
the publisher
Buy from Amazon
|
Buy from Barnes & Noble
|
Buy from Book Depository
Goodreads
New York Times bestselling author Karin Slaughter brings back Will Trent and Sara Linton in this superb and timely thriller full of devious twists, disturbing secrets, and shocking surprises you won't see coming

A mysterious kidnapping

On a hot summer night, a scientist from the Centers for Disease Control is grabbed by unknown assailants in a shopping center parking lot. The authorities are desperate to save the doctor who's been vanished into thin air.

A devastating explosion

One month later, the serenity of a sunny Sunday afternoon is shattered by the boom of a ground-shaking blast—followed by another seconds later. One of Atlanta's busiest and most important neighborhoods has been bombed—the location of Emory University, two major hospitals, the FBI headquarters, and the CDC.

A diabolical enemy

Medical examiner Sara Linton and her partner Will Trent, an investigator with the Georgia Bureau of Investigation, rush to the scene—and into the heart of a deadly conspiracy that threatens to destroy thousands of innocent lives. When the assailants abduct Sara, Will goes undercover to save her and prevent a massacre—putting his own life on the line for the woman and the country he loves.
I received this book for free from the publisher in exchange for an honest review. This does not affect my opinion of the book or the content of my review.
REVIEW:
Whoa, what a great, heart-pounding story!! Karin Slaughter is the best when it comes to thrillers!
I didn't read anything about this one at all before I started, so imagine my surprise when I found Sara Linton kidnapped by some very bad guys right in front of Will Trent. I was horrified and terrified for her, but also curious about how she would get herself out of that situation. And I worried about her physical, mental, and emotional safety during her time as a captive. (Ms. Slaughter doesn't shy away from allowing her characters to come to harm, and it hurts so much when it happens.) I adore Sara so much.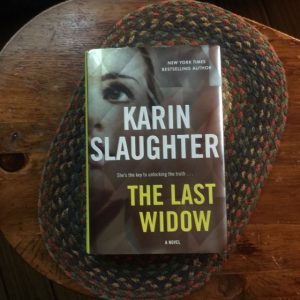 So this story unfolds in alternating POV's wherein each perspective tells about a block of time, and then other POV's tell about the very same block of time. We end up with a very wide, very broad view of exactly what is going on and we know how multiple characters are thinking and feeling during that time. I love this because there are several places in the story where-for example-Trent wonders what Sara is thinking or why she did something, and then we get to actually see Sara's perspective and hear her thoughts on the very same action. This happens with multiple characters all across these different POV's, so we-as-readers have a more complete idea of what is taking place then those involved.
Of course, the more knowledge that we have, the more intense the story is. The more we feel for the victims. The more we despise the bad guys. The more nervous it makes us because this entire scenario could happen in real life. It's chilling to the bones, actually.
The bad guys in this story seem to be ripped right from the headlines. These characters are ex-military, very well-trained, and extremely organized. They think themselves superior. They are the guys we hear about that hate authority, despise the government, and have disdain for women and non-white people. They have filthy mouths and little regard for manners or, simply, doing unto others. Their actions are disgusting and creepy. They make me sick and, honestly, disliking them so much made the story that much better.
Every time I finish reading a Karin Slaughter book, I want to go pick up the few that I haven't read yet and also reread the others I've already blown through. Her stories never fail to make me squirm and they even sometimes make me a little bit uncomfortable, but that's what I love so much about them. I love that Ms. Slaughter isn't afraid of writing some of the most intense crime stories, and I have so much respect for her with regard to how she treats her characters, be they victims or the officers solving the crimes. I'm just a huge, huge fan. Her writing is so solid and I am forever excited about the prospect of a new story from her pen.
A fun sidenote: there is a chunk of the novel that takes place in a dense forest, in a reclusive and closed-off community that is well-hidden and undetected under the forest canopy. I read a big portion of this book in a cabin, deep in the forest of the rural North Carolina mountains, so I was able to mentally place myself in a situation where I felt nearly undetectable as well. It felt eerie and cool.