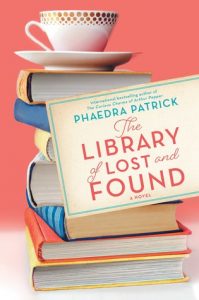 The Library of Lost and Found
by
Phaedra Patrick
Published by
Park Row Books
on March 26, 2019
Pages:
352
Source:
the publisher
Buy from Amazon
|
Buy from Barnes & Noble
|
Buy from Book Depository
Goodreads
A librarian's discovery of a mysterious book sparks the journey of a lifetime in the delightful new novel from the international bestselling author of The Curious Charms of Arthur Pepper

Librarian Martha Storm has always found it easier to connect with books than people—though not for lack of trying. She keeps careful lists of how to help others in her superhero-themed notebook. And yet, sometimes it feels like she's invisible.

All of that changes when a book of fairy tales arrives on her doorstep. Inside, Martha finds a dedication written to her by her best friend—her grandmother Zelda—who died under mysterious circumstances years earlier. When Martha discovers a clue within the book that her grandmother may still be alive, she becomes determined to discover the truth. As she delves deeper into Zelda's past, she unwittingly reveals a family secret that will change her life forever.

Filled with Phaedra Patrick's signature charm and vivid characters, The Library of Lost and Found is a heartwarming and poignant tale of how one woman must take control of her destiny to write her own happy ending.
I received this book for free from the publisher in exchange for an honest review. This does not affect my opinion of the book or the content of my review.
Review:
I sat down with The Library of Lost and Found by Phaedra Patrick while my husband was doing some work over the weekend and just blew through it. It was so easy to get lost in this story because it is so heartwarming and the characters are so charming. I was pulling for Martha on her journey so hard and I was truly invested in the outcome of the mystery surrounding the book that found itself on the doorstep of the library where she works.
Martha Storm loves her job working at the local library, but she has become overwhelmed with the amount of work that she does for other people because she wants to help them. Martha is a "yes" person. She can't say no, and people have been taking advantage of her kindness for years. When a mysterious book finds itself in Martha's hands with a note inside claiming to be from her grandmother, Martha feels like she absolutely has to investigate the book further. Not only has her grandmother been gone for decades, but the note inside appears to have been written after the date of her death. Plus, the book contains stories that Martha and her grandmother shared during their one-on-one time when Martha was just a child. As Martha seeks out information about this mysterious book, she begins to neglect the work she has been doing for other people–not on purpose, but because she is so invested in finding out about the book and her grandmother. But this makes it easier for her to begin to say "No" to friends and family that keep asking more of her. And this begins a change in Martha.
I loved this story so much. What I noticed about Martha right away is that she is a bit of a pushover, and it broke my heart. Not because she enjoys helping people out, because I love that about her. But when you read the story, you see how much of Martha's self that she has given up in order to make other people happy or to make their life easier. Now that she is in her 40's, she has begun to regret it but she doesn't really know how to stop. Gosh, I felt for her deeply. I could see so much of other real-life people that I know and love in this character, and I could also see how Martha's parents planted small seeds of anxiety and doubt in her as a child that grew and impacted her adulthood. For example, Martha doesn't like to eat even small pieces of cake because of comments that her father made about her weight when she was young.
Of course, Martha's growth was a great thing to witness. It was slow, certainly. But it was beautiful. As Martha unraveled the mystery of the book and the story about her grandmother, she began to learn more and more about her family and secrets that they had when she was a child. She learned that things she saw with her young eyes and mind weren't necessarily the truth-they were just what her parents and other adults wanted her to see. She learned the weight of family secrets. These are painful lessons for any of us-hard truths about our families or other people that we love-but again, watching Martha sort out these things and come out from underneath the pain and lies was a marvelous thing.
Ultimately, I love the way Phaedra Patrick was able to tell this story with love and care and a lightness that made it easy to digest. There is an importance to this story and some themes that, if allowed, could have weighed the story down. But that truly, honestly didn't happen here. Martha and a few of her colorful, fun friends made things light and wonderful and easy to digest. There is a lot to take away from this one and I think those readers that love books about books in particular would really like this one.