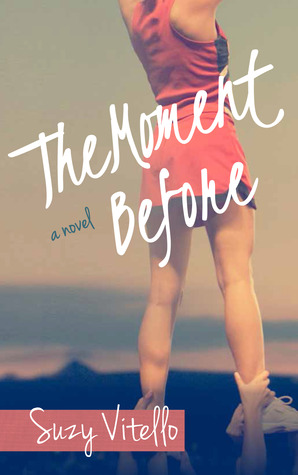 The Moment Before by Suzy Vitello
Published by Diversion Books
Publish Date: January 14, 2014
216 Pages
Source: Publisher
Find it here: Goodreads / Amazon / B&N


"Don't get me wrong. I loved my sister. I never, not once, wished her dead."

Brady and Sabine Wilson are sisters born eleven months apart, but they couldn't be more different. Popular Sabine, the head cheerleader dating the high school hunk, seems to have all the luck, while her younger, artsy sister "Brady Brooder" is a loner who prefers the sidelines to the limelight.

After Sabine dies in a horrific cheerleading accident, grief unravels Brady and her family. Once recognized for her artistic talent, 17-year-old Brady finds herself questioning the value of everything she once held dear. Her best friend betrays her. Her parents' marriage is crumbling. And the boy everyone blames for the accident seems to be her only ally in the search for answers in the wake of her sister's death. As an unlikely friendship emerges, Brady learns more about Sabine – and love – than she bargained for. (from Goodreads)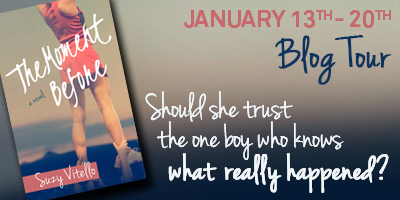 The Moment Before by Suzy Vitello


My Thoughts: I was initially attracted to this book because of the cover and the way it looked so-very-contemporary, because you guys know that I love contemporary stories. I found out quickly when I started that this book is largely based on a sister-relationship, and sibling relationships are another thing that I love in books. The thing about this one is that one sister is living and the other died about a month ago. One sister is grieving and trying to figure out how to live not only without her sister and best friend, but also in her shadow.


*********************************************************************
As the story begins, Brady is sad as she walks to her bus stop and passes her sister Sabine's car just sitting there. Sabine died about a month ago, you see, and she is everywhere. She is in her mother's nonchalance about everything, in her father's new-found excessive drinking and slovenly appearance, she is in the halls of their school as Sabine's boyfriend Nick's locker is decorated with pictures and various memorials, and she is in the way everyone, everyone looks at Brady. Everyone saw her die while she was cheerleading, doing what she loved. Everyone saw her not land that cheerleading jump. Rather, everyone saw Connor Christopher not catch her like he was supposed to.


Sabine's presence is even felt in the gymnatorium where Brady is being honored as recipient of a prestigious art award and scholarship – the entire family shows up to see Brady honored even though it is difficult to be in that same place – the very room – where the other daughter died. Interesting thing happens, though. Brady ends up not winning at the last minute, and for some very shady interesting reasons. Brady feels humiliated and devastated and sad that she brought her entire family to the one place that they weren't ready to face for no reason at all.


When Brady feels down or alone or needs to hear her sister's voice, she calls Sabine's cellphone to listen to her voicemail prompt…BUT apparently someone else has been doing the same thing because Sabine's voicemail is full. Brady can't leave her a message or hear her voice or anything – who else has been talking to her sister? The phone company won't do anything to share Sabine's password even in these extenuating circumstances without parental permission, and Brady knows that her parents won't understand, so in desperation she goes to the one person she thinks can probably help her – Connor Christopher. YES, Conner Christopher, the boy that let her sister fall. The boy that "killed" her…because he was stoned when he was supposed to catch her that day.


Except, is that really the truth? Is Connor responsible for Sabine's death? He's certainly the easy one to blame because it is widely known that he does smoke weed – and everyone needs someone to blame. Can Connor break into the phone Brady so desperately needs, that one lifeline she has to her sister, so she can find out who else has been calling her? And what will Brady find when/if she listens to Sabine's full message box? Is she ready to hear stuff from Sabine's life?


Sometimes people believe what they want to believe. Sometimes people let other people believe what they want to believe. And sometimes people have secrets that are so big, so very big…


What Brady learns on that phone changes her outlook on everything. Everything. And she has to decide whether or not she wants to let sleeping dogs lie or right some wrongs. Brady has a big decision to make and it is all because Sabine chose to keep some pretty big secrets.


*********************************************************************
The Moment Before by Suzy Vitello is an interesting story that I thought was about grief. And in a way, it is. But it is more, I think, a study of a group of people connected to Sabine and their reaction to her death and the secrets she had. What I found most interesting about this book is that it is so incredibly character-driven without being too intensely wrapped up in grief, and I appreciated that so much because I think it allowed me to take time to figure out the characters rather than grieve the one character that was lost.
Brady is absolutely devastated over her sister being gone – that's a given. They are Irish twins, both born within the same year, and they are best friends. So close, so very close. Her parents are likewise devastated and yet they handle Sabine's death in very different ways, as do all of Sabine's friends. But it is her friends that intrigued me the most.
Connor Christopher is by far the most interesting of the entire bunch. He is the one blamed by the entire student body and much of the community for not catching Sabine when she leapt into the air while cheerleading. People thought, assumed, claimed he was high – rumors were that he was high on weed, high on cocaine. How does one get out from under something like that? Brady's parents did not want her anywhere near "that boy." But Connor was in some of her classes – what was she supposed to do? It turns out that her parents' anger bled over into her and she claimed those feelings as her own until they dissolved when she began to converse with Connor here and there – and then they began to spend some time together. It seems that Brady and Connor have more in common than they once realized because they were both actually really close to Sabine and they both miss her terribly. And then Connor begins to share a few of Sabine's biggest secrets with Brady, things she cannot believe she didn't know, things she cannot believe that he would allow himself to shoulder alone…
Then there is Nick Avery, Sabine's boyfriend. With Sabine looking like perfection and being a cheerleader and way popular, it isn't a surprise that she would be paired up with Nick Avery. Nick was Class President, you see, and when she died, he was so overcome with grief that he nearly dropped out of school. Sabine and Nick had a Facebook fan page with over 1,200 followers, so popular was their romance! After she died, he wore black for days just like Johnny Cash. But Nick Avery has secrets too, just like Sabine apparently did, and even though he appears to be the school's Golden Boy, is he really?
The book is set up, I think, so your mind immediately is supposed to not like Connor and you are supposed to feel awful for Nick. But my mind doesn't work that way – or it didn't this time – and I felt an odd connection to Connor and a weird repulsion to Nick. For a while I tried to fight it, but eventually I just couldn't any longer. And…you know what? Every class has people like Connor and Nick, you guys. Or mine did. Just, wow.
Finally, there is Martha. Martha is the third gal, the non-sister in the group of three. Throughout the school years, it was Sabine, Brady, and Martha – but Martha would float in and out of the group. Brady mentioned that she would act like she wanted to be Sabine, and then she acted like she wanted to be Brady. Martha appears perfect but also like she has no identity of her own. Something pretty doggone HUGE happens and Martha steals Brady's thunder and WOW it really makes Brady upset. Martha's behavior is weird and strange at best (like, in real life there is no way that I could ever be friends with her, so I don't know how Sabine and Brady were) but she ends up getting caught up in something she doesn't realize isn't good for her. Brady, bless her, mad as she is, has to make some decisions on how far she is willing to go to help out this "friend" and at times it almost became thriller-y and I found myself holding my breath for a second while Brady repays Martha's (I call it) betrayal with goodness and kindness.
*********************************************************************
I think what we have here in The Moment Before by Suzy Vitello is a genuine STORY. It begins after the main event has already occurred – I am calling Sabine's death the main event – and everything that happens in the book is like a series of events that just flat-out results from that death. People fall apart and are put back together, big secrets are revealed among the living and the no-longer-living, some healing takes place, some reputations are altered… The ending is left a bit open-ended BUT I was happy with the ending and felt comfortable with where my favorite characters ended up and even the characters that I didn't care for so much.
If I could change anything at all, I would have made Brady a character that was less concerned with protecting all of Sabine's several secrets and more concerned with seeking justice for some pretty big wrongdoings that occurred because reputations among the living were tarnished and ruined, and some remain on the line. I also wish I could have seen a little bit more in the way of the romance/developing-relationship portion of the story even though I realize that this is not a romance-type of story – I felt like those few scenes were nice, light breaks in the rest of what was going on. However, I think The Moment Before shows how Brady, being a young girl, has to cope the best way she knows how and sometimes we aren't really sure what to do in situations that are sticky with big consequences like this one AND sometimes romance is not the first thing on our minds when we are grieving. I enjoyed this story. It was very readable and I think it is very discussable. I found myself not wanting to put it down. I recommend The Moment Before by Suzy Vitello to fans of YA Contemporary with issues (grief, death) and some very light romance.
*********************************************************************
The Moment Before will appeal to fans of:


Young Adult Contemporary with Issues
Romance: Very light. No triangle.
Character Driven Plot
Setting: Portland, Oregon
Fans of Art
The Moment Before by Suzy Vitello
is currently available for purchase.


**I received a review copy from the publisher via NetGalley in exchange for an honest opinion and review. I received no compensation for my thoughts and they are totally and completely my own! Thank you Diversion Books!
*********************************************************************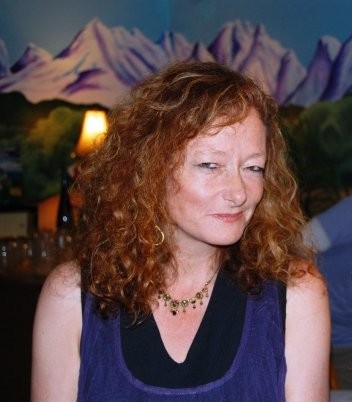 As a founding member of what the
Oregonian
has dubbed Portland's "hottest writing group" (members include Chuck Palahniuk, Chelsea Cain, Lidia Yuknavitch, Monica Drake and Cheryl Strayed), Suzy's name has graced the acknowledgement pages of many a book. Her own award-winning writing has appeared in a bunch of journals and anthologies. She holds an MFA from Antioch Los Angeles, and when she's not writing novels, does freelance copywriting and editing.
The Moment Before
is her debut novel. Suzy lives in Portland, Oregon with her husband, Kirk, and son, Carson. Find out more on suzyvitello.com.
*********************************************************************
*********************************************************************
And now for the Giveaway!
Author Suzy Vitello & Diversion Books
are offering an ebook copy of
THE MOMENT BEFORE
to one lucky winner
!
This contest is open to Internationally.
This contest ends January 24, 2014.