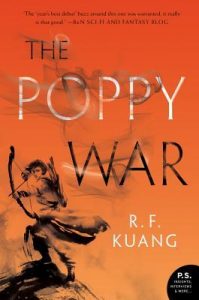 The Poppy War
by
R.F. Kuang
Series:
The Poppy War #1
Published by
Harper Voyager
on April 23, 2019
Pages:
544
Source:
the publisher
Buy from Amazon
|
Buy from Barnes & Noble
|
Buy from Book Depository
Goodreads
A brilliantly imaginative talent makes her exciting debut with this epic historical military fantasy, inspired by the bloody history of China's twentieth century and filled with treachery and magic, in the tradition of Ken Liu's Grace of Kings and N.K. Jemisin's Inheritance Trilogy.

When Rin aced the Keju—the Empire-wide test to find the most talented youth to learn at the Academies—it was a shock to everyone: to the test officials, who couldn't believe a war orphan from Rooster Province could pass without cheating; to Rin's guardians, who believed they'd finally be able to marry her off and further their criminal enterprise; and to Rin herself, who realized she was finally free of the servitude and despair that had made up her daily existence. That she got into Sinegard—the most elite military school in Nikan—was even more surprising.

But surprises aren't always good.

Because being a dark-skinned peasant girl from the south is not an easy thing at Sinegard. Targeted from the outset by rival classmates for her color, poverty, and gender, Rin discovers she possesses a lethal, unearthly power—an aptitude for the nearly-mythical art of shamanism. Exploring the depths of her gift with the help of a seemingly insane teacher and psychoactive substances, Rin learns that gods long thought dead are very much alive—and that mastering control over those powers could mean more than just surviving school.

For while the Nikara Empire is at peace, the Federation of Mugen still lurks across a narrow sea. The militarily advanced Federation occupied Nikan for decades after the First Poppy War, and only barely lost the continent in the Second. And while most of the people are complacent to go about their lives, a few are aware that a Third Poppy War is just a spark away . . .

Rin's shamanic powers may be the only way to save her people. But as she finds out more about the god that has chosen her, the vengeful Phoenix, she fears that winning the war may cost her humanity . . . and that it may already be too late.
I received this book for free from the publisher in exchange for an honest review. This does not affect my opinion of the book or the content of my review.
REVIEW:
I picked up The Poppy War by R.F. Kuang without doing much research about it because I love letting fantasy stories unfold as they will, and the result has been back-to-back reads in this series where I feel completely immersed in this world.
The Poppy War is kind of like a story told in two parts. The first part takes place at a military academy/boarding school. Against all odds, Rin has just tested into the academy, and against all odds she continues to flourish there and astound many of her teachers and some of her classmates. Rin comes from the southern part of her country and is a war orphan, so she already has her darker skin tone and her orphanage against her, but her ability to exceed all expectations in such a short time makes her an even bigger target. (Read: there is something different about Rin.)
Just when I got settled into the rhythm of Rin's time at the school and how things would go there, war breaks out and everything about the story changes.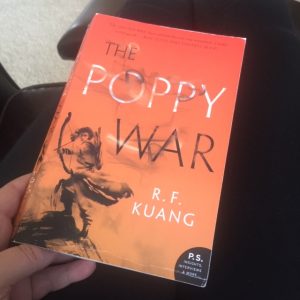 The second part of the story is far darker and much more serious. There is much more at stake. As Rin and her classmates are thrown into fighting for their country, they resort to whatever means necessary to defeat the enemy (enemies?) and it isn't pretty. Sometimes the decisions made aren't the best decisions, and sometimes the characters just aren't really sure what to do-remember they are young and never actually completed their schooling! Ms. Kuang also includes atrocities and genocide and some seriously dark, dark things in this story BUT these things are all there to illustrate certain points about the characters and about the different armies/nations that are at war.
I LOVE dark fantasy stories and I love that Ms. Kuang included these gruesome things in her story. I see what she did. In the "A Note from the Author" section in the back of my paperback, Ms. Kuang talks about how these scenes in The Poppy War come from events that actually happened during the Nanjing Massacre and other parts of Chinese and Japanese history, particularly during the 1930's and around the time of World War II. She says she made very little of the story up, that most of it actually happened…which is horrific and harrowing to think about considering the very nature of some of the scenes. I know very little about this part of our world's history, so I love that I can use this fantasy series as a springboard to do some research myself and find out more, because I see that there are [sadly] huge holes in my own education where this history is concerned.
I loved The Poppy War. Aside from the way the beginning of the story completely changes as it goes into the second part of the story (it's a little bit jarring and changed the pacing a little bit), I was completely enamored. The world is really wonderful and fantastic, and I love Rin and the rest of the characters. I love the inclusion of the poppy seeds and opium as a drug-it ended up playing a much different and much bigger role than I anticipated when the story began. I love the inclusion of the gods and the mythology and the bits of magic here and there. The magic turns a very cool military fantasy into something even more cool because some of the warriors have the supernatural working on their side. And I thought the end was just brutal. It moved quick with a lot of action, and it just tore my feelings and emotions up. I was glad that I had the second book on hand to go ahead and see if there would be any resolution at all to the impossible journey these characters had made by the conclusion of the story.
The Poppy War is a great start to a fantasy series.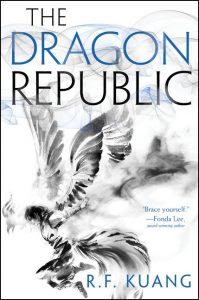 The Dragon Republic
by
R.F. Kuang
Series:
The Poppy War #2
Published by
Harper Voyager
on August 6, 2019
Pages:
672
Source:
the publisher
Buy from Amazon
|
Buy from Barnes & Noble
|
Buy from Book Depository
Goodreads
Rin's story continues in this acclaimed sequel to The Poppy War—an epic fantasy combining the history of twentieth-century China with a gripping world of gods and monsters.

The war is over.

The war has just begun.

Three times throughout its history, Nikan has fought for its survival in the bloody Poppy Wars. Though the third battle has just ended, shaman and warrior Rin cannot forget the atrocity she committed to save her people. Now she is on the run from her guilt, the opium addiction that holds her like a vice, and the murderous commands of the fiery Phoenix—the vengeful god who has blessed Rin with her fearsome power.

Though she does not want to live, she refuses to die until she avenges the traitorous Empress who betrayed Rin's homeland to its enemies. Her only hope is to join forces with the powerful Dragon Warlord, who plots to conquer Nikan, unseat the Empress, and create a new republic.

But neither the Empress nor the Dragon Warlord are what they seem. The more Rin witnesses, the more she fears her love for Nikan will force her to use the Phoenix's deadly power once more.

Because there is nothing Rin won't sacrifice to save her country . . . and exact her vengeance.
I received this book for free from the publisher in exchange for an honest review. This does not affect my opinion of the book or the content of my review.
REVIEW:
I really don't want to spoil anything for The Dragon Republic by R.F. Kuang, but HOLY BATMAN. Oh my gosh.
So, the end of The Poppy  War left Rin broken and angry, and it left me a mess. Rin has done something major and drastic that has left countless thousands dead, and she barely knows what to do to make amends for this. She is angry at the power she has, and she is angry for the people she has loved and lost. It's almost hard to read Rin's scenes and dialogue at times, because she's such a mess. I'm not sure she considers the consequences to her actions before she makes her awful decisions; she is incredibly impulsive. She's also suffering.
Thankfully, Ms. Kuang has a purpose for what she writes.
The Dragon Republic is even better than the first book. For one, there is no setting up the world or the backstory of the nations or the mythologies-that was all done in The Poppy War. The action begins early on and my attention was sharp and focused from the get-go. Also, I had to stay on my toes with these characters because I found that I couldn't trust some people that I thought I could…and ugh people also die. I mean, important people died in the first book too. But after two books, I see that Ms. Kuang doesn't play when it comes to character death.
She also doesn't play when it comes to opium use and addiction. In the beginning of the story, Rin has become addicted to opium. This tends to happen to the warriors that use it to enhance their fighting (I won't tell you how) but her addiction is very ugly. It isn't glossed over or made glamorous. It isn't a pretty little thing used to boost up the action in the story. It controls her and she hates it, but she also loves it, and it keeps her weak even though she is strong. The opium addiction really does read like an addiction. I'm such a fan of Ms. Kuang's use of very real, very ugly things and parts of history in this very cool, very entertaining fantasy story.
I love military fantasy, which is why I liked the first story so much. The Dragon Republic is more of that, and the world is even bigger. There are more politics at play here. They're fighting on land and on the water. Things mean so much. Everything is at stake. I just loved reading these two books, and I'm thrilled that there will be more. Don't let my enthusiasm and excitement fool you though: these are dark stories with some bad things happening. If you need for your fantasy to be neat and clean with very little blood spilled, you should be very wary about these books. If you need everyone to get along and if you suffer tremendously when there are betrayals and deaths, you should be very cautious here.
I'm afraid that if going, I'll spoil something big or I'll just ramble. Overall, I really loved this one. I'm eager for the next installment. I hope it is just as harrowing and dark as the first two, and yet I still hope for good things for the characters. I want them to be happy and to find some peace. So far, they don't seem to have any peace or happiness, and the way has been super long and hard for them all.
I loved this book.