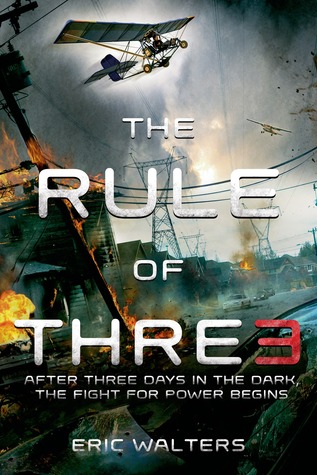 The Rule of Three by Eric Walters
Series: TBA #1
Published by Farrar, Straus and Giroux (BYR)
Publish Date: January 21, 2014
405 Pages
Source: Publisher
Find it here: Goodreads / Amazon / B&N


One shocking afternoon, computers around the globe shut down in a viral catastrophe. At sixteen-year-old Adam Daley's high school, the problem first seems to be a typical electrical outage, until students discover that cell phones are down, municipal utilities are failing, and a few computer-free cars like Adam's are the only vehicles that function. Driving home, Adam encounters a storm tide of anger and fear as the region becomes paralyzed. Soon—as resources dwindle, crises mount, and chaos descends—he will see his suburban neighborhood band together for protection. And Adam will understand that having a police captain for a mother and a retired government spy living next door are not just the facts of his life but the keys to his survival, in The Rule of Three by Eric Walters. (from Goodreads)



The Rule of Three by Eric Walters


My Thoughts: I love survival and adventure stories. Add a dose of apocalyptic action in there, and I'm even more interested. When I first read the synopsis for The Rule of Three by Eric Walters, I thought it sounded fun. BUT! When I took the time to look at the book – the book jacket and the first few pages on the inside – that's when I really became interested in the book. The book is not actually illustrated but there are a few illustrations that are provided for readers that are really compelling. This helped to attract me to the author's story and ultimately made me pick up the book right away.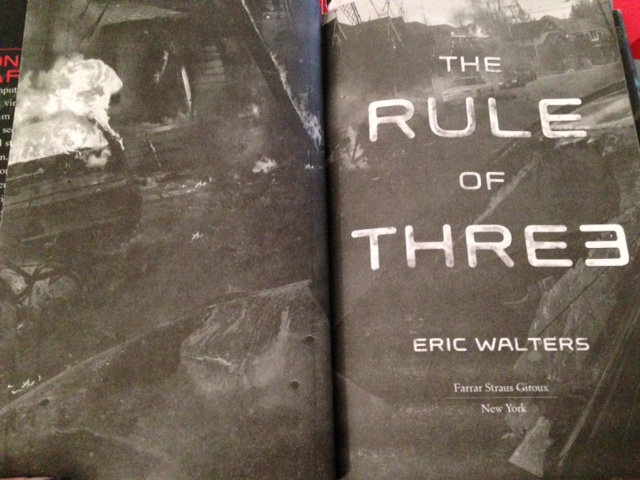 It's hard to see here but you can even make out the types of
cars parked along the sides of the street in these illustrations.
Love the detailing.
**********************************************************************
The Rule of Three opens as sixteen-year-old Adam is helping his friend Todd with an essay in their school's computer lab during study hall. The two are joking around – Todd is teasing his friend Adam because Adam is taking flying lessons – just regular teenage banter. Suddenly the lights go out and the computer screens all over the room go blank – a obvious power shortage. What is odd is that devices like cellphones and laptop computers that were not even using electrical outlets also went dead and will not power back up. When it becomes obvious that power will not be restored any time soon/during the school day, school administration decides to let school out early. As Adam and Todd are filing out of school to load into Adam's old 1970's-something clunker of a car, they begin to notice that none of the other cars in the parking lot are cranking up – students everywhere are looking under their hoods to try and figure out their problems. Adam has no trouble turning his car on, however, and the two (plus Adam's crush Lori) leave the school quickly. It seems that the newer vehicles have electrical wiring and therefore are suffering the same fate as the earlier-mentioned cellphones and laptop computers. Adam drops Lori off at her farm on the edge of town and picks up his younger twin siblings, then he heads home.
During the drive to drop off/pick up and head home, Adam and Todd notice that people everywhere are stranded because of their newer vehicles. Roads are blocked, people cannot get home, kids aren't being picked up from school. People are having to walk home and it is taking hours. The population is in the very early stages of confusion and panic, and the boys realize that they quickly need to get home as they watch situations slowly escalate before their eyes. Upon arrival home, Adam's older, seemingly eccentric neighbor Herb greets them with not only hypotheses for what is occurring but suggestions and a few requests. The boys realize that Herb is extremely smart and may know a thing or two about what is going on – they begin to listen to him, learn from him, help him, and do what he says – realizing that if this event is what he thinks it may be, their very survival may depend on Herb's knowledge and skill set.
The event, I think, ends up being much bigger than any of them realized.
**********************************************************************
Back Cover
The Rule of Three by Eric Walters is a very exciting and action-driven apocalyptic survival and adventure story starring a teenager, his 70-something-year-old neighbor, and his mother who is a ranking police officer. I've read quite a few apocalyptic stories (I love them) but what strikes me as different about this one is that others typically take place AFTER some big catastrophic event while in this one, the catastrophic events unfold before our eyes, right on the pages. We are privy to the decline of civilized behavior and panic and an increase in what appears to be a mob-mentality over the course of day one, then day two, then day three, and so on. I found this really exciting and nerve-wrecking and very, very cool. It was also very cool that I was able to witness this through the eyes of a young boy as it occurred, so I was privy to his wide range of thoughts and concerns as everything unfolded.
Adam has to take some huge responsibilities and grow up super fast – for several reasons. First of all, his mother is gone for much of the time as one of the community leaders in charge of keeping order among the citizens, so Adam is left with taking care of his younger brother and sister. Not only that, but he is one of the few people around that has a working vehicle, so Adam is also tasked with driving people back and forth to various places when it is necessary, particularly Herb. For a teenage boy that was goofing off a little in the opening of the story, Adam certainly matures quickly – perhaps this is due to the mentorship of neighbor Herb (I'll get to Herb in just a second). Before long in the book, Adam is thinking critically with very important decisions, and then he is making very important decisions for the community and there are even times when the community leaders defer to him strategically. This is all great and good, but Adam is sixteen and still crushing hard on his classmate Lori, which keeps Adam as realistic as possible in these circumstances. Also, remember that I mentioned that Adam's friend Todd makes fun of him for taking flying lessons? Well, Adam ends up being the only one in the community that can fly and this is a HUGE part of the book.
Neighbor Herb is probably the most interesting character in the book, in my opinion. Herb has this crazy-huge knowledge of how to survive in situations such as this one and is one of those people that prepare for years for events such as this. He has food and weapons and supplies galore in his basement. He has the capacity to remain calm when everyone around him is freaking out, and because of this people trust him when he begins to delegate tasks and responsibilities (including the actual town officials). Herb has the ability to anticipate what is ahead and plan accordingly. And what is interesting to Adam is that Herb already seems to be one or two or even five steps ahead of everyone else – he already seems to know what to do. He has the survival of the community already planned out in his mind, but he only reveals what the people need to know little by little so as not to overwhelm them. Herb keeps the community on a need-to-know basis to keep chaos and mayhem to a minimum. So far, Herb is the community's saving grace and the smartest guy they have.
Adam trusts Herb and becomes a side-kick of sorts. When Todd sees this, and then Lori, and then Todd's mom – they follow suit. This then has a ripple effect and more and more people begin to trust Herb. This is important because Herb does not hold any official seat on town councils or boards and he isn't a member of the police department or any other rescue department. However, the author makes reference to time Herb spent working for the government as some sort of classified agent doing work that required many of the same types of survival skills and rescues and plans that he is performing and teaching and leading now. Adam questions Herb on more than one occasion about his former job, but I (as a reader) never was able to get a firm grasp on what exactly Herb did before the book began, before his retirement, to give him the knowledge to know everything. Herb just knows everything. And Adam learns everything and becomes a respected young leader by being around Herb.
There is a pretty large cast of secondary characters and I have to admit that I find them likable for who they are. Even the ones that are written as questionable – I liked them as characters. Great job in that regard, author! The setting is a surburban area and an outlying farm, all of which are easily imaginable and visualized because the author describes his scenes well. BUT…I really feel like The Rule of Three stands out in world-building – readers are basically plopped right down in the middle of this peaceful suburban neighborhood that experiences some thing and we watch as chaos happens and civilization breaks down and people begin to distrust one another and battles begin. People lose lives, people die from lack of necessities and basic needs. People have to learn to go back to almost-primitive ways of living – growing their own food, cleaning their own water, things like that. I LOVE THIS part of the story. Not only do we get a glimpse of how this particular community chooses to do these restorative actions, but we get a general sense of how dependent we are on things like electricity, refrigeration, grocery stores, working vehicles, air travel, entertainment, etc.
In my opinion, the action-driven plot, the unfolding of the catastrophic/ apocalyptic event as it occurs, and the great world-building make this book adventurous and therefore appealing to a broader target audience. PLUS the marketing as far as the cover goes also works in to pull in those younger male readers and reluctant readers. I recommend
The Rule of Three
by Eric Walters to fans of middle grade and young adult adventure and survival stories, apocalyptic tales, male leading characters, and great world-building.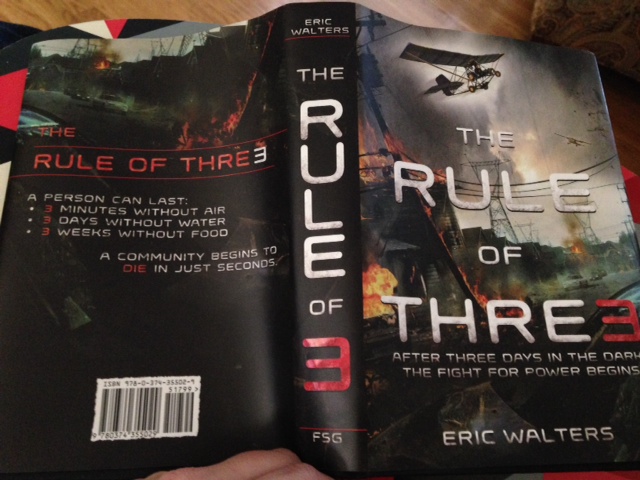 **
I would love to see this book in libraries and classrooms specifically for the reluctant readers that I have mentioned and I noticed that on the
author's website
there is a
reading/study guide provided
, which I think is AWESOME
.**
Sidenote: I finished this book thinking it was a little "open-ended" or maybe a bit unresolved because I initially thought it was a standalone. HOWEVER, I read the author's STUDY GUIDE that he has graciously provided on his website (LINK HERE) in which he mentions that there will be two additional books in this series. This is exciting to me because I know 1) my questions will be answered and 2) we will get to see further into the future of this community that is in chaos and devastation, and hopefully things will turn around for them! YAY for news of more to come!
**********************************************************************
The Rule of Three will appeal to fans of:


Romance: Very light (like a crush). No triangle.
Great Secondary Characters
Great World-building
The Rule of Three

by Eric Walters


is currently available for purchase.
**I received a review copy from the publisher in exchange for an honest opinion and review. I received no compensation for my thoughts and they are completely my own! Thank you so much Macmillan!
**********************************************************************
How awesome is it that the author included a study guide on his website? I REALLY hope this book ends up being used in classrooms.


How do you guys like the photos I included of the title page and cover/spine art?