The School for Good and Evil
by Soman Chainani
Series: The School for Good and Evil #1
Published by HarperCollins
Publish Date: May 14, 2013
488 Pages
Source: Book – Library, Audiobook – Library
Find It: Goodreads / Amazon / B&N


"The first kidnappings happened two hundred years before. Some years it was two boys taken, some years two girls, sometimes one of each. But if at first the choices seemed random, soon the pattern became clear. One was always beautiful and good, the child every parent wanted as their own. The other was homely and odd, an outcast from birth. An opposing pair, plucked from youth and spirited away."

This year, best friends Sophie and Agatha are about to discover where all the lost children go: the fabled School for Good & Evil, where ordinary boys and girls are trained to be fairy tale heroes and villains. As the most beautiful girl in Gavaldon, Sophie has dreamed of being kidnapped into an enchanted world her whole life. With her pink dresses, glass slippers, and devotion to good deeds, she knows she'll earn top marks at the School for Good and graduate a storybook princess. Meanwhile Agatha, with her shapeless black frocks, wicked pet cat, and dislike of nearly everyone, seems a natural fit for the School for Evil.


But when the two girls are swept into the Endless Woods, they find their fortunes reversed—Sophie's dumped in the School for Evil to take Uglification, Death Curses, and Henchmen Training, while Agatha finds herself in the School For Good, thrust amongst handsome princes and fair maidens for classes in Princess Etiquette and Animal Communication.. But what if the mistake is actually the first clue to discovering who Sophie and Agatha really are…? (from Goodreads)
The School for Good and Evil
by Soman Chainani
My Thoughts: I was so excited to start this book, particularly since I was listening to the audiobook as I followed along with the print copy. The audiobook was marvelous and HELLO THERE ARE MAPS AND ILLUSTRATIONS so all of these things together, along with the fact that the book has a running theme of good vs. evil, had me jumping up and down with the need to hurry and get started. It was a good book, it was. And I loved so much about it. But there were also a couple of things that I would change if I could.
First of all, have you all seen this book trailer?
**************************************************************
Sophie and Agatha are an unlikely set of best friends. Sophie dresses in lovely pink outfits, loves to fix her beautiful blond hair, and does good deeds like they're going out of style. She dreams of the day she will be whisked away to become a princess because, really, she can see herself as nothing else. Agatha is practically the opposite of Sophie – she dresses in dark clothes, she often grumbles, and she lives in a graveyard. When the two are finally taken away to The School for Good and Evil, the girls can barely believe it. SURELY a mistake has been made, for Sophie has been taken to The School for Evil and Agatha has been taken to The School for Good. Who made this terrible mistake and can someone fix it please? Neither Sophie nor Agatha can see how this could be possible and they both spend a large portion of the book trying to rectify what they consider to be an awful error.
But is Sophie really good?
And is Agatha really the evil one?
The truth is this: once you arrive at the school, your fairytale is written for you. Generally you arrive as a pair – like Sophie and Agatha – which means that one will be the hero and one will be the villain. These two friends initially do not like this and cannot bear the thought that they will be against one another ever in life – (they're best friends, remember?) – but as the book progresses and as Sophie sets out to prove that she is indeed the good one out of the two, Agatha tries over and over to help her reach this goal. (This is awfully good of Agatha, no?) And the harder Sophie tries to win the heart of her prince – so she can become a real princess – she loses sight of proving herself good…which is very telling for poor Sophie and for Agatha.
**************************************************************
I loved this twist on good vs. evil at a middle grade level. I loved watching how the pursuit of being good can corrupt us and blind us into thinking we are actually good when we are really doing harm and maybe not even realizing it. I loved watching Sophie, beautiful on the outside, come to terms with what "good" really means. I silently and sometimes out-loud cheered for Agatha as she came to terms with the fact that she was neither ugly nor any of the other things she had always believed about herself – she was, in fact, a lovely and good person. Agatha learned that true beauty is just as much on the inside as it is on the outside. Agatha wins all of the awards, in my opinion.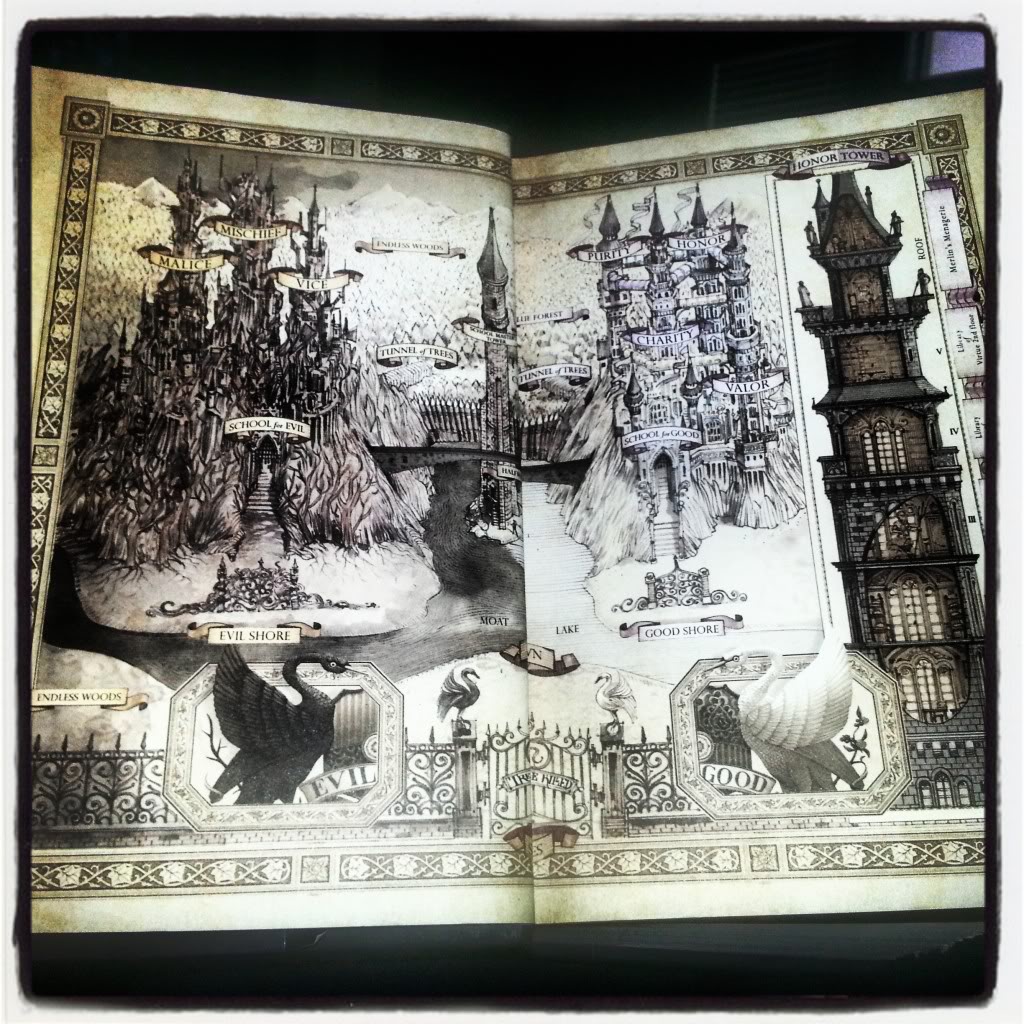 MAP MAP Beautiful MAP!
The School for Good and Evil by Soman Chainani is such a marvelously fun idea for a middle-grade tale that I could barely stand holding it in my hands when I initially got it – I had to start it as soon as possible. Lucky for me, I was able to grab a library copy of the audiobook to listen to while I read along (oh my goodness, so fantastic!). As I've mentioned earlier, there is actually a map so beautiful I actually Instagram'd a picture of it, and the illustrations throughout the book are just as impressive. SERIOUSLY, THEY ARE IMPRESSIVE YOU GUYS. I think the idea of pairs of children – friends – being snatched up from unsuspecting villages to become famous fairytale characters is fun, and spending time with some of them as they spend a year at The School for Good and Evil seems like a really neat way to see this idea come to life.
However awesome the idea of the book, however, I did have a few things that I would have changed. Keeping in mind that this is a middle-grade book, the first thing that I would change is its length – this is a chunky book for some middle-graders, coming in at almost 500 pages. Yes, I said there were illustrations throughout, but none were full-page illustrations, so the book is indeed quite long. I think that a big portion of the detail in the story, even perhaps a big chunk of the action, could have been removed and the story would have still remained true and been just as excellent. I think that it would take a devoted middle-grade reader to stick with this one and even I have to admit that it took me FOREVER to finish it, even with the amazing audiobook to nudge me along. In truth, I lost interest a few times along the way and finished several other books while I was reading this book. Another thing I would change is that there are so many characters in this story, I personally wasn't able to keep up with most of them. I actually gave up on trying to keep up with who was who and certainly who was good vs. who was evil. Sure, I could keep up with the main characters – Sophie, Agatha, Tedros – but as far as the rest of them go, I just glossed over the names and kept going, and this was with both print and audio. My hope is that with the second book, there is more focus on fewer characters, if that makes any sense at all.
Audiobook Notes:
The audiobook format of The School for Good and Evil by Soman Chainani
is published by HarperAudio
and is 13 hours, 46 minutes, Unabridged. It is narrated by Polly Lee, who is new-to-me in terms of audiobook narrators and flat-out made me excited to listen to this book. She was completely fantastic. In fact, she was THE REASON I stuck with this book during the times I felt like the book was too long. I loved the way she voiced every character in this audiobook, brilliantly and uniquely, each with a personality of his or her own. Her pacing was perfect – never too slow for my taste – and her lovely accent made this whimsical fairytale story that much better. I hope that she continues to read this series because, honestly, it felt like it was written with her voice in mind. I cannot sing the praises of this audiobook high and loud enough. It is amazing.
Ultimately, I did enjoy The School for Good and Evil by Soman Chainani. I thought that the things that were good about it were brilliant, magical, and kind of mysteriously wonderful. I did have a few concerns with it as a middle-grade book, and even as a younger YA book, but the die-hard reading fans will choose to stick this one out regardless of my opinions. What I loved about this one far outweighed what I would change. As far as this being a series, I am happy with how this book ended – I don't feel any stress about the ending and I actually feel like I could stop after this book and things would be okay FOR ME. I think this author has stumbled upon something really special here and it will be interesting to see where he goes with it.
I recommend The School for Good and Evil to fans of middle grade fantasy and fairytales, good vs. evil, magic, and character redemption. ALSO MAPS AND ILLUSTRATIONS, in case I haven't made it clear that they are present in the book.
**************************************************************
The School for Good and Evil will appeal to fans of:
Middle Grade/Younger YA Fantasy
Good vs Evil
Illustrations & Maps
The School for Good and Evil by Soman Chainani
is currently available for purchase.
**************************************************************
Have you read this book?
Do you read middle grade books often?
HOW MUCH DO YOU LOVE THAT MAP
AND THOSE ILLUSTRATIONS?