The Secrets We Carried
by
Mary McNear
Series:
Butternut Lake #6
Published by
William Morrow
on September 25, 2018
Pages:
368
Source:
the publisher
Buy from Amazon
|
Buy from Barnes & Noble
|
Buy from Book Depository
Goodreads
Readers who love Susan Wiggs and Susan Mallery will adore New York Times bestselling author Mary McNear newest novel. A young woman travels home to Butternut Lake, confronting her past and the tragedy she and her friends have silently carried with them for over a decade while also facing an unknown future.

Butternut Lake is an idyllic place—but for one woman, her return to the lake town she once called home is bittersweet…

Sometimes life changes in an instant.

Quinn LaPointe grew up on beautiful Butternut Lake, safe, secure, sure of her future. But after a high school tragedy, she left for college and never looked back. Becoming a successful writer in Chicago, she worked to keep out the dark memories of an accident that upended her life. But now, after ten years, she's finally returned home.

Butternut is the same, and yet everything is changed. Gabriel Shipp, once her very best friend, doesn't want anything to do with her. The charming guy she remembers is now brooding and withdrawn. Tanner Lightman, the seductive brother of her late boyfriend, wants her to stick around. Annika Bergstrom, an old classmate who once hated Quinn, is now friendly. Everyone, it seems, has a secret.

Determined to come to terms with the tragedy and rebuild old relationships, Quinn settles into Loon Bay Cabins, a rustic but cozy lakeside resort, where she begins writing down her memories of the year before the accident. Her journey though the past leads her to some surprising discoveries about the present. As secrets are revealed and a new love emerges, Quinn finds that understanding the past is the key to the future.
I received this book for free from the publisher in exchange for an honest review. This does not affect my opinion of the book or the content of my review.
Review:
I have loved every one of the Butternut Lake books by Mary McNear. Since I found out there would be a sixth book, I've been so eagerly anticipating it. I love the setting of Butternut Lake. For some reason, lakeside settings always appeal to me, and this series is just one of my favorites. I couldn't wait to get started reading about Quinn LaPointe and her time back home at the lake.
So, something tragic happened long before the story starts, back when Quinn was in high school. Three boys died on the lake in an awful accident. As the story begins, Quinn is traveling back home to attend a service in which a memorial stone is being unveiled in the boys' honor. She is terrified of going back home – there is a reason that she left and hasn't gone back. She feels partially responsible for the accident and she hasn't been able to face the town, the scene of the accident, and the family members that the boys left behind. One of the boys was her boyfriend, the other two were his best friends. Arriving back in town is indeed hard for her, but she also feels something like a little bit of hope and some other emotions in reconnecting with some of her other high school classmates. Quinn decides to hang around town for a few days and see if she can work through the tragedy from years ago. Since she is a freelance writer by trade, Quinn decides to write out what she is feeling – just to see if it helps her any.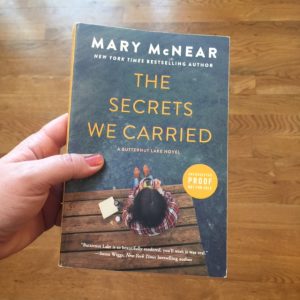 First of all, it took no time at all for me to fall into this story. I read the first page, and I felt right in there with Quinn. Full disclosure, Mary McNear always manages to pull me into whatever the characters are experiencing at Butternut Lake, so I wasn't shocked at all and I felt right at home. Quinn actually had a depth that I can relate to because a few years ago, I also returned to my hometown after leaving under painful circumstances. So I could appreciate her trepidation and those initial dizzying feelings and rapid heartbeats, and the all-around nerves of just being back there. I could also appreciate the curiosity of learning what some of my old friends and classmates had gotten themselves up to, and then finding out that some hadn't lived up to exactly what they dreamed about while in school, and others had far exceeded expectations.
I also loved Quinn's interactions with the townsfolk, particularly her once-best-friend Gabriel. Quinn was very excited about the possibility of reconnecting with him once she arrived in town, but his reaction to seeing her disappointed her so much, and his demeanor overall was just…off. As Quinn began to make visits with a few people, she realized that she wasn't the only one harboring some big feelings over the accident ten years ago – like guilt and some secrecy. But isn't that almost always how it is? Far more than one side to every story? And more than one hurt in the crowd?  I felt so invested in all of these stories and perspectives. I would sit down to read and before I knew it, it was hours later and I hadn't even glanced up.
While doing all of the visiting, Quinn was writing down her memories from the past, which was a really neat way for readers to get a glimpse of what happened around the time of the accident. It also gave great perspective on Quinn's relationships with different characters in the story, both past and present. It's like a story-within-a-story technique, but also an alternating time period story structure.
In the Goodreads description and the synopsis from the publisher (scroll up to the colored box above), this book is compared to novels by Susan Wiggs and Susan Mallery, and I think I agree with that. I love all three of these authors tremendously. They are favorites of mine and I think if you love one, you will likely love them all. Also, even though this is the sixth book in this series, it can be read at any time. There isn't any necessity to reading this one in any order. I believe the setting is what links all of these stories in this series together, so if readers are curious about these books, The Secrets We Carried could be a great starting point and I'd absolutely recommend it.