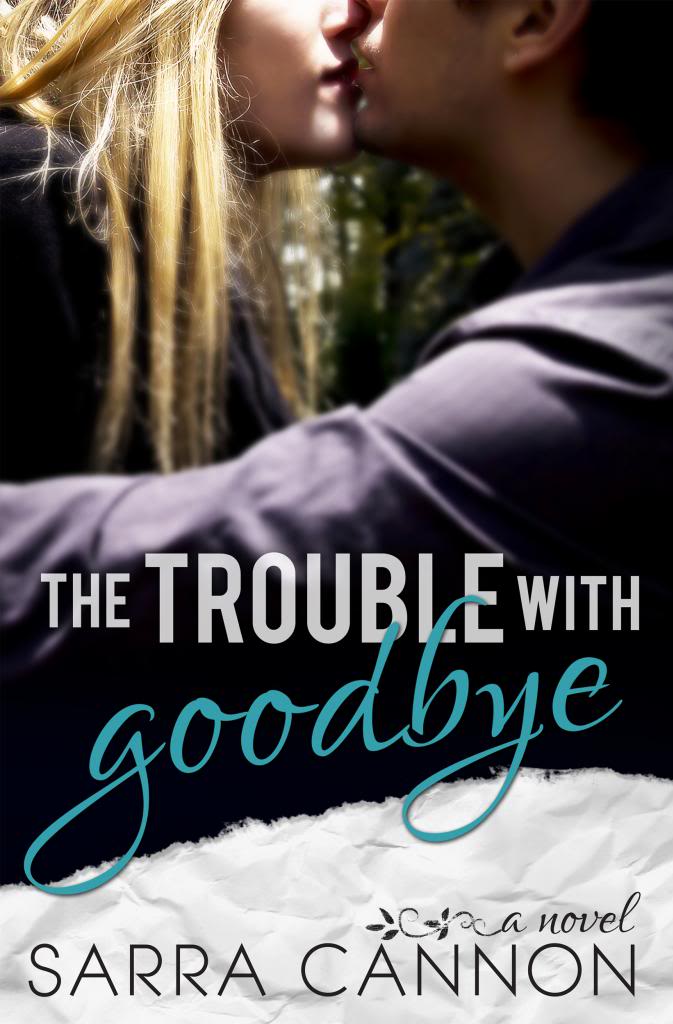 Source: Author for Review – Thank you!
One night can change everything…

Two years ago, Leigh Anne Davis shocked everyone in tiny Fairhope, Georgia when she broke up with her wealthy boyfriend to attend an Ivy League university a thousand miles away. At school, she finds a happiness and independence she's never known.

Until one terrifying night takes it all away from her.

With no place else to go, Leigh Anne heads home to reclaim her old life. A life she worked so hard to escape. On the outside, she seems like the same girl everyone has always known. But deep inside, she's hiding a terrible secret.

That's when she meets Knox Warner, a troubled newcomer to Fairhope. His eyes have the same haunted look she sees every day in the mirror, and when she's near him, the rest of the world fades away. But being with Knox would mean disappointing everyone all over again. If she wants to save what's left of her old life, she has no choice but to say goodbye to him forever.


Only, the trouble with goodbye is that sometimes it's about courage and sometimes it's about fear. And sometimes you're too broken to know the difference until it's too late.
-(summary from Goodreads)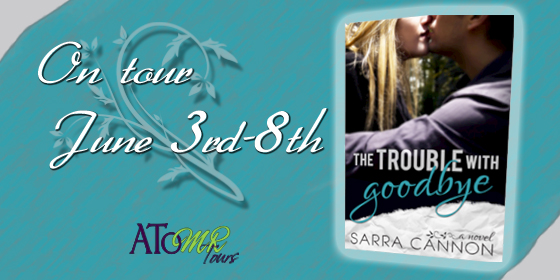 The Trouble With Goodbye by Sarra Cannon
My Thoughts: The Trouble With Goodbye by Sarra Cannon is a relatively short but very good book about a girl that tries to hide some trauma from her past, tries to push it away, and this ends up making her life miserable, causing some problems for her, and just not working out at all. It's also about finally finding someone that understands you and having to make some tough decisions about falling in love. Big stuff, you guys, and so, so good.
The Trouble With Goodbye begins dramatically when Leigh Anne Davis runs off the road and ends up in a ditch just outside of her small hometown in Georgia.
Leigh Anne has just left her prestigious college in Boston to return home for the summer and a
s it is basically the middle of the night out in rural Georgia, there is no one on the road for assistance and no cellphone service. Lucky for Leigh Anne, Knox Warner just happens to drive by – and this is their first chance meeting, the first meeting of many.
Oh how Leigh Anne has dreaded coming home! With everything that has happened to her in the past year at school, her parents have been completely unsupportive (and that's putting it kindly) and she hates the thought of returning to her old life. She doesn't want to rehash her story at all – in fact, she thinks it best left buried as her mother has firmly suggested. Wouldn't want to damage that family name, right? Plus, it will really stink to have to see her ex-boyfriend after all of this time. He was the one, after all, that was caught in a very compromising position with another of her friends, and Leigh Anne knows that they are still dating. She really feels that there isn't much to come home to…but she really just needs to get out of Boston for a while. She can't stand being there with all of the media everywhere and him and the other girl and all of the reminders. Everything is just too much. Too much.
But who is this Knox Warner guy? He wasn't in town when she left for Boston. It was way kind of him to stop and help her in an above-and-beyond kind of way, and she could definitely see that he had some sadness or deepness or something there behind his eyes – Leigh Anne can recognize that a mile away now because she has that sadness in her eyes too. Curious about Knox – maybe crushing on him too – she asks her friends about him after they've reconnected. Their reaction is quick and immediate: OH YOU DON'T WANT TO MESS WITH THAT GUY!!! UGH! STAY AWAY FROM HIM!!! Leigh Anne's friends and her parents and seemingly everyone around town has heard about Knox, about some things from his past, and they're constantly judging him. But Leigh Anne has experienced how kind he has been to her on the several occasions that they've met (yes, he bails her out of trouble more than once), and she can't help wanting to spend more time with him.
Leigh Anne is drawn to Knox because they both have broken pasts, broken things about them. Perhaps they can relate to each other in ways that no one else can understand. And that is such a comforting thought to them both.
*******************************************************************
Okay, so I read The Trouble With Goodbye by Sarra Cannon and pretty much couldn't put it down. It was a pretty quick read and was very engaging and captivating, and I loved that it was an issues contemporary, which is just my cup of tea.
The author doesn't immediately let us know what it was that happened to Leigh Anne back on her college campus. Certainly we can speculate – and we may even be correct – but it takes a little while for the pieces to come together, and eventually Leigh Anne does tell her story. And when she does – heartbreak, heartbreak. It is understandable why she would need to take a break from the college campus for awhile, from the stares and gossip and questions and comments, but I felt a lot of feelings for her because the "break" for her was to come back to her small hometown in the South. As a Southern girl myself, I understand that this often isn't necessarily a break and can often be more of a headache if there is any type of drama involved or if there is a family looming in the background like hers. Thankfully she is able to meet a guy like Knox, but even then, the judgment and gossip surrounding him was just plain pitiful. (I blame everything on Leigh Anne's awful mother. She was wonderfully written as an awful person. Loved it.)
As far as Knox goes, this is a guy that has had a pretty broken past of his own – he moved to town to escape his past and for a fresh start. He chose this particular town because he has some family there, but it turns out that life in the South is often gossip and judgment if you don't fit in (as it can be anywhere), and this is what Knox had learned to endure. He handled it quite well, taking a job and making a life for himself in the town. Still, his eyes gave away that he was hiding something and Leigh Anne picked up on it and she never judged him. She got to know his heart – the person on the inside – and it was really great that the two of them were able to form a friendship/relationship based on their comfort level with one another because they both had sustained hurts in their pasts. They understood each other, formed an easy bond, and were able to open up and have fun around one another. Had Leigh Anne not found Knox in town, her summer would've likely turned out much differently.
Once Leigh Anne and Knox established enough trust that they were able to open up and tell one another about their pasts, their relationship progressed and deepened, and it was really nice. I loved their romance because it was an actual romance and not just a sexed-up fling. They had already established that they cared for one another, so the progression to the romantic relationship seemed like an easy transition for them. And you know what? Once Leigh Anne continued to see Knox despite the protestations of her (awful) mother, others began to warm up to him too -they began to stop judging him and see the person behind the gossip and rumor mill that ran so rampant in their small Southern town.
I will say that the events that happened to both Leigh Anne and Knox were pretty doggone traumatic. Reading these events was not easy – both had been through some very trying times, very difficult things in their lives. These scenes are not long but pushing through them is very rewarding because they are pivotal in understanding these characters and why/how they ended up who and where they are.
I loved The Trouble With Goodbye by Sarra Cannon. I recommend it to fans of New Adult Contemporary with Romance, fans of contemporary with issues, and fans of stories that are set in the South (YES!). It's a quick read, and engaging, like I mentioned earlier, and it's one that I think I'll re-read in the future. I'd also love to see this author write more contemporary!
*******************************************************************
The Trouble With Goodbye will appeal to fans of:

New Adult Contemporary with Romance
and Issues
Romance: Sort of Slowly-Developing. No triangle.
Setting: Georgia (YES, the South, WOOHOO!)
Issues: Sexual Assault and others.


*Warning: Certain short scenes may be triggers for
some people, particularly sexual assault victims.*
The Trouble With Goodbye
by Sarra Cannon
is currently available for purchase.
*******************************************************************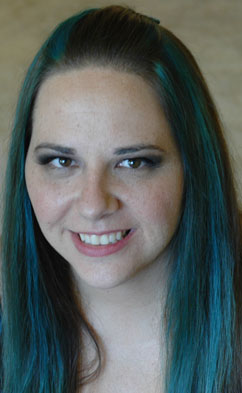 Sarra Cannon grew up in a small town in Georgia where she learned that being popular always comes at a price. She is the author of the young adult paranormal Peachville High Demons series, which she first began self-publishing in October of 2010. Since the series began, Sarra has sold over 120,000 copies and recently signed a contract with Sea Lion Books to create a graphic novel adaptation of Beautiful Demons, the first book in the series.
Sarra lives in North Carolina with her amazing husband, her new baby boy, and her teeny tiny
Pomeranian, Snickerdoodle.
*******************************************************************
And now for the Giveaway!
Author Sarra Cannon
is offering
:
(5) Print copies of The Trouble with Goodbye – Open International
(10) eBook copies of The Trouble with Goodbye (mobi and epub)
–
(1) $25 VISA Gift Card – open to countries able to accept VISA Gift Cards