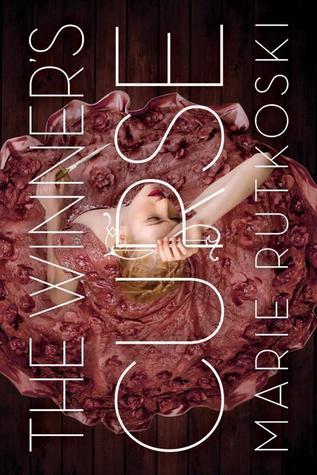 The Winner's Curse by Marie Rutkoski
Series: The Winner's Trilogy #1
Published by Farrar, Straus and Giroux (BYR)
Publish Date: March 4, 2014
Source: Purchased
Find it here: Goodreads / Amazon

Winning what you want may cost you everything you love.

As a general's daughter in a vast empire that revels in war and enslaves those it conquers, seventeen-year-old Kestrel has two choices: she can join the military or get married. But Kestrel has other intentions. One day, she is startled to find a kindred spirit in a young slave up for auction.

Arin's eyes seem to defy everything and everyone. Following her instinct, Kestrel buys him—with unexpected consequences. It's not long before she has to hide her growing love for Arin. But he, too, has a secret, and Kestrel quickly learns that the price she paid for a fellow human is much higher than she ever could have imagined.

Set in a richly imagined new world, The Winner's Curse by Marie Rutkoski is a story of deadly games where everything is at stake, and the gamble is whether you will keep your head or lose your heart. (from Goodreads) .


The Winner's Curse by Marie Rutkoski


Here is my original review for The Winner's Curse.

In anticipation of the release of The Winner's Kiss (!!!), which will end The Winner's Trilogy, I started rereading the first two books again via audiobook and oh. my. goodness. I'm so happy to be back in this world again.


Gosh, I love rereading favorites. I especially love adding the audiobook to the experience. In this case, Justine Eyre narrates (8 hours, 24 minutes, Unabridged) and gave the book an entirely new spin for me. Not only did she pronounce several character names differently than I did, but her inflection was different and the emphasis she used at different parts was not like what I adopted when I read this book the first time. (My Southern drawl gets in the way?) This really created a new story experience for me. More than anything, I loved the accent she gave Kestrel and how it differed from Arin's. This is a big deal in the story and I'm happy to see that the narrator carried this detail well into the audiobook. Bravo!

As far as the story goes, I love the forbidden romance between Arin and Kestrel. I love the fantasy setting. I love these characters, both good guys and bad guys. The betrayal and secrets. The little details that make this story so great. I love the language that this author used, her verbage. It is delectable.

But mainly I loved this romance. So painful and wonderful and ahhhh that ending! LOVE.

Love love love.



**********************************************************************
The Winner's Curse will appeal to fans of:


Young Adult Fantasy with Romance
Slowly-Developing Romance with No Love Triangle
Great Characterization
Plot Twists & Betrayals

The Winner's Curse by Marie Rutkoski
is currently available for purchase.
**********************************************************************