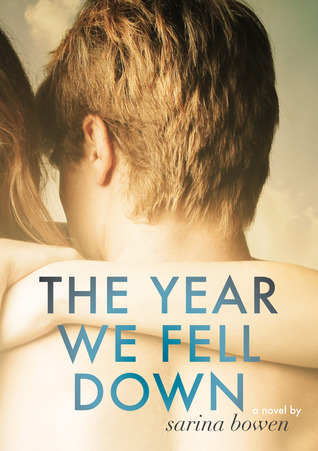 Series: The Ivy Years #1
Publisher: Rennie Road Books
Publish Date: March 24, 2014
268 pages
Source: Author for Review – Thank you!
Find It: Goodreads / Amazon / B&N
The sport she loves is out of reach. The boy she loves has someone else.
What now?

She expected to start Harkness College as a varsity ice hockey player. But a serious accident means that Corey Callahan will start school in a wheelchair instead.

Across the hall, in the other handicapped-accessible dorm room, lives the too-delicious-to-be real Adam Hartley, another would-be hockey star with his leg broken in two places. He's way out of Corey's league.

Also, he's taken.

Nevertheless, an unlikely alliance blooms between Corey and Hartley in the "gimp ghetto" of McHerrin Hall. Over tequila, perilously balanced dining hall trays, and video games, the two cope with disappointments that nobody else understands.

They're just friends, of course, until one night when things fall apart. Or fall together. All Corey knows is that she's falling. Hard.

But will Hartley set aside his trophy girl to love someone as broken as Corey? If he won't, she will need to find the courage to make a life for herself at Harkness — one which does not revolve around the sport she can no longer play, or the brown-eyed boy who's afraid to love her back. (from Goodreads)
The Year We Fell Down by Sarina Bowen
My Thoughts: I have a VERY SOFT spot for the friends-to-romance stories and The Year We Fell Down by Sarina Bowen not only did not disappoint – I think it is one of my new favorite new adult stories. You guys, I read a ton of books in this category so I feel like I am not speaking lightly when I say this.
*********************************************************************
I absolutely love the new adult category of books, especially the ones that have well-developed, realistic characters living realistic lives with realistic problems. That is exactly what I found when I started The Year We Fell Down by Sarina Bowen and because of this, I COULDN'T PUT IT DOWN.
College freshman Corey Callahan is primarily wheelchair-bound after a hockey accident earlier in the year. She is excited to come to Harkness College if for no other reason than her parents are driving her crazy. Once a talented athlete, Corey's accident has devastated her entire family, and she can no longer stand the way they are tiptoeing around her in nearly every aspect of life – she feels like she wants to try and get on with her life but her parents are stifling her. Harkness is just what she needs: a fresh start, a new life. Unfortunately, she knows that she will stick out like a sore thumb on campus in her wheelchair or using her walkers and braces, but HEY AT LEAST SHE'S IN COLLEGE AND AWAY FROM HOME!
Corey is placed in one of two rooms that are adapted for the handicapped or wheelchair-bound. Her roommate, Dana, is not handicapped but seems really neat and the two hit it off easily. Across the hall, there is another handicapped-accessible room. This is where the very handsome (and very spoken-for) Adam Hartley resides. Adam is a hockey player for Harkness but took a nasty fall not too long ago and broke his leg in a couple of places, which means he is sitting this season out. Adam has no roommate.
Corey and Hartley hit it off as the two slowpokes on campus – Hartley on crutches and Corey in her wheelchair. They quickly realize that they can help one another out with things like going through meal lines (Corey can't see over the counter; Hartley can – Hartley can't carry his food well because of his crutches so he places his food on Corey's tray, etc). They also realize that they share a love for hockey. An easy friendship develops over this common situation they are in and the common interests they have, but Corey soon develops a crush and so does Hartley. But, see, there's that girlfriend…
*********************************************************************
The Year We Fell Down by Sarina Bowen is a great book for people that love the new adult category and also people that are a little hesitant about the new adult category because they're not into the angsty alpha male or they've been burned before by bad NA stories. This story is, like I said earlier, extremely realistic and yet different than the other stories out there, plus it is a delight to read.
Corey is a strong, strong female leading character. She goes through times when she thinks she is weak – gracious, who wouldn't in her situation? – but it is super-apparent to every single person around her that she is quite the opposite of weak. She has overcome a tragic accident that has completely re-routed her entire life and her dreams for her future and she IS MAKING IT. Corey did not let something like a wheelchair keep her from going to college – in fact, she went to a college miles and miles and hours away from her parents or anyone else that she knows. Certainly, Corey feels like everyone is staring at her as she rides through campus or when she awkwardly fumbles around in classrooms or when she finds that she has to climb stairs and navigate paths that walking-people take for granted…but she still does it. She finds strength in her roommate Dana, who is an AMAZING character, and in the guy across the hall, Hartley. Corey's vulnerability is one of the things I think I liked most about her character, as well as her willingness to try things out of her comfort zone even when she did not necessarily want to. She pushed herself to be better, be braver, work harder and that makes for a really great and kick-butt female leading lady.
Of course, it helps to have someone that understands what you're going through in the tiniest of ways, Corey thinks. And Hartley thinks the same thing. Which is how and why they become friends so easily.
Hartley is a good guy. I liked his character so much. The thing about Hartley is that he isn't as strong as Corey and he knows it. He owns it and he learns from her. Hartley does not become an angry alpha-male and treat Corey rudely when she tries to share tips with him to help him adapt to his temporary disability – he embraces them because he realizes she is speaking from experience and he takes the opportunity to learn from her. Hartley is dating someone that is completely wrong for him and everyone can see it except for Hartley. He also a big, unresolved issue from his past that is nagging him – he needs to confront this beast, and he really wants to, but so far he has never had the courage to do it. At heart, he is a good guy, even when he makes mistakes. He means well. He is loyal to those that he loves – his family, his friends, his girlfriend. AND he is a great hockey player on the Harkness team. Having to sit out this season is hard for him but having Corey as a friend makes it bearable.
The romance in this book is really great to read. It's one of those absolutely wonderful (to me) friendships that turn into crushes that turn into full-on romances. It is torturously slow, but I love that. Both Corey and Hartley have these feelings that are strong toward one another, but Hartley keeps hanging onto his girlfriend. Eventually Corey, because she is pretty smart, takes a step back and decides that she needs to stay away from Hartley before her feelings develop any more (hey, good job Corey!). During this time, she becomes even more independent. She joins an intermural sports team, which is awesome because her group of friends grows, she develops more confidence, and becomes more willing to try new things. As Corey ventures further and further out of her comfort zone and becomes more stronger:
Hartley realizes that he misses having her in his life and he needs her and WOW does he maybe, possibly love her?

Hartley realizes that if Corey can have strength – with all of the junk she has to deal with on a day-to-day basis – he probably can to. If she can do everything she sets her mind to, surely he can face his one big THING that keeps nagging at him.
Corey has no idea that she inspires Hartley so much and what he does is pretty amazing – Hartley wants Corey and he loves Corey and she has loved him back for so long…but OH MY GOODNESS it would be such a risk for Corey to open herself up to be loved by someone like Hartley – someone whole when she is wheelchair-bound. YOU GUYS, THIS ROMANCE. THESE TWO PEOPLE!
I could absolutely see myself back at college and knowing the people in this story. I feel like I know them now.
*********************************************************************
Okay, so The Ivy Years Series is a new series for me. I'm diving head-first into this series and will be reading these books as they come out. I absolutely adored this one for the realistic story line and the fully-developed characters plus the fact that it took place on a college campus, which was a great setting that I could visualize easily. Extra points for including athletics and a main character with a disability that didn't get her down! I loved the secondary characters and I am way, way excited about the next book because it will be about Hartley's best friend Bridger and will include his story – he was included quite a bit in this book and there is a brief glimpse into his life, and I found myself hoping that I would be able to know more. (I was happy in a ridiculous way when I finished this book and looked onward to see that Bridger's story is next.)
I recommend
The Year We Fell Down
by Sarina Bowen for readers that enjoy New Adult Contemporary Romance – especially new adult books that take place on a college campus and include students attending classes – and slow-burn romance. Fans of books that include athletics and books including characters with disabilities will also enjoy this one. This is a great, great contemporary story and I'd love to see a great many of my friends reading it and then sharing it outward.
*********************************************************************
The Year We Fell Down will appeal to fans of:

New Adult Contemporary Romance
Romance: Slow-Burn. Friends-to-Romance.
Great Secondary Characters
Alternating POV
Setting: College Campus
Athletics
Issues: MC with a Disability


The Year We Fell Down
by Sarina Bowen
is currently available for purchase.
*********************************************************************