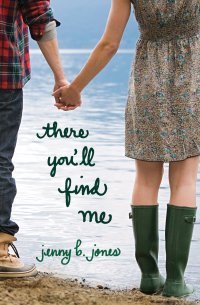 There You'll Find Me by Jenny B. Jones
Published by Thomas Nelson
Publish Date: January 1, 2011
Source: Book – Publisher, Audiobook – Library
Find It: Goodreads / Amazon

Grief brought Finley to Ireland. Love will lead her home.

Finley Sinclair is not your typical eighteen-year-old. She's witty, tough, and driven. With an upcoming interview at the Manhattan music conservatory, Finley needs to compose her audition piece. But her creativity disappeared with the death of her older brother, Will.

She decides to study abroad in Ireland so she can follow Will's travel journal. It's the place he felt closest to God, and she's hopeful being there will help her make peace over losing him. So she agrees to an exchange program and boards the plane.

Beckett Rush, teen heartthrob and Hollywood bad boy, is flying to Ireland to finish filming his latest vampire movie. On the flight, he meets Finley. She's the one girl who seems immune to his charm. Undeterred, Beckett convinces her to be his assistant in exchange for his help as a tour guide.

Once in Ireland, Finley starts to break down. The loss of her brother and the pressure of school, her audition, and whatever it is that is happening between her and Beckett, leads her to a new and dangerous vice. When is God going to show up for her in this emerald paradise?

Then she experiences something that radically changes her perspective on life. Could it be God convincing her that everything she's been looking for has been with her all along? (Goodreads)



There You'll Find Me by Jenny B. Jones

My Thoughts: I was initially attracted to There You'll Find Me by Jenny B. Jones because of this cover – so lovely and super simple, but there is also something very honest and true about it that pulled at my heart. As life would have it sometimes, this book sat on my Kindle for a long time before I actually got around to reading it. ALSO as life would have it, I picked the perfect time to read it and I love when that happens because it is such a sweet feeling.



***********************************************
Finley Sinclair meets Beckett Rush on the plane to Ireland – Beckett is a famous young actor on his way to finish a movie and is shocked at how unimpressed Finley is with him. It's refreshing and…easy. See, Finley has more to worry about than Beckett's celebrity status. She is on her way to Ireland to study abroad (aka to use this time to get closer to her recently-deceased brother, because he loved Ireland so much).
Okay so that's what I considered the bare-bones of the book — but there is more to the story, obviously. Finley has a family back home in America that loves her, sure, but they're WAY out of touch with what she's got going on – plus now they're not even close to her geographically anymore. She finds an easy friend in Beckett, which is great, because he really needs a real friend that isn't interested in his money or his fame or his power. Finley tells him like it is and is a great sounding board and advice-giver so what happens is Beckett finds the gumption to begin making some decisions for himself, decisions that he has previously left to his father and manager (this is such a big deal!).
Beckett helps Finley see Ireland, the places her brother spoke about in his journal, helped her find out some of Ireland's history. Ireland began to become a part of who she is, just like it was a part of who her brother was, and this helped moved Finley through her grief a bit, and it helped to intensify the relationship between the two friends. Certainly the two had plenty of fun and I laughed at the two of them throughout the story. They had fun together! She helped him rehearse for his acting…things like that. But as they became closer and more in tune with one another, more issues became apparent.
***********************************************
There You'll Find Me by Jenny B. Jones is SO GOOD, you guys. It is such a great coming-of-age tale that also tackles a few issues. There is some romance, sure, but there is grief, there is an eating issue, loss of a family member in Afghanistan, and there is a girl who is questioning her faith in God. I had to take a step back for a second and reread the last chunk of the book to really appreciate the immensity of what was going on in the life of Finley.
Finley got so caught up in her goals that she became not-quite-but-maybe-obsessed with what she was doing. Writing music, reconnecting with her deceased brother, building a relationship, being away from home – it's SO MUCH for a young person. Finley's eating problem snuck up on me and before I knew it, Beckett had called her out on it. I did the same thing that Finley was doing – denying the issue, brushing it aside. This is key. It snuck up on me SO HARD that I called a friend that had read the book already so we could discuss – this was wonderful. And then I read the last chunk of the book again.
I am a mother of three – two tween girls – and this book means so much to me because it is THAT easy for everything that was going on with Finley to spiral, spiral, spiral and be excused away like Finley did. It was really excellent writing on the part of this author to craft a story that was so seamless in the delivery of this issue – I never realized the eating problem until a certain point and no one else in the story did either, although it is there for me to see had I been aware enough. Fantastic.
I would also NOT BE MYSELF if I didn't mention the fantastic setting in this story because it is almost ALIVE. You can see it on the cover of this book somehow, that there is something for the two characters to see out there.
Audiobook Notes:
The audiobook format of There You'll Find Me
by
Jenny B. Jones
is published by
Oasis Audio
and is 8 hours and 33 minutes, Unabridged. It is narrated by Jeannie Stith
who performed very well, spoke very clearly, and had a very charming accent for the Irish characters. I would recommend this to listeners for first-reads and re-reads.
IN SUMMARY! There You'll Find Me by Jenny B. Jones is so excellent. It has all of the emotions and feelings that you want in a book – there is funny, heartwarming, sad. There are real-life young adult issues and issues that are relevant to today. The setting is incredible. The friendship is lovely and progresses nicely to a swoonworthy romance, and I respect that both Finley and Beckett are real enough to just say what they're thinking. If one of them gets upset when the other calls him/her out, WELL YEAH, they get upset and they deal with it. This is what happens in real life and I respect that and I also think this is what makes their friendship so believable. I was completely unnerved when I was slow to pick up on Finley's food issues on the first go-around with the ending, but after reading the last portion of the book, I think maybe it was supposed to be that way. What a great book, what a great book, what a great book.
(Since reading this book – my first by this author – I have bought maybe four more by her. I need to hurry and read them. Jenny B. Jones has been so highly recommended to me for such a long time and I get it. I do.)
**********************************************************
There You'll Find Me will appeal to fans of:


YA Contemporary Romance
Romance: Slowly Developing, No Triangle
Great Setting: Ireland
Social Issues: Grief, Eating Disorder
Standalone


There You'll Find Me by Jenny B. Jones
is currently available for purchase.
**********************************************************