The year is 1945. Claire Randall, a former combat nurse, is back from the war and reunited with her husband on a second honeymoon–when she walks through a standing stone in one of the ancient stone circles that dot the British Isles. Suddenly she is a Sassenach–an "outlander"–in a Scotland torn by war and raiding Highland clans in the year of Our Lord…1743.
Hurled back in time by forces she cannot understand, Claire is catapulted into intrigues and dangers that may threaten her life…and shatter her heart. For here she meets James Fraser, a gallant young Scots warrior, and becomes a woman torn between fidelity and desire…and between two vastly different men in two irreconcilable lives. -(summary from Goodreads)
Have any of you ever wanted
to read Diana Gabaldon's OUTLANDER
but have just never taken the time?
OR…Have you read it already
but really want to read it again?
BOY! Do I have some news for you!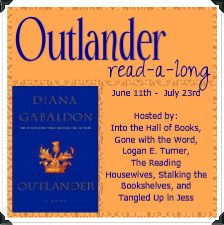 YOU GUYS!
There's gonna be an Outlander Read-A-Long!
And everyone is Invited!
Maybe you're like me and you've always wanted to tackle
Diana Gabaldon's Outlander series…
or maybe you're a huge fan and you really want to read it again.
Either way, this is a perfect chance for you to join up with a group of readers
and tackle this chunkster together!

I've checked this book out of the library before, not once but twice!
I've had friends and coworkers tell me over and over how it is incredible
and I NEED to read it, but I've just never taken the time.
I was super duper excited to find it at a library sale for only
$1 a few months ago.
THAT'S RIGHT!
I bought a Trade Paperback copy
for just ONE DOLLAR.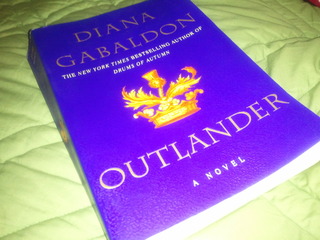 Y'all, I absolutely LOVE a Trade Paperback.
LOVE.
This is not my first read-a-long! The last one I participated in was a re-read of Twilight by Stephanie Meyer, and I really had a great time. I loved re-reading the book for several reasons and I met so many great bloggers that have become really great blogging buddies. While last time I was just a participant – I'm beside myself with joy that this time I'm actually co-hosting! I expect nothing but fun times ahead because this is a fantastic group to be sharing co-hosting duties!

I encourage every one of y'all to consider joining up with us
to read this book that promises to be really amazing.

I can't wait to dive into it!

I've heard this one is really spicy and, um, a must-read.
*big smiles*



Here's the schedule for the Read-A-Long,
including which blogs are participating as co-hosts:



Questions for chapters 8-14 answered &
questions announced for chapters 15-21 on
Tangled up in Blue
July 2nd

Questions for chapters 15-21 answered &
questions announced for chapters 22-28 on
Into the Hall of Books
Questions for chapters 22-28 answered & questions announced for chapters 29-35 on Logan E. Turner

July 16th
Questions for chapters 29-35 answered & questions announced for chapters 36-41 on The Reading Housewives

July 23rd
Questions for chapters 36-41 answered on Gone with the Words.
The end.
Each Monday, that week's host will also have a linky for participants to link-up their discussion questions so everyone can hop from blog to blog and see other reader's thoughts!
Officially sign up by writing a participation post and linking up in the linky below.

Share the news! Tweet & tell others about the fun…The more, the merrier!

Answer the weekly discussion questions that will be posted according to the schedule above. Post them on Mondays throughout the months of June and July. Go to the hosts blog, link up, and visit other linked-up posts to see other readers' thoughts! It's fun!

The linky is the same on each host blog. You only have to enter one time!
GRAB A BUTTON & PUT IT UP ANYWHERE!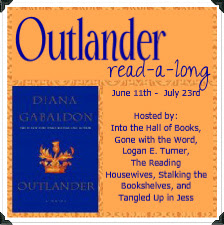 AND…here's the linky where you can sign up!
');