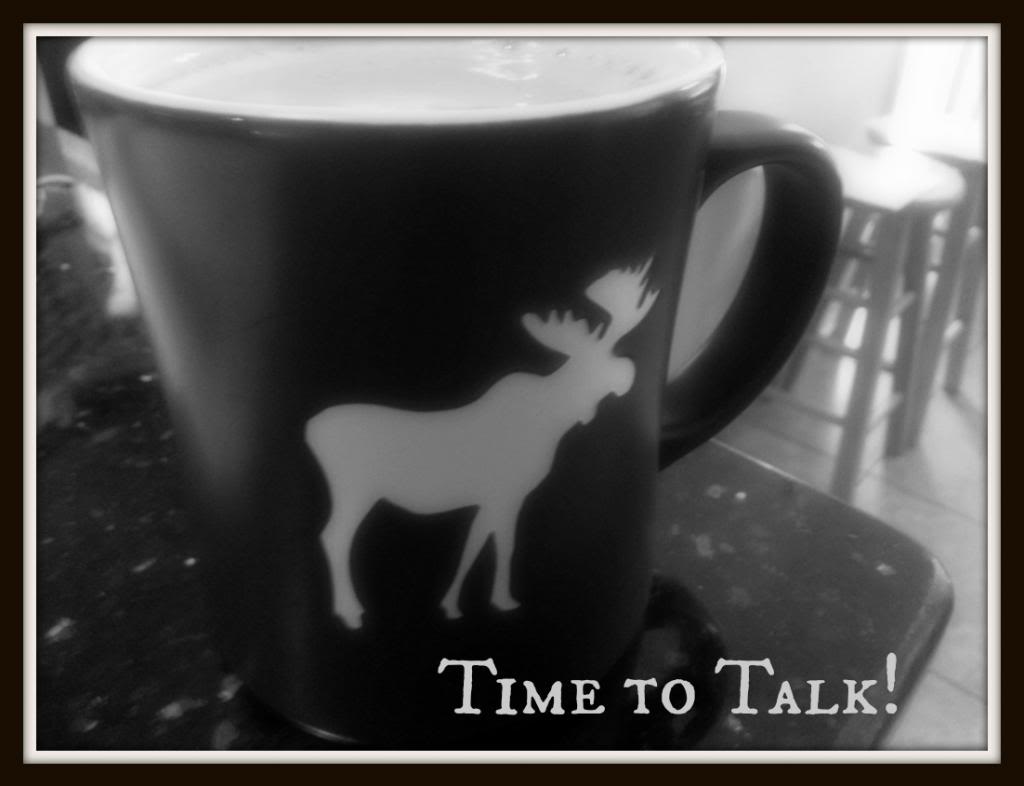 I have some super great summer coffee mugs, but
for some reason I just keep sticking with this precious
animal mug for this feature. I kind of love him.
I have this great friend that is also a blogger and we've had the "comment discussion" on many occasions. I've always been more on the OHHHH, DON'T LOOK AT THE NUMBERS, THEY DON'T MEAN ANYTHING! LET'S JUST BLOG BECAUSE WE LOVE IT! side of things where my friend loves comments in order to engage with blog readers, which is awesome. Comments mean something really big to my pal. And I totally get that, but I always tried to be reassuring if the comments didn't come on a particular post or whatever. PLUS, I always loved to engage with readers by way of Twitter or email or gchat or text or comments or other ways – not only by comments.
I personally consider comments, in part, a means to initiate conversation about books. Comments often became discussion starters – discussion moving elsewhere after a comment was left on my blog. I loved that and still do.
At that time, I was getting comments on my blog posts. Not a ton like a lot of my blogging friends because my blog is still what I consider small. I still consider myself a relatively newer blogger. But still, I wasn't really concerned about how many comments I received or about stats or the numbers behind my blog. No big deal.
But you know what, you guys? Comments have been disappearing from my blog over time recently until they're now almost gone. I've still been telling myself the same thing I've always said: NUMBERS DON'T MATTER NUMBERS DON'T MATTER NUMBERS DON'T MATTER. But it was actually pointed out to me by someone several times recently that my comments are way down.
Thanks, person.
The truth is, I'm finding that I now have days like:
WHY DOESN'T ANYONE WANT TO TALK TO ME ON MY BLOG?
WHY WHY WHY WHY WHY??
Because I really want to talk about this book!
And I hate it. I really can't stand this about myself. I don't like that I have started to wonder where everyone is. I know that some of my main squeezes in terms of commenting pals have either stopped blogging or…well, a lot of people have actually stopped blogging. So, there go a big handful of them.
But what's up with the rest of the commenters?
Why not stop by and say hi?
So I did what I vowed that I would probably never do and I started watching my numbers. (I hate this about myself, I'll just admit that right now. I never wanted to do this. But that's just ME – I don't judge anyone that does that, okay?
We all blog for different reasons.)
My numbers/views have gone up by leaps and bounds but nobody sticks around to say hi or talk to me about the book I'm writing on. What's up with that? And further, my followers have actually increased. People are coming to the blog and more people are coming to the blog. That's not me bragging, y'all, that's me scratching my head and tilting my head to the side and saying
WHAT? HUH? WHY NOT SAY HI EVERYONE!?
So I did some more research and found that I need to be open-ended and ask questions and engage my readers and be personal and blah blah blah. And to a degree, I feel like I already do that. You guys, if I like a book YOU FREAKIN KNOW IT. I am almost absurd with the way I let you know it. And I ask questions at the end of my posts, but perhaps I'm asking the wrong ones? Is that what it is?
I read another article that said that being controversial would certainly lead to interaction on my blog – but I don't want to be controversial. I just want to talk to people about books – have you read it, did you like it, did you hate it, who was your favorite character, did you like/hate the love triangle in this book, do you think this one is a good fit for you, do you like the cover, is it on your wishlist/to-read list, things like that…THAT'S WHAT I WANT.
THAT'S WHAT I WANT. BECAUSE I LOVE BOOKS AND I WANT TO TALK ABOUT THEM WITH OTHER PEOPLE.
THAT'S THE ENTIRE REASON I BLOG.
*****************************************************
Okay, to add a different side or view to this whole commenting thing, I know that it's important for me to comment on other blogs. And you know what, COMMENTING ON BLOGS JUST HAPPENS TO BE SOMETHING THAT I ACTUALLY LOVE TO DO. I love to see what everyone is reading and I like to talk to you about it. If you know me at all, and if I know about your blog (if you have one), I can't usually visit every day – my comments usually come in clumps, meaning:
I am a comment-bomber. I usually start with the most recent post and work backwards, commenting on like a week at the time – and friends, I tend to (not always but often) write novel-length comments. And I ramble – it's basically my middle name. But that's personal to me and it lets other bloggers know that I actually read/watched what you put out there. And I think that some of you (most of you?) like it. I hope so, anyway. I've always felt I could never expect people to visit my blog unless I visited theirs. (I realize that there are blogs that I haven't visited, so if you have a blog that I should check out, please let me know about it. I'm finding out that not all of my old reader made the transition when Google Reader went away PLUS there are great blogs out there that I just am not aware of. Leave me a link and I'll try to visit!)
Often, I get comments about how much people love it when I go to their blogs because I leave a lot of comments. Honestly, friends, the same applies to me. It just does. I want to talk about books too.
Also, I love it when people reply to the comments that I leave. I know that not everyone can, so there's that. And I know that even though I try to respond to all of my comments, sometimes it takes me a couple of days to respond and s
ome fall thru the cracks
, so there's that.
But the way bloggers feel when they see comments on their blogs? ALL BLOGGERS FEEL THAT WAY. Even if they don't admit it, even if it isn't the most important thing to them about blogging. That's just the way it is.
A while back, fellow blogger and friend Hannah from So Obsessed With wrote this amazing post about commenting. After reading this post, I thought DUDE HANNAH, WHAT AN AWESOME POST! But then I read the comments, and I have to admit that I got a little bit insecure because I actually learned the commenting habits of some of my fellow bloggers – some that I made a point to visit nearly every day. GUYS GUYS GUYS I was busting my butt to come read content and write what I consider were great comments and then I learned about the habits of others and I was like WHAAAA…..
I've had to get over that business and grow up and put my big girl panties back on. It's true. I'm just being honest, here.
Blog commenting: If we let it, it can get the best of us. How silly.
*****************************************************
Everyone has their own style of commenting.
Some people never comment, and so be it. I will likely never know that you visited my blog. But thank you for stopping by, seriously.

Some people only comment back every now and then, when they get a chance, and that's totally okay – particularly since it's summer! I myself have found it difficult to maintain my own commenting regimen during this time. But trust me when I say, I want to be reading my favorite blogs and when things settle back down, I will be!

Some people read blogs maybe when they click a link on twitter that looks interesting, but they engage in commenting usually mainly on twitter or email – rarely on the blog. Hey, at least there is book conversation going on and I know you read what I worked hard on, so that's fantastic. Thank you so much.

Some people try to leave a comment on every post just to let the blogger know they were there. Bless you people, and you know who you are. This is hard sometimes. I know because I have a few blogs that I comment on in this way.

Some people couldn't care less about reading other blogs, much less commenting on them – they're just putting out their own content and boo on everyone else. No, I'm being serious, I've actually seen conversations about this.

Some people are comment-bombers, like me. WORD.
***This post isn't meant to cut anyone down or criticize anyone. It's more of an observation of the commenting numbers on my own blog lately, and when I write about things, I sometimes feel better once it's off my chest. Other blogs look like they're the same. It's cool, though. I have changed my reading style – changing what types of books I'm blogging on by adding adult titles and new adult titles and a few cover reveals and features that I'm excited about. I don't know. But my YA titles aren't really getting any comments either. It's confusing, the decrease in comments but the increase in numbers. Has anyone else experienced this?
Where do you fall in all of this? Do you find that your comments have dropped a bit? Do you care? Do you watch your numbers?
EVERYONE:
I'm really curious about commenting style and habits – What makes you actually let a blogger know you stopped by? Why do you leave a comment? Why don't you leave a comment
?
Are comments important to you?