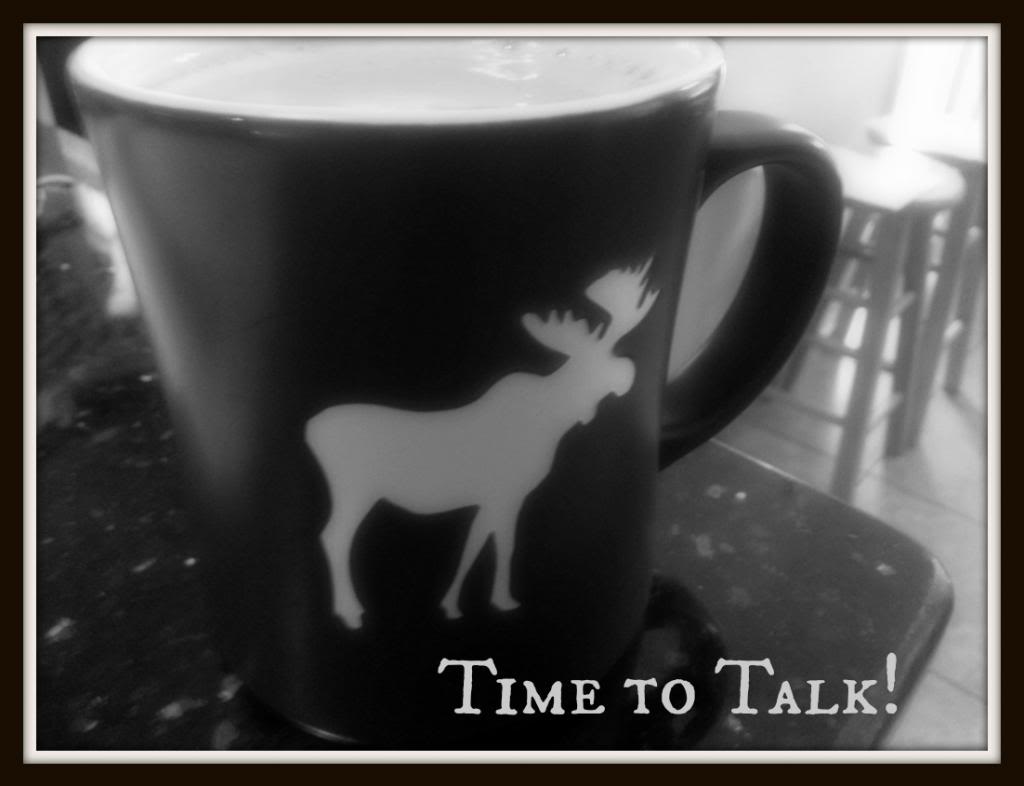 The coffee was especially delicious today, you guys.
In fact, I may just make another pot.
And drink out of this cup.
A long time ago, I used to read pretty much all adult fiction. I'm talking about when I was younger, much younger. Young enough that I could've and probably should've been reading Young Adult. I'd go to the library and grab a ton of books by authors I loved and devour them. I felt like a big kid. I felt well-read. I felt proud of myself because I was awesome.
Fast forward a few years…college, graduate from college, working a real job, paying bills, having adult friendships that come with the same set of problems that friendships did when I was younger, having responsibilities (ewww!), having kids, having family members getting sick and even, yes, dying….
You guys, being a grown-up is FOR REAL.
And I kind of got tired of reading about FOR REAL things.
Where's the fun in that?
For a while, I went through times where I didn't read very much, then I'd pick back up and read voraciously – and it would cycle like that, on and on…because I was choosing books about the same issues that I listed up above.
Anyone that knows me knows that I love to read to escape.
I wasn't able to escape anything when I was reading the same stuff I was living, ya know? It was curbing my enjoyment of books.
SO SAD, SO VERY VERY SAD.
Then I found Percy Jackson.
He changed my life.
Where had books like this been hiding? I inhaled these books like a madwoman! In them I found a young boy battling all kinds of creatures and things along with his human and not-human friends, and it was all tangled up and mixed with mythology?? UM, YES, PLEASE! I love mythology! I love action and adventure! I read the entire series in just days as library loans – it was my very first time venturing into the Young Adult section, you guys.
Call. It. Love.
By that time, I'd forgotten the library even had another section. I was all up in the YA and middle-grade sections and barely even looked back.
*******************************************************
For a while, I felt a little bit weird about being so cozy with these books that were obviously intended for a target audience much younger than myself. But then I found myself really comfortable there. Why? Because in the YA section, I found books that I could escape in – I could pick them up and get lost so easily in some world that is different than my own. No bills, no day-to-day troubles or worries, no problems with anyone, none of that stuff. They were pretty much quick and easy and fun and just PERFECT for what I needed in my life at that time.
For a couple of years, I almost exclusively read YA and middle-grade.
And so many adults do that. And that's perfectly okay. It really is.
However, there are a bunch of us YA-loving adults that also really love adult fiction.**
Or maybe we've forgotten that we like adult fiction?
Or perhaps we're reading it and not talking about it and discussing it with other readers with as much excitement and enthusiasm as we do YA or NA or even middle-grade titles.
Why is that, exactly?
The truth is this:
There is just as much wiggle room within Adult Fiction** as there is in Young Adult Fiction. There is absolutely something for everybody in the Adult Fiction genre/categories. You just have to be willing to look around and find something that appeals to you.
*******************************************************
Do you guys have a hard time finding adult fiction titles that appeal to you? That's okay! There are a ton of YA book bloggers that also read adult fiction – many of us also feature adult fiction on our blogs. Some of us primarily feature adult fiction with only a little bit of YA! Don't be afraid to ask for some titles. This community is always up for sharing some of our favorite recent reads, are we not?
One of my very favorite things EVER about Adult Fiction is the Alex Awards. Have you ever heard of this award? Seriously, have you? Wikipedia says this about the Alex Awards:
The Alex Awards annually recognize "ten books written for adults that have special appeal to young adults…."
Do you guys know those times when we ALL get a little burned-out on YA or when we just need to read something besides YA for our next read, but we don't really know what to pick up? When I feel this way and don't have a title in mind, I go to the Alex Awards FIRST. I can always find something from their winners and nominees lists that seem fun and interesting enough that I want to read it. I've read several off of the Alex lists since I began blogging and aim to keep reading Alex books. For me, they're perfect because the have that crossover appeal that I always love. Find a list of winners HERE and HERE. You can also look HERE for the Goodreads list – just click to add the ones you're interested in to your to-read shelves! SO EASY.
I think many of you will be surprised by how awesome this award is and by how many of the titles that you already want to read have won it or been nominated.
This is just a small representation of titles associated with the Alex Awards, friends. So many great ones to choose from. These are just some that I've read and loved.
Even if we aren't reading books from the Alex Awards list, there are still a ton of adult fiction books out there that certainly are discussable and good enough for YA lovers. Get on Twitter for two seconds and you can have any number of titles…
I'm so glad that I started blogging about adult titles again…even if people aren't really talking about them as much on my blog. In general, I think those of us that read these titles feel the same way. We WANT people to be reading the big kids books too – AND talking about them. So we keep reading them and highlighting them, hoping for the discussion to pick up. It might not ever be as heavy and as prolific as the YA world, but there is certainly room for the Adult Fiction love to grow and spread.
HELLO! MY NAME IS ASHELEY AND I READ FROM
ALL PARTS OF THE LIBRARY.
**I'm talking about non-fiction here too, everyone. I don't want to leave anyone out.
And I read from the non-fiction section as well. 🙂
*******************************************************
Do you read adult fiction titles as well as YA titles? Are your blogs mainly YA blogs (seems to be the most popular kind, I think) or do you feature adult fiction or other types of books as well?
What keeps you from reviewing adult fiction titles if you don't? I'm curious.
Do you read adult fiction as much as you read young adult fiction? More? Less? When you go to the library, where do you go first? Honestly, what types of books are your favorites? If you see a blog that is primarily YA that also has adult fiction on it, do you skip over the adult fiction reviews?
I'm curious.