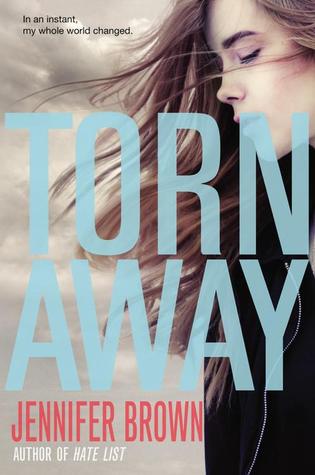 Torn Away by Jennifer Brown
Published by Little Brown BYR
Publish Date: May 6, 2014
288 Pages
Source: Publisher
Find it here: Goodreads / Amazon / B&N

Born and raised in the Midwest, Jersey Cameron knows all about tornadoes. Or so she thinks. When her town is devastated by a twister, Jersey survives — but loses her mother, her young sister, and her home. As she struggles to overcome her grief, she's sent to live with her only surviving relatives: first her biological father, then her estranged grandparents.

In an unfamiliar place, Jersey faces a reality she's never considered before — one in which her mother wasn't perfect, and neither were her grandparents, but they all loved her just the same. Together, they create a new definition of family. And that's something no tornado can touch. (from Goodreads)


Torn Away by Jennifer Brown
My Thoughts: There are two very significant things you need to know about ME when you begin to read my thoughts on Torn Away:
I have never-but-always-wanted-to read something by Jennifer Brown. I have only heard excellent things about her books. I was thrilled and excited to begin this one, and I am thrilled and excited to have completed it. I love it and will do everything I can to devour her backlist. I love all contemporary fiction, but THIS is my favorite kind, I do believe.

This book, as stated in the summary above, centers around a young girl's life as she is rebuilding after the devastation of a tornado that surprised her one day. — Last year, for the first time ever, we had a HUGE rash of tornados here, in far Eastern North Carolina. WE DON'T HAVE THIS PROBLEM. I mean, we have tornado watches and sometimes we have tornado warnings. I've never heard a tornado siren. But last year, we had to squish into the small spaces – the bathrooms and such – and do all of that stuff. This was the first time I've ever had to do that in my life and I'm not the youngest kid on the block. So I was re-living a little bit of that while I was reading, and just WOW. And on top of that was the WOW that was the story.
**********************************************************************
Torn Away opens as Jersey is home alone while her mother and sister are away in town. They had just left the house, and Jersey was glad to see them finally go – she was annoyed that her sister was being a little loud and in-her-face, always wanting her to play and dance together. While Jersey's mother did leave her a list of chores to do, Jersey was grateful for the quiet time she would have in their absence. Jersey begrudgingly began on her chores when she began to hear the local tornado sirens. As she checked the look of things outside, Jersey realized that this time the sirens might be something she ought to take seriously. She gave it a few minutes…and watched…and contemplated. But too quickly Jersey realizes that
YES THERE IS A TORNADO APPROACHING AND IT IS A BIG ONE AND I HAVE TO GO TO THE BASEMENT BY MYSELF AND OH WHERE IS MOM BECAUSE STUFF IS HITTING THE HOUSE SO HARD AND IT IS SO LOUD AND I NEED TO GET TO THE BASEMENT NOW NOW NOW AND WHERE IS MOM AND I'M ALONE! AND WHERE. IS. MOM?
She waited below ground as the tornado devastated the area, ripping her house apart and completely obliterating her neighborhood and parts of her town. Jersey braced herself and walked upstairs and suddenly her life changed. Meaning, it was gone. Life as Jersey knew it was gone.
**********************************************************************
As a die-hard lover of young adult contemporary fiction, one of my favorite things about these types of books is when a character grips me so hard that I want to crawl through the book and just love on him or her, and this is where I found myself with Torn Away by Jennifer Brown. I love these contemporary books with issues and that have great characters with issues, and while Jersey didn't initially start out as a character-with-issues, it only took a few pages before she became one. I found myself so attached to her that I wanted to go to her and give her encouragement and support and just HELP HER THROUGH THIS TIME IN HER LIFE. She took over my heart while I was reading this book, you guys, because my heart was broken for her.
Within the few seconds that it took for Jersey's life to completely change and be re-routed, her perspective changed AND SHE KNEW THIS. Right away, as she crawled out of her basement, she knew that things would probably never be the same, which means that right away we begin to see changes in Jersey. The girl that seemed annoyed at her little sister and maybe a tad bit jealous or spoiled-ish in the beginning IMMEDIATELY was filled, filled to the top and overflowing, with pain and regret and remorse and hurt and every emotion. She knew beyond reasoning that if she could go back and just be nice to her sister – just dance with her or pay attention to her or smile at her instead of acting annoyed – it might make a difference somehow. It is after a while that Jersey finds that her mother and sister did not make it out alive that I thought my heart was broken for her – and it was – but MAN OH MAN, things were really only getting started on Jersey's journey.
From this point, I experienced Jersey bouncing from one place to another. First she is sent to live with Clay, her biological father, the man she never knew, and "his" family. Then she goes to live with her grandparents – she also never knew them. Both of these experiences are terrifying and eye-opening for Jersey because they are all people she never had the opportunity to know before during her life and they are completely new experiences. Each place involves Jersey trying new things, which is hard when she has not had even the opportunity to grieve properly. Each place involves a group of people that knew about her while she never knew anything about them. There are times when Jersey is not accepted and times when she is accepted. There are time when Jersey is not sure who she is anymore and as a result, she acts out (understandable, under the circumstances) and there are times when she feels she has to hide her grief because she does not feel comfortable enough with anyone to share her pain. There are times when she learns new things about her family that she never knew before, and her mother's past, and even herself – these are the parts of the story that I think I loved the most. Jersey was challenged in more ways than can be counted and in the end, while she isn't healed completely, I felt like she was moving in a forward direction and I felt resolution with that, as much as possible given what happened to her. Jersey has a lot of healing to do and it will take longer than the length of this book for that to take place.
This story takes place over a relatively short amount of time and even so, there is a ton of coming-of-age packed in there. I love that the author chose to not include romance in this story and focus completely on the event, how it affected the character, and all of the aftermath of that event, including the beginning of Jersey's healing process. Jersey is an extremely well-developed character to be someone that has had to change so rapidly and so many different times, and most often not of her own choosing. She has had to overcome obstacles that I could not even begin to imagine yet they are realistic and felt very real, and were written such that I felt like I was right beside of her the entire way. I loved that about this book, even in the midst of the tornado.
Speaking of that tornado, while I was reading about it, it made me think of the time when I was experiencing the tornado here and could even see it moving across my backyard. Nobody here was hurt – it did not even come close enough to my house to do anything other than stir up plenty of wind and whip stuff around. My point in mentioning this is that I love that the fear I felt then made the fear Jersey felt more real to me as I read, even though Jersey's experience is much different and far more serious. As a person that loves becoming emotionally attached to characters, this just made me appreciate her more (even though I would have loved and appreciated her on her own without that little tidbit of a memory to make her experience more real to me). That may sound completely crazy.
I highly recommend Torn Away by Jennifer Brown for readers that enjoy young adult contemporary with some issues. This story features no romance, which is fun for a nice change. The cover is fantastic and the author has been highly recommended to me for a long time, and I'm so happy that I took this plunge. I can't wait to read more by this author. I can imagine that this would be a great book to experience in audiobook form because the intensity of it would be an audiobook lover's dream, I think.
**********************************************************************
Torn Away will appeal to fans of:


YA Contemporary with Realistic Fiction
Romance: None.
Torn Away by Jennifer Brown
will be available for purchase on May 6, 2014.


**I received a review copy from the publisher via NetGalley in exchange for an honest opinion and review. I received no compensation for my thoughts and they are my very own! Thank you Little, Brown!