Undeniable by Shannon Richard
Series: Country Roads #2
Published by Forever Yours
Publish Date: October 1, 2013
400 Pages
Source: Bought
Find it here: Goodreads / Amazon / B&N
THEIR LOVE WAS UNDENIABLE

Grace King knows two things for certain: she loves working at her grandmother's café and she loves the hunky town sheriff. She always has. As she bakes him sweet treats, Grace fantasizes about helping him work up an appetite all night long. But whenever she thinks she's finally getting somewhere, he whips out some excuse to escape. Growing up, he never looked twice at her. Now Grace won't rest until she has Jax's undivided attention.Jaxson Anderson can't deny that his best friend's kid sister is the sexiest woman in Mirabelle, Florida. Unwilling to burden Grace with his painful past, Jax keeps the sassy blonde at arm's length. Yet one heated kiss crumbles all of his carefully built defenses. But when a town secret surfaces, threatening to destroy everything they believe in, can the man who defended Grace from bullies as a child protect her now? (Goodreads)
Undeniable by Shannon Richard
My Thoughts: THIS IS WHERE I DECLARED THIS SERIES ONE OF MY FAVORITES EVER EVER EVER. The first time I read the first book, I gobbled it up – I devoured it. And then I devoured the second and third books in the series, Undeniable and Unstoppable. This series has basically all of the things that I love about a fun romance series: the small town, the quirky characters, the friends/siblings/family relationships that are INCREDIBLE, and the fun romances! Plus, I smile while I read them. This is all KEY for me to know that a book or series is "favorites" status for me.
Undeniable puts Grace King and Jaxon Anderson in the spotlight. Grace is younger sister to Brendan King, who was featured heavily in the first book. Grace works with her grandmother at their cafe and WOW she is amazing in the kitchen! She has always taken a special interest in keeping Jax fed – she's had her reasons for taking care of Jax all throughout their lives. Jax is Brendan's best friend so his big, bad crush on Grace is a touchy subject and one he'd rather not admit. It was easy to hide his feelings for her when they were younger, but the older they get…the prettier she is, the sweeter she is, and GOOD GRIEF she just keeps on feeding him pies and food and coffee.
I'm a fan of slow-burn romances and you guys, HERE IS THE BEST ONE EVER EVER EVER. Grace and Jax have that crush that everyone in the world can see, but the two themselves will just not admit. They bicker and banter like brother and sister when they're together, but when they're not together they just can't stop thinking about one another. Reading about this romance is one of my favorite things ever, in the entire world. DID YOU SEE WHAT I JUST SAID? And that's a bold statement, because these two are completely, totally, massively stubborn about getting their happily-ever-after. And they do, but good-grief, we all have to work for it. I LOVE IT, I LOVE IT, I LOVE IT.
***********************************************************************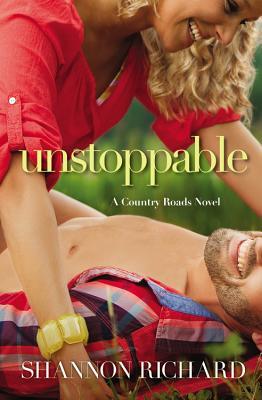 Unstoppable by Shannon Richard
Series: Country Roads #3
Published by Forever Yours
Publish Date: December 3, 2013
368 Pages
Source: Publisher
Find it here: Goodreads / Amazon / B&N
Some things you don't dare let go . . .Melanie O'Bryan knows life is too short to be afraid of taking chances. And former Air Force sergeant Bennett Hart is certainly worth taking a chance on. He's agreed to help her students with a school project, but she's hoping the handsome handyman will offer her a whole lot more. Yet despite his heated glances and teasing touches, Mel senses there's something holding him back . . .
Bennett Hart is grateful to be alive and back home in Mirabelle, Florida. Peaceful and uncomplicated-that's all he's looking for. Until a spunky, sexy-as-hell teacher turns his life upside down. After one smoldering kiss, Bennett feels like he's falling without a parachute. But with memories of his past threatening to resurface, he'll have to decide whether to keep playing it safe, or take the biggest risk of all.
(Goodreads)
Unstoppable by Shannon Richard
My Thoughts: Unstoppable continues with the story of high school teacher Melanie O'Bryan and Bennett Hart, who is ex-military. This is one of those really great, fun-to-read stories that made me smile the entire way through. IT REALLY DID.
Melanie is much the opposite of her friends Paige and Grace, who are both fiesty and outgoing (and featured in the previous two books). Melanie is much more reserved, preferring to plan things out and keep life in its box. She has a huge heart for her students, which leads her to start a community project…which means she needs a little bit of help. Bennett Hart is perfect for the "helper" position because he is back now from serving time overseas in the military. Surviving an accident while deployed has left Bennett a little…well, he has maybe a little bit of PTSD and maybe a little bit of guilt over how things went down over there. Because of this, he has had a hard time coping. Helping Melanie with her project at school has given him something really wonderful to focus on, something to build him up a bit. PLUS it doesn't hurt that he gets to spend some extra time around Melanie — because it's pretty obvious that even though these two are both reserved about how they're feeling, there are some sparks flying.
Melanie and Bennett also have a slow-burn romance, but it isn't as explosive as the romance between the previous two couples in the series. What I mean is that TO ME, both Melanie and Bennett seem to be a little more mature about almost everything, but I personally attribute this to the fact that BOTH of them have survived big accidents in their lives. Both of them have either guilt or fears or issues in healing from those accident process, not counting the actual physical healing that they've had to do. They are actually perfect for each other and their romance is so wonderful to read.
***********************************************************************
Have I told you all how much I love this series? Yes? I won't be shutting-up about it any time soon. Undone, Undeniable, and Unstoppable ALL THREE carry the same themes of family and friendship within their stories – in fact, I would say these themes are as prominent as the romances. What I love about each installment is that each couple is featured heavily in each book. Just because we've read one couple's story doesn't mean they're done and finished – we continue to see the life they are leading and how it is still growing and changing. ALSO the friends and family members that have been introduced and continue to be introduced are still featured as well throughout the series, which gives me GREAT HOPE that this series will keep going for a little while. The secondary characters are just so much fun and I enjoy reading what they add to the stories just as I enjoy the main plot of each story.
The Country Roads Series features a fun, quirky small town that I can easily visualize and I'd like to visit. I have fallen hard for these people and I want them to be my friends! They seem like so much fun. These are books that I would WHOLEHEARTEDLY recommend to readers that enjoy series that follow friends/family with each installment, that love great/small-town settings, that LOVE sibling relationships, and that love slow-burn romances. (Also, so far, my friends that do not like reading about love triangles are safe to pick up the first three books in this series!) I ABSOLUTELY CANNOT WAIT FOR THE NEXT BOOK TO RELEASE IN A FEW WEEKS. I'm grabby-handed and starry-eyed over it and will probably throw everything down when I get the chance to read it!
***********************************************************************
Undeniable & Unstoppable will appeal to fans of:
Fantastic Setting: Mirabelle, Florida
Romance: Slowly-building. No triangles.
Great Relationships.
HEA's!
Companion Series
Undeniable & Unstoppable by Shannon Richard
are currently available for purchase.
***********************************************************************
I'm pushing this series onto my friends that love romance books with no triangles. PUSHING. These are among my favorites and they're re-read status FOR SURE.