Undertow by Leigh T. Moore
Series: Dragonfly #2

Publish Date: July 18, 2013
Source: Author for Review – Thank you!
Find It: Goodreads / Amazon / B&N
Falling in love will pull you under…

Bill Kyser has a plan to take the sandy farms of his hometown and turn them into a world-class tourist destination–and become a billionaire in the process.

Alexandra "Lexy" LaSalle has a plan to change her life by becoming a world-famous artist.

Meg Weaver has a plan to hold onto Bill no matter what she has to do.

Three friends, three dreams.

One fatal decision will change all their lives forever.
In
Dragonfly
, Bill Kyser gave Anna the three journals that held the story behind the powerful developer's seclusion and the damaged lives of his family members.
Anna hoped to find a way for Julian to know the truth, but as she digs deeper into the tragic events of the past, she realizes silence could be the only option.
Now she's in an alliance with the man she formerly feared. And if Julian finds out what she knows, she could lose for good the boy she's starting to love.
Undertow by Leigh T. Moore
My Thoughts: Just over a month ago, I fell in love with a little book called Dragonfly by Leigh T. Moore. I loved the Gulf Coast setting, the romance, and the summertime feel of the story. I mean, you guys, I really loved that story, and I've been so anxious to read the next book in the series because I was so invested in things and I wondered where things would go when I finished the book.
Oh. My. Goodness. I never expected the roller coaster of emotion that would come with the next book, Undertow. I knew that I'd have basically the same setting and characters, and I'd hoped for some answers to some questions that I had, but OH MY GOODNESS. Where I read Dragonfly pretty quickly, wanting to devour it, I couldn't help but read Undertow slowly, because MY HEART. I would read parts of it and have to just shut my eyes and breathe for a few minutes because OH MY HEART.
I just love books like that.
So now, after reading two books in this series, I'm back at the same place again: I need the next book because I need to know what will happen next.
*************************************************
A little recap: In Dragonfly, Anna Sanders became friends with the Kyser twins – Jack and Lucy – after they came to public school for the first time ever. Their father Bill is well-known and extremely wealthy, but largely keeps to himself. Anna became close friends with Lucy and had a romantic relationship with Jack that ended before the end of the book, before he went off to college, like his father had always planned for him. Anna was heartbroken, but she knew this break-up was for the best – besides, there was also Julian and the two of them were about to start their senior year together.
Julian and Anna had been great, great friends before Jack and Lucy had come into the picture, and they were still great friends. Julian clearly had feelings for Anna before, and Anna was finally realizing this. With Jack gone, Anna finally was able to understand what Julian meant to her – more than just friends – but she asked Julian to give her some time to make sure she wasn't him as a rebound from Jack, to make sure that she started their relationship in a healthy way. Julian understood and respected this request.
ALSO there is that situation that happened at the end of Dragonfly that put Anna in an incredibly awkward position, the situation that ended up with Anna in possession of three journals belonging to Bill Kyser…
*************************************************
Okay, well, I didn't realize that I would end up so emotionally invested, devastated, in love with, and wrapped up in Undertow. I just wasn't expecting all of this but I gosh how I loved it. See, in Dragonfly, we meet and fall in love with a group of characters, we invest in them, we want to know more about them. We need to find out more about their story…but before that can happen, in Undertow, we have to take a pause – FLAT-OUT PAUSE – to find out the backstory of the generation before them. We have to find out how things came to be the way they are. Why is Bill Kyser to shut off from everyone? What happened to the twins' mother, Meg? Why is Julian's mother Alex so shut off from everyone? All of this history obviously has affected the Kyser family and the LaSalle family so much, but why?
And why does Bill Kyser feel like Anna Sanders needs to know this?
*************************************************
In my review for Dragonfly, I said that it read like a contemporary with a little bit of a mystery, and doggone it, I was right. There was some mystery to it, and it is all revealed in this second book. What is interesting is the way that that is accomplished.
Anna Sanders has three journals in her possession, given to her by Bill Kyser for reasons that are best told at the end of Dragonfly. One journal belongs to Meg, the twins' mother. One journal belongs to him. One journal belongs to Alex, Julian's mother. These journals chronicle basically the same time in history and give three perspectives on the events that occurred during this time. One by one, Anna reads these journals – obviously as she reads them, we get to read them. And my heart felt a ton of emotions over and over, with each of the three journals.
After reading Undertow, so much is made clear – the actions of Meg, Bill, and Alex – why so many things are the way they are. I almost want to go back and re-read Dragonfly now, but more than that, I'm anxious to get the final book and find out what will happen now that Anna has all of this information.
See, now that Anna knows all of the secrets that have been buried in these journals for years, she is kind of bound to keep them. Meaning: she knows things that none of her friends know – things about each of their parents – and what an awkward and uncomfortable predicament to be in, especially when you have one very close friend with a tie to the journals, one budding romantic relationship with a tie to the journals, and one romantic relationship that has just ended with a tie to the journals. Anna is a person of great integrity, so what will she do? And how will this affect her friendships/relationships with Julian, Lucy, and Jack? And Mr. Kyser? Because he is the one that has placed her in this uncomfortable position! Anna always felt somewhat intimidated by him and somewhat afraid of him before, but will those feelings change now? I'm very interested in how Anna's senior year will play out.
*************************************************
I loved the way Leigh T. Moore chose to tell this portion of the story. Choosing to reveal all of this information through three journals and through the voices of each character is a very personalized and interesting way to do it, and I thought it was so effective. I found my heart aching in one direction that I otherwise might not, and I found my heart unable to identify with one character where I normally would probably find a connection. I feel like these emotions that I felt were much deeper and more intense because I was reading in each character's own voice. Each journal is so personal and individualized to its owner and I loved getting wrapped up inside their heads, inside their private thoughts.
Meg, Alex, and Bill are all so developed through these journal entries even though they aren't even written in the present – they're vibrant, they're full, and they make mistakes. Their flaws are what I think I loved the most about them, because these big mistakes (along with their successes and joys) are what they seemed to write most about in their journal entries. They made them seem so real. It was very easy to get so caught up in the journal entries and forget that they were from the past.
My favorite kinds of stories are ones that tell of doomed or forbidden romances and broken boys or characters. This book takes these things that I love so much and just throws them all in there and makes them so much – I say so much because we've already gotten to know and love the product of these broken people in these journals – Lucy, Jack, Julian – even though these characters aren't close and don't really know each other, reading about the connection their parents have is absolutely heartbreaking and devastating at times, and at other times it is happy. Every possible emotion, right in these pages.
Knowing everything that I know now about Meg, Bill, and Alex – I have no idea how I'll feel about all of these characters in the next book, but I have all ideas it'll be intense. I was absolutely riveted and engrossed in the lives of the characters in Undertow.
I absolutely recommend the Dragonfly Series for fans of YA contemporary with elements of mystery, for fans of a fantastic setting, for fans of summertime reading, and for great characterization. I loved the unique way this author chose to tell the story in the second installment, Undertow, and I'm feeling super grabby-handed about the next part of the story. I need to know what will happen next to all of these people now that Anna has all of these details.
*************************************************
Undertow will appeal to fans of:

Young Adult Contemporary Romance
with Mystery!
Romance: Love Triangle
Great Setting: Deep South, Gulf Coast
Undertow
by Leigh T. Moore
is currently available for purchase.
*************************************************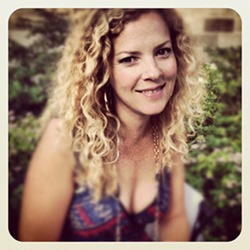 Leigh Talbert Moore is the author of the popular young adult romantic comedy The Truth About Faking,

its companion

The Truth About Letting Go

, and the mature YA/new adult romantic suspense novel

Rouge

, a Quarter Finalist in the 2013 Amazon Breakthrough Novel Award.
She is an award-winning journalist and editor, who has also worked in marketing and public relations for many years. Her writing has appeared in newspapers and magazines across the southeast and Midwest U.S., and she runs the popular writing-craft blog That's Write.
A southern ex-pat and beach bum, she currently lives with her husband, two young children, and one grumpy cat in the Midwest.
*************************************************
Three bad things I learned this year:
-People you trust lie, even parents.
-That hot guy, the one who's totally into you, he might not be the one.
-Things are not always how they appear.

Three good things I learned this year:
-Best friends are always there for you, even when they're far away.
-That other hot guy, the one who remembers your birthday, he just might be the one.
-Oh, and things are not always how they appear.
Anna Sanders expected an anonymous (and uneventful) senior year until she crossed paths with rich-and-sexy Jack Kyser and his twin sister Lucy.
Pulling Anna into their extravagant lifestyle on the Gulf Coast, Lucy pushed Anna outside her comfort zone, and Jack showed her feelings she'd never experienced… Until he mysteriously withdrew.
Anna turned to her internship at the city paper and to her old attraction for Julian, a handsome local artist and rising star, for distraction. But both led to her discovery of a decades-old secret closely guarded by the twins' distant, single father.
A secret that could permanently change all their lives.
enter for your chance to #WIN signed copies
of BOTH books, your own private journal, and fun swag: