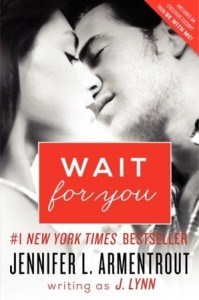 Wait For You by J. Lynn
Series: Wait For You #1
Published by William Morrow
Publish Date: February 25, 2013
384 Pages
Source: Publisher
Find it here: Goodreads / Amazon / B&N


Some things are worth waiting for…

Traveling thousands of miles from home to enter college is the only way nineteen-year-old Avery Morgansten can escape what happened at the Halloween party five years ago–an event that forever changed her life. All she needs to do is make it to her classes on time, make sure the bracelet on her left wrist stays in place, not draw any attention to herself, and maybe–please God–make a few friends, because surely that would be a nice change of pace. The one thing she didn't need and never planned on was capturing the attention of the one guy who could shatter the precarious future she's building for herself.

Some things are worth experiencing…

Cameron Hamilton is six feet and three inches of swoon-worthy hotness, complete with a pair of striking blue eyes and a remarkable ability to make her want things she believed were irrevocably stolen from her. She knows she needs to stay away from him, but Cam is freaking everywhere, with his charm, his witty banter, and that damn dimple that's just so… so lickable. Getting involved with him is dangerous, but when ignoring the simmering tension that sparks whenever they are around each other becomes impossible, he brings out a side of her she never knew existed.

Some things should never be kept quiet…

But when Avery starts receiving threatening emails and phone calls forcing her to face a past she wants silenced, she's has no other choice but to acknowledge that someone is refusing to allow her to let go of that night when everything changed. When the devastating truth comes out, will she resurface this time with one less scar? And can Cam be there to help her or will he be dragged down with her?

And some things are worth fighting for… (from Goodreads)



Wait For You by J. Lynn
My Thoughts: I am such a sucker for New Adult Contemporary Romance stories that have a thread of issues running through them, and this is one of those stories. Wait For You by J. Lynn is the story of Avery Morganstern and Cameron Hamilton, how their relationship came to be, and how they opened up to each other about pasts that both of them needed to release and move beyond.
Avery has come to the eastern part of the United States – far away from her parents and the state of Texas – for college and is running late for class on her first day. She is minutes from walking in the door when she literally runs into Cameron. Since they were both going to the same class, Cam kindly helps her pick up her things and holds the door open for her, but out of fear of being late Avery strangely runs away and completely misses her first class on her first day of school. She picks up with her day, catching her other classes, and things are just fine. Later, she realizes that this guy – this Cam guy – lives in her apartment complex. He is kind and he is definitely cute – but Avery isn't looking for a relationship and is almost, almost unnerved by the way he keeps showing up in the same places that she does. He's obviously attracted to her and after not-too-long, he asks her out. She quickly tells him NO, but he doesn't give up. He keeps asking her out in hopes in confidence that she will eventually say YES. While all of the asking-out is taking place, they form a friendship that becomes quite solid, and even though Avery still continues to turn Cam down, she realizes that she is falling for him.
***********************************
That is a very quick, very basic leaving-a-ton-of-stuff-out synopsis of Avery and Cam and Wait For You. This book is pretty typical for what I would consider a new adult book but that's okay because I really enjoy books in this category. What we have in this case is a girl with some sort of issue from her past who has run clean across the country to escape it with hopes of living in anonymity, but she's met this guy that really likes her. I mean, he really likes her, and he isn't giving up until she likes him back. The thing is, well, she actually kind of does really like him but she doesn't want to admit it and she really doesn't want to admit it to herself either. Every time Cam asks Avery to go out with him – DAILY – she turns him down.
Cam is fantastic. He's one of those new adult guys that is actually very likable. He isn't at all broody; he is kind and very respectful to everyone around him. He is a student and he loves his family – in fact, he has a great relationship with his family and his friends, and I love that about his character. Cam does, however, have a little something that has happened in his past – this is alluded to several times throughout the first part of the story but we don't actually know what it is until much later. So he does have a little bit of a mystery to him, but it isn't that alpha-type, broody, angsty type of mystery that can sometimes be common in new adult books – we just know that Cam has a piece of his past that will hopefully be revealed in the story. He's extremely likable (did I say that already?) and he sounds like he's super good-looking by description. I found myself shaking my head EVERY SINGLE TIME Avery turned him down when he asked her out. Clearly he's a catch, Avery! Just say yes, gal.
Speaking of Avery – bless her, she is a piece of work. It's evident within the first few pages that Avery has had some traumatic event happen to her in her past. However, what actually happened is only revealed in bits and pieces for a long portion of the story. What is obvious right away, though, is that it affected her in a remarkable way – by that I mean it has affected her in such a way that she felt the need to leave her family and her entire state and all of her old friends behind. She wants nothing at all from her old life, and that is HUGE. Whatever happened to her changed her, and changed how she viewed everything about life. Throughout the story, it is obvious time and again that the way she relates to people, to places, to events, to everything has been warped by somebody or some thing.
I had a little bit of a hard time connecting with Avery in the beginning – I didn't understand why she was so standoffish or skittish or…something. But as the story progressed and as bits of her past were revealed, I began to understand her a little more. I also understood her much more when she interacted with or talked about her parents – hers are the parents from nightmares and are completely the opposite of Cam's parents. They are horrible. I can't say that Avery was my favorite character from the book, but I can say that the more that I read about her and the more I became familiar with her circumstances, the more I could feel for her.
I think that Avery was much better with Cam in her life – he clearly loved her and brought out the best in her.
This is one of those cases where the two of them together is greater than each of them alone.
The story – the situations that happened to Avery – well, it made my skin crawl. It isn't pleasant and it isn't acceptable. I am thrilled that both of these two characters were able to rise above their pasts and move beyond them, and that there is hope for their futures.
I wish, however, that the way Avery's past had been handled…I wish it was a little bit different. I'm not saying that the story should be different because the story is just that, the story. But when I read this, I realized that it is absolutely and entirely possible for this scenario to play out EXACTLY LIKE THIS in real life, and it kind of made me FEEL THINGS. I don't know you guys – I'm just sad and sickened by this but also really happy that Avery found Cam and his family, and that she was able to get away and find herself in a new place. She built a new life for herself even though it took a lot of time.
Wait For You pulled me in right from the beginning. I was immediately curious about what happened with Avery. I was immediately smitten with Cam, and I was curious about whether or not he would be able to win her over with his charms and his goodness. If I could change anything about the book, I wish that I could've known what had happened with Avery earlier so that I could've connected with her earlier, but I'm glad that I was eventually able to make the connection with her and come to like her. (Even so, Cam still owns my heart this time!)
I recommend Wait For You by J. Lynn for fans of New Adult Contemporary Romance and fans of books with a college setting. It sucked me in and I had a hard time putting it down once I started it.
********************************************************
Wait For You will appeal to fans of:
New Adult Contemporary with Romance
Romance: Slowly-Developing. No Triangle
Great Setting: College Campus
Wait For You by J. Lynn
is currently available for purchase.

I received a copy of this book from the publisher to read and share my thoughts on this blog. All of the above thoughts and opinions are mine and mine alone! Thank you so much William Morrow!
********************************************************
# 1 NEW YORK TIMES and USA TODAY Bestselling author Jennifer lives in Martinsburg, West Virginia. All the rumors you've heard about her state aren't true. When she's not hard at work writing. she spends her time reading, working out, watching really bad zombie movies, pretending to write, and hanging out with her husband and her Jack Russell Loki.
Her dreams of becoming an author started in algebra class, where she spent most of her time writing short stories….which explains her dismal grades in math. Jennifer writes young adult paranormal, science fiction, fantasy, and contemporary romance. She is published with Spencer Hill Press, Entangled Teen and Brazen, Disney/Hyperion and Harlequin Teen. Her book Obsidian has been optioned for a major motion picture.
She also writes adult and New Adult romance under the name J. Lynn. She is published by Entangled Brazen and HarperCollins.
********************************************************
And now for the Giveaway!