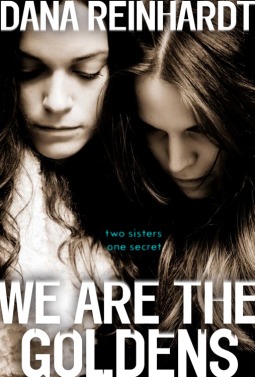 We Are The Goldens by Dana Reinhardt
Published by Random House
Publish Date: May 27, 2014
208 Pages
Source: Publisher
Find it here: Goodreads / Amazon / B&N

Nell knows a secret about her perfect, beautiful sister Layla. If she tells, it could blow their world apart.

When Nell and Layla were little, Nell used to call them Nellaya. Because to Nell, there was no difference between where she started and her adored big sister ended. They're a unit; divorce made them rely on each other early on, so when one pulls away, what is the other to do? But now, Nell's a freshman in high school and Layla is changing, secretive. And then Nell discovers why. Layla is involved with one of their teachers. And even though Nell tries to support Layla, to understand that she's happy and in love, Nell struggles with her true feelings: it's wrong, and she must do something about it. (excerpt from Goodreads)

We Are The Goldens by Dana Reinhardt
I was excited to read We Are The Goldens by Dana Reinhardt simply because I loved the cover and I tend to love books about sibling relationships. I absolutely adore my sisters and I find other sister-relationships fascinating as well. I began reading this book and found that it was more of a brief glimpse into the life of Layla and Nell, like a short moment in their history, rather than a getting-to-know-you story of their relationship…but that was okay. It's been a while since I've finished the book and the more I think about it, the more I like it.
It is no secret to us, the readers, what THE SECRET is. We find out in the summary. Even so, I do not think that knowing lessens the tension or the stress or whatever it is that Nell is feeling toward Layla's growing away from their relationship. It is obvious when reading that Nell is mourning the change in their sisterhood – it isn't exactly a loss of relationship, per se, because Layla is still there and still loves Nell. Nell just feels left out of Layla's life. She feels like there is a giant, huge, monumental portion of Layla's existence that is unknown to her, like a huge black hole, where the two sisters were previously so close it was almost like they operated as one.
Nell also struggles with the fact that Layla is so at ease with what she is doing – Layla doesn't seem to feel any guilt or remorse or shame at all about being intimately involved with one of the teachers at school, and this bothers Nell. Nell is able to see a bigger picture, one that involves the gossip in the hallways, the past history of the teacher in the equation, and the possible consequences for her sister if and when things get out of hand. Nell struggles a bit with "what to do" – should she tell or not? She doesn't want to alienate her sister further but at the same time, she wants to spare her sister harm down the road. This indecision was palpable.
Ultimately, WOW, I loved the ending. I mean, it was completely and totally unexpected for me. I did not see it coming with the way the book was progressing, and I think that it really just elevated the story for me. The ending is a bit open-ended but I feel like it worked for this particular story and just, wow. I loved it.
Interesting to me is that there is certainly romance present in the book, but it felt secondary to the secret and the relationship between Layla and Nell. Obviously the romance between Layla and the teacher is present, but is does not take up as much time in the pages as you might think. There is a friendship between Nell and a great guy friend that is fun to watch… Another interesting something-to-mention is the voice Nell uses – she is able to tell her story effectively and well while keeping (I think) readers at least somewhat distanced. What I mean is that while I was reading, I enjoyed her voice and her story, but I never really felt like I was entirely connected to her, to Layla, nor to their relationship as a whole. It did not take away from the story, but it is worth noting.
If I were to change anything, I have to admit that there are two characters in the story that were a little confusing to me – they're two brothers that are Nell's friends – and I just can't figure out their placement in the story. I think it could have functioned just as well without them, although I enjoyed the story even with their presence included.
We Are The Goldens by Dana Reinhardt is a story about a secret between sisters and how it affects them over a short period of time. The secret is a big one and the wear-and-tear it has on the younger Nell is apparent as time progresses. I loved being inside of Nell's thoughts as she weighed the pros and cons of keeping the secret/staying out of Layla's business vs. all of her other options, and I loved the way the book ultimately ended. I recommend We Are The Goldens to readers that love Young Adult contemporary with issues, because YES there are plenty of issues in there.
**********************************************************************
We Are The Goldens will appeal to fans of:


YA Contemporary with Realistic Fiction
Issues: No spoilers!
We Are The Goldens
by Dana Reinhardt
is currently available for purchase.
**********************************************************************
Do you love stories with sibling relationships?
This was a fantastic YA contemporary that deals with keeping your sister's big secret vs. telling – alienating your sister/friend vs. doing the right thing. Big deal! Loved it.