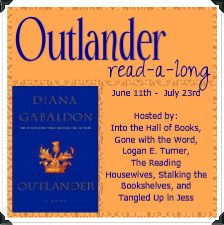 I want to do something special this morning and introduce another reader to our Claire & Jamie party!

Everyone welcome
Lauren
to the
Outlander Readalong
!

Lauren is absolutely one of my favorite people to discuss books with. She literally discusses books, y'all. We talk daily, and all over the place. And since she has been wanting to read Outlander, this is a most excellent time for her to do so…right when she can do it along with us! Perfect timing, right?

As Lauren isn't currently blogging, I have invited her to please, please officially join our ReadAlong by posting her answers here on my blog. So for the duration of the #OutlanderRA, you will see both Asheley's answers & Lauren's answers weekly. Because this week is the official Introduction Post for Lauren, there are two Outlander Readalong posts on my blog today. Please be sure to visit them both because they are different.

Everyone make sure to give Lauren a very warm welcome!
She has caught up to where we are currently and is loving the story of
Frank, Claire, and Jamie so far.
I am so very excited and honored to have her here on my blog, sharing her answers with this awesome group.

Welcome, Lauren!!
1. Claire has been given the task of healer at the castle. She must adapt her nursing skills for the time and learn what herbs and etc will cure each particular ailment that is presented to her. Do you have any home remedies that were passed down to you (cure for a cold, bee sting or what have you)?
No. I'm pretty much a failure in this area. If I ended up stranded in the 18th century, I'd be no help whatsoever. I don't know anything about herbs or botany or home remedies. Although I find it interesting THAT plants and herbs can be used for healing; I don't care enough to want to learn which ones they are. And honestly, this information isn't really needed today. I don't seem myself having to go out into the woods to collect plants and create medicines. Though if the amount of post-apocalyptic and dystopian books out there is any indication of what's to come, maybe I should rethink this.
2. What do you think would be the biggest challenge of living in the past? (Clothing, hygiene, food, etiquette, or etc)
Um. Everything? I love studying the past – I was a history major in college – so learning about life Scotland in the 1740s is fascinating. But I don't think I could live it. I definitely would not be as adaptable as Claire. She's amazing. She's barely stumbled over anything. The hygiene and lack of bathroom facilities would completely ruin me. And I don't eat seafood, so herring every day? I couldn't do it. Plus I would need extensive coaching on their clothing and etiquette practices. There's no way I could just jump right into life over 250 years ago.
3. Do you have a favorite character, scene, or quote so far? If so, share it with us.
Jamie as favorite character, for sure. Though, I feel like we haven't spent enough time with anyone besides Claire and Jamie for me to really care enough about any of the other characters (except for Dougal whom I don't love). Also, I do like Colum a great deal. He possesses a personal strength that I really like.

So many good scenes already! The wedding was sweet. And I liked when Claire and Jamie schemed to free the boy from the plinth. I love seeing them work together. It shows how great a match they are. I just want to tell Claire to hurry up and fall in love with Jamie!
4. What do you think about the addition of the blood bond in the wedding ceremony? Is this something you would do with the one you love?
I'll admit to finding something morbidly romantic about the blood bond and oath (and possibly, to getting excited that it makes Claire even more bound to Jamie than Frank). But in real life, I can't imagine doing it. And I think I'd find it way over the top (and freaky) if I witnessed anyone performing the ritual at a wedding. Hey, my sister's getting married this summer. Maybe I should suggest it?
5. Are you reading along closely with the scheduled chapters or are you ahead or behind?
I started a bit late, but worked to catch up quickly, despite the density of the text and adapting to the Scottish speak. I'm having a hard time not reading ahead! I've never tried a read-along, but I'm going to do my best to stick with the schedule. It was pretty hard to stop after this section, and I did read chapter 15, but that's it.
**************************************************
Here's the remainder of the schedule:
July 2nd
Questions for chapters 15-21 answered &questions announced for chapters 22-28 on Into the Hall of Books
Questions for chapters 22-28 answered & questions announced for chapters 29-35 on Logan E. Turner

July 16th
Questions for chapters 29-35 answered & questions announced for chapters 36-41 on The Reading Housewives

July 23rd
Questions for chapters 36-41 answered on Gone with the Words.
Lauren, Welcome again.
I'm so thrilled and honored to have you on my blog!
~Ash