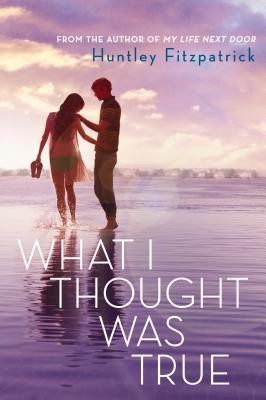 What I Thought Was True
by Huntley Fitzpatrick
Published by Dial BYR
Publish Date: April 15, 2014
416 Pages
Source: Library
Find It: Goodreads / Amazon / B&N

Gwen Castle's Biggest Mistake Ever, Cassidy Somers, is slumming it as a yard boy on her Nantucket-esque island this summer. He's a rich kid from across the bridge in Stony Bay, and she hails from a family of fishermen and housecleaners who keep the island's summer people happy. Gwen worries a life of cleaning houses will be her fate too, but just when it looks like she'll never escape her past—or the island—Gwen's dad gives her some shocking advice. Sparks fly and secret histories unspool as Gwen spends a gorgeous, restless summer struggling to resolve what she thought was true—about the place she lives, the people she loves, and even herself—with what really is. -(excerpt from Goodreads)
Huntley Fitzpatrick's My Life Next Door was one of the books I featured during my first Contemporary Month and I love the way it sticks out as one of my first Contemporary "loves" – I loved the characters and the setting, but more than that I remember thinking that I absolutely loved the story itself; I felt like I had fallen into it as I read. I waited eagerly for What I Thought Was True to release so I could read it, and while it took me a few chapters to find my way into the story, I eventually felt like I had fallen into this one too. I love that.
******************************************************************
While I mentioned above that I waited eagerly for the release of this book, I have to admit that I was also a little bit scared. I loved the previous book by this author. I mean, I LOVED IT. And for me, sometimes that can be a very scary thing – what if this one isn't as good? It happens, ya know? So when it came in for me at the library, I let it sit there a few days before I started it. And then when I DID start it, I read it slowly, taking more than a week to finish it (where I read the first book in one day).
What I Thought Was True tells the story of how Gwen learns that she is wrong about so many things she thought about life, love, money, her family, her friends.
It's a fantastic coming-of-age tale that takes place over the summer with a great setting and a wonderful cast of characters that made me laugh and tear up and swoon like crazy. This book is what I had hoped for, and I'm learning that this is what we can all expect from Author Huntley Fitzpatrick. This makes me very happy.
I fell hard for the well-rounded group of characters, both the main cast and the secondary cast. Leading gal Gwen is a hard-working young girl with a bright future and a great head on her shoulders.
But she has plenty of preconceived ideas that hold her back in several areas of her life – Gwen's transformation in this area of her life from the beginning of the book to the end of the book is part of the "coming-of-age"/character development that I enjoyed so much about this story. Gwen begins the book almost living in a bubble that she has created, consisting of her family and a few close friends, and she doesn't tend to venture far outside of her "circle" because of some bad decisions from her past that seem to follow her around. Gwen's summer takes an interesting turn when Cass – the guy she calls a "mistake" from her past – ends up working closely with her at her summer job. This is kind of a big deal.
See, Gwen is not rich, but she works for the rich people. She works for the vacationers during the summer, for the people that spend their summers by the shore. Gwen's mother and father both work for the summer folks, as do the rest of her family and friends. But Cass…he's one of the wealthy ones. He ends up working for the summer folks not by his own choice, but that summer job puts Cass back in Gwen's life where he had been avoidable before – and this is a very good thing for us, the readers. It takes Gwen a while to realize that it is a good thing, however, and she has her reasons for that. Gwen and Cass did not start off their summer perfectly, but their story unfolds in a remarkable way and I loved reading it.
Cass is a great character. One of the wealthy boys from the mainland, he would typically attend a private school where Gwen would go to public school. Except! His circle of friends include people that usually are not very nice to the people like Gwen – the people that work for the summer folks – but Cass is not really like the rest of his peers. Again, this is obvious to us, the readers, much sooner than it is to Gwen (partly because she is a little stubborn) but once she figures this out, WOW, the story is so rich and amazing and swoonworthy and wonderful.
And as expected, the author placed a ton of fantastic supporting characters in this book for us to enjoy. THEY ARE ALL SO WONDERFUL. So very wonderful. Gwen has a wonderful family – AAAH they're so vivid and three-dimensional! And Cass' friends remind me of some of the characters I've seen in John Hughes' movies. But it is Gwen's best friend and cousin that are some of the most interesting – their story is almost, almost as interesting and heart-pulling as the story between Gwen and Cass.
Really, there are several different stories happening in this book at the same time – several different characters/groups of characters have things going on. Each of these subplots are strong along but weave together splendidly – trying to talk about them all in this blog post would do the book a disservice. It is far better to just pick up the book give it a chance (or re-read). Both of this author's books are perfect for summertime, actually, and they are both excellent, so there is no going wrong in choosing either of them. Both have really wonderful settings, family/sibling relationships, wonderful and respectful love interests that I myself would bring home to my parents, an interesting dynamic between the couples as far as socioeconomic status goes, and great casting.
What I Thought Was True is a spectacular book, just like I'd hoped it would be, and perfect for summer. It is suntans and summer storms and swimming after work. It's hanging out with friends and working a summer job. It's making mistakes and fixing mistakes and glorious summer love. It's family, family, and family. And friends. I'm not sure how Huntley Fitzpatrick is able to do it so well, to paint such a vivid picture of a lively group of people that is super-realistic and emotional and just all-around wonderful. I really just want to read the book again and again. I absolutely adore characters that are not perfect and yet their story seems to be, and HERE WE HAVE THAT. Gwen is not perfect and Cass is not perfect but YOU GUYS THIS STORY IS PERFECT. I love it so.
I am so excited about what comes next for Huntley Fitzpatrick. So, so excited.
I recommend What I Thought Was True for fans of Young Adult Contemporary with romance, great relationships, and a great setting. I was scared that I wouldn't be able to love this book as much as I love Huntley Fitzpatrick's first book, there is plenty of room for them both in my heart.
******************************************************************
What I Thought Was True will appeal to fans of:
YA Contemporary Romance
Romance: Slowly-developing. No Triangle.
Great Main & Secondary Characters
Sibling/Family Relationships
Great Setting
Standalone
What I Thought Was True by Huntley Fitzpatrick
is currently available for purchase.
******************************************************************
Have you read this book yet? Thoughts?
Have you read My Life Next Door?