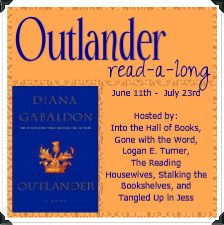 Welcome to The End of the Outlander Read-Along!


These are Lauren's Questions from Chapters 36-41.
I can't believe the Outlander read-along is over! It's been such a fun experience for me. I've enjoyed meeting all of you, and working through the book as part of a group. THANK YOU THANK YOU to Asheley for letting me hijack her blog each week so that I could participate in this event.
***********************************
Week Six: The End!
1. Jamie has the worst case of seasickness. Do you get seasickness or motion sickness? If not, is there something that makes your stomach a bit queasy?
I do not get seasick, thankfully. Not that I've taken many (any) long sea voyages. Also, we have Dramamine these days and that is very helpful. Besides the first trimester of pregnancy, which makes me ill just thinking about, the only thing I can think of is spinning in circles. I used to be able to get on the merry-go-rounds at the playground and spin around for hours. But now if I turn in a circle a few times, I feel like I'm going to throw up. The other night my kids wanted me to swing them around the room. After I obliged them a few times, I proceeded to feel sick for the rest of the evening. No joke.




I can't even imagine what Jamie went through, having to get on a boat that he knew would make him seasick, after the physical and mental wounds that he suffered. But it was better than the alternative of staying in Scotland and risking capture again. The things that man has been able to endure are astounding.
2. How did you handle reading the details of Jamie's torture at the hands of Randall? Did you blame Jamie for anything that happened during the encounter with the captain? If you were Claire, how do you think you would have taken hearing about the abuse from your husband? What did you think of Claire's methods to get Jamie to start healing psychologically from his wounds from Randall (when she filled his room with opium and simulated another attack by the captain)?
This section of the book was extremely difficult for me to get through. I have a hard time reading about sexual violence and rape, and it hit me really hard. Reading this section made me glad to be going through Outlander as part of a read-along, because I really needed some emotional support after hearing what happened to Jamie (you think you're done hearing about it in chapter 36, but no it get's worse later on!). Somewhere in this passage Claire acknowledged that Jamie is going to have to open up about what happened, but that she didn't think she wanted to be the one he does it to. And I felt the same way that she did. I didn't want to know how bad it was. But now that I do know, I'm glad he opened up to her about it. I think that Claire showed tremendous strength in this section of the book. I was really impressed with how she handled everything. She worked very hard to help Jamie to recover, trying her best to give him what he needed without thought to herself.




Okay, I can barely handle even thinking about what Jamie went through. It is horrible. And I cannot imagine the great psychological damage he suffered at the hands of Randall. The physical pain was only a fraction of Jamie's wounds. I WANTED Jamie to fight back. I'm not going to lie about that. But I do not judge him for not doing it. Jamie had given his word in order to save Claire. He also likely thought that he would die anyway. Plus Randall excels at this kind of mind game/violence. He was systematic and practiced in a really sickening way, and Jamie was so beaten down already – emotionally and physically. I don't think anyone could withstand it.

Claire recognized that Jamie still felt like Randall was exerting power over him, and it was very smart of her to get him to fight back and break through that mental block. The way she went about it was in typical Claire fashion – foolish and brave. But it WORKED. I know I said this, but I really came to admire Claire through this whole scene. She doesn't give up on her husband. She suffers with him by not sleeping. And she does everything in her power to pull Jamie out of the darkness and help him to heal.
3.
From this cover, which of the above elements of Outlander were you most looking forward to? Which did you enjoy most while reading? Which did you enjoy least while reading? Which did you just not care about? Any of these do you wish there were more of? Less of
?
"Within these pages of OUTLANDER, you will find it all…history, warfare, medicine, sex, violence, spirituality, honor, betrayal, vengeance, hope and despair, relationships, the building and destruction of families and societies, time travel, moral ambiguity, swords, herbs, horses, gambling (with cards, dice, and lives), voyages or daring, journeys of both body and soul…you know, the usual stuff of literature."
Wow. I love that quote! I didn't really know what to expect specifically when I started Outlander. I knew that it was a popular and addictive series, and that Jamie Fraser is a lot of people's favorite kilt wearing hero. I was excited about being in Scotland and the relationship between Claire and Jamie. I also love social history, so learning about life in 18th century Scotland was interesting. I was actually surprised that Claire fit into the society so easily and that she was useful there (due to being a former combat nurse). There's no way I could drop into the same time period and blend in as well as she did.

I knew that Outlander would have ups and downs, but I wasn't prepared for how vast they would be. Diana Gabaldon is not afraid to take her characters into darkness (or bring up controversial subjects), and some of that – especially at the end – was hard for me to handle. But there were some really high moments – mostly involving Jamie saying or doing something magnificent for Claire. And really not any dull moments in the book at all. Of course, I'd have liked less Randall. But I don't think the book would be the same without the evil villain that brilliantly looked like Claire's first husband. Though I wouldn't have minded if he'd taken it down a notch. And I was never a fan of Frank. I guess the fact that Claire was married already is something that I never liked, and it's still hanging over our heads.
4. Share with us your overall thoughts of Outlander by Diana Gabaldon. Your favorite quotes, scenes, and/or your favorite words that had you searching for a dictionary. If you haven't been marking your favorite quotes/passages, you can find your favorite Outlander quotes on Goodreads.
Outlander was a wild ride, and overall one I really enjoyed being on. Diana Gabaldon sure doesn't shy away from controversial material! I covered a lot of my thoughts in the previous question so I'm not going to say too much more about the book here.

I found it a little difficult to get into the Scottish speak, but as I'd read another book with similar language, it wasn't as hard as I'd thought it would be. And once I got the hang of it, the story picked up tremendously.

There are so many great quotes and I'm not going to put them all here. But I will say that I'm a sap for a good romance, so I loved when Jamie said,

"Because I wanted you." He turned from the window to face me. "More than I ever wanted anything in my life," he added softly.

And when Claire told Jamie: "I was made for you." (I wanted to shout for joy when Claire FINALLY acknowledged her feelings for Jamie.)

"Don't be afraid. There's the two of us now." I like Jamie and Claire so much as a couple. I love when they work together. They are such a great match.
5.
Are you gonna continue with the series or are you done after Outlander? For those of us who are new readers of the series, any predictions? Do you think participating in the read-along helped or hindered your experience with the story? For those of you who have already read Outlander and the books beyond, how much did you enjoy (or not enjoy) this re-read?
I would like to continue this series. But I definitely need a break before starting the next one. Outlander was long and very emotional. I don't know what Diana Gabaldon could do to top it, especially the emotional turmoil I faced at the end of this one. But I'm sure she will.

I don't know what to say about predictions. I did read the back of book two, Dragonfly in Amber and I'm a bit confused about where the story is headed. But I was told that it would all make sense once I start it. Also, I've noticed that DG likes to bring characters back around, so I'm sure we've not seen the last of the people we met in Outlander.

The read-along was a lot of fun. I loved seeing everyone else's thoughts on the book. I enjoyed having support as I read, especially when I got to the latter chapters. It's always fun to read at the same time as someone else. This was my first time doing a read-along and it wasn't as hard as I thought it would be to stick to the reading schedule – at least until the end when I just HAD to finish the book. I'd definitely do another one of these.
BONUS #1: Take the Outlander Quiz on Goodreads and tell us how you did!
I got 14 out of 15 answers! The quiz was a bit vague in places. But fun!
BONUS #2: Claire is able to visit the library at The Abbey. Share with us pictures or a description of your own personal drawing of your dream library. Feel free to share more than one. Some of you may even have a Pinterest board full of inspiration, please share!
Well just having an entire room of my house dedicated to books and reading would be pretty awesome. With lots of comfortable places to sit of course. Sorry guys, I didn't look up any pictures. But I'm excited to see yours!
*************************
Lauren – It's been a pleasure having you on my blog!
I'm SO GLAD you joined the readalong!!
You're awesome. 🙂 – Asheley