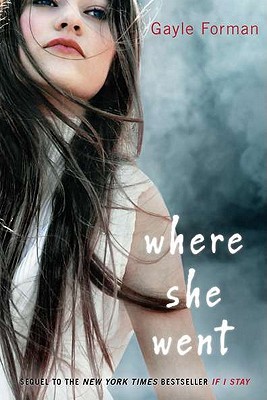 Where She Went by Gayle Forman
Series: If I Stay #2
Published by Speak
Publish Date: November 4, 2010
264 Pages
Source: Print – Bought, Audiobook – Library
Find It: Goodreads / Amazon / B&N


It's been three years since the devastating accident . . . three years since Mia walked out of Adam's life forever.

Now living on opposite coasts, Mia is Juilliard's rising star and Adam is LA tabloid fodder, thanks to his new rock star status and celebrity girlfriend. When Adam gets stuck in New York by himself, chance brings the couple together again, for one last night. As they explore the city that has become Mia's home, Adam and Mia revisit the past and open their hearts to the future-and each other. -(summary excerpt from Goodreads)


There are SPOILERS for If I Stay,
but I think I kept it to what's in the summary.
It's up to you if you choose to go any further!
If you haven't read these,
I think you should just read the first book so you can read this one
because this one is brilliant.
Where She Went by Gayle Forman


My Thoughts: Some of you told me that I'd probably like Where she Went much better than If I Stay because it basically has all of the things that I love in contemporary books packed into one. After twice reading If I Stay and feeling okay about it, I have to admit that I believed you guys – I really did – but I had no idea that I would want to drive around the country and travel the rest of the world and give you all HUGS for being so completely right about how much I'd love this book. Because you were all so, so right and then some. This easily became one of my favorites and even though it isn't a "light" read, I will re-read it (actually listen to it) over and over again.


So what worked so well for me?


1. Adam. Good gracious, Mia just destroyed him in If I Stay – granted, the accident wasn't her fault, but the emotional roller coaster of whether or not she would make it was so nerve-wrecking for the poor guy. It was gut-wrenching and just broke me. And then coming into Where She Went – just by reading that summary, my heart was broken to begin with. I already knew that Adam would be broken-up because it was clear and evident how much his heart beat for Mia, but MAN OH MAN I had no idea how much that break-up had devastated him.
Oh my goodness, y'all, the guys with the broken hearts – how they get to me! And Adam's heart was perhaps one of the most genuinely and painfully broken. But it wasn't just that – it was his entire life in the NOW, the now since the last book ended – that's what got me. Adam told the story himself, and he alternated between the past and the present. Just…gosh. That boy. Incredible male point-of-view. Loved him.


2. The music. There was music in the first book, but it was really just a dash here and there, and it was mostly memories and thoughts from Mia's unconscious mind for the most part. No lyrics, of course, because it was Mia's cello. That's fine and good because I really love classical music. But this book is different and it works so well.


To accompany the change in POV to Adam, there is a change in the musical feel of this book – Adam's band is known all over the world. He fronts the "emotional punk powerhouse" called Collateral Damage, and his songs are of course all very emo-like because they're written from his experiences and his pain. We know this because there are lyrics throughout the book, and they just ripped my heart out and danced all over it (I may be weird but I kind of loved this).


Adam's music is rock and roll, lyrical, poetic, and powerful. He plays to extremely large crowds on sold out worldwide tours. He's really made a name for himself in the past few years. The interesting thing is that Mia has too – she's become quite powerful in her own name, a classical prodigy of sorts – and she plays rather large shows to sell-out crowds as well. So while the two of them have taken two very different paths in two very different places – their lives are sort of similar, which is really ironic given that Mia wanted to walk away everything. I digress.


3. The transition. Adam is at this point in his life that things just aren't working for him anymore. He isn't happy. He's tried to put up a front for the people that he works for/with and for the world, but he can't do it anymore. He's done the celebrity musician thing and he isn't happy. He's just tired. He's exhausted.


********************************************


As the real story begins in the book, Adam happens upon an advertisement announcing one of Mia's shows playing that very moment – he steps inside, just meaning to watch for a little while, unnoticed. As he is about to leave, Mia asks for him, thus beginning conversation between them for the first time in the past few years, bringing up feelings that Adam had tried to bury. After a while neither of the two want the night to end so they end up spending the night walking around the city, just seeing sights and talking. The talking is light at times and heavy at times – things are said and hearts are spoken. GOSH, IT IS RIVETING.


And then there is this point when the morning is coming and OH MY GOSH! I can remember being in my kitchen doing some cooking or cleaning or something and just gritting my teeth because I know what I wanted to happen and I was afraid of what was going to happen. (Because I never trusted Mia!) And then all of these things happened and I was a puddle of a mess of emotions. Basically everything after that point was that perfect roller coaster of emotion that I absolutely love – that completely stressful bookish time when you can feel the pain and the joy and the sorrow and the anxiety and the everything that the characters are feeling. Before I knew it, I was sitting in the parking lot of my library branch SOBBING because of one certain scene involving a guitar. (I had to run errands.) Of course there will be guitars in the book, because there is music, right? But this scene just ripped me up, and then I was worthless for a while after that. Because THIS BOOK is so, so good.


I really think that I felt everything that I was supposed to feel in this book. All of the everything that I missed so completely in If I Stay – I felt it PLUS more in Where She Went. I'm so, so glad about that because this story is so great. IN ADDITION, I listened to the audiobook while I followed along in print – y'all know how emotionally invested that can make me if the book is a good one.


AND THIS ONE, I LOVED. This one is a favorite. I can't say that I'll feel the need to re-read If I Stay in the near future (or again), but I will without a doubt re-read this one. Brokenhearted male point-of-view written so well, plus he's a musician, plus he is still in love with the same girl, plus he's just a good guy? SOLD. FOREVER.


Audiobook Notes: The Where She Went audiobook is published by Penguin Audio and is 5 hours, 21 minutes long, Unabridged. The book is narrated by the Dan Bittner, who is the perfect person for the job because of his perfect voice. He absolutely nailed every emotion, every feeling, and every subtle nuance of Adam in this book. I can't think of a better reader for this part. Plus it doesn't help that Dan Bitter has THAT VOICE and the character is a musician. I would easily, easily, easily recommend this audiobook as a first-read or as a re-read for Where She Went based on the narrator alone, but also because he did such a great job with this character and even with Mia's opposite-gender character. Great audiobook.

I recommend Where She Went by Gayle Forman to fans of YA Contemporary with Issues, emotional stories, and people who enjoy stories with music or about musicians. While I didn't enjoy If I Stay a ton, Where She Went is going on my favorites shelf and there are is a pretty high likelihood that I'll re-read this one over and over. FOR SURE.

********************************************************************
Where She Went will appeal to fans of:


YA/*NEW ADULT* Contemporary
Fantastic male point-of-view
Romance: Already established. No triangle.
Stories with music/musicians.

Where She Went by Gayle Forman
is currently available for purchase.
********************************************************************
I think it's odd that I would LOVE
this second book so much more than the first
but HELLO, it's that good.
Which of these two books did YOU like better?
Also, hey friends!
This book fits into the New Adult category.