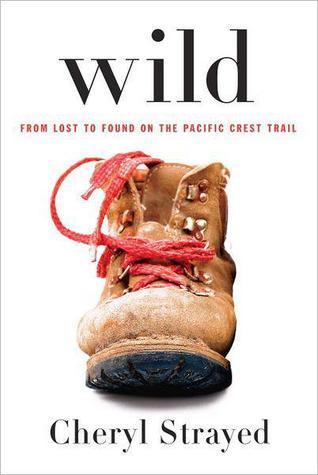 Wild by Cheryl Strayed
Published by Knopf
Publish Date: March 20, 2012
336 Pages
Source: Book – Library, Audiobook – Library
Find it here: Goodreads / Amazon / B&N
At twenty-two, Cheryl Strayed thought she had lost everything. In the wake of her mother's death, her family scattered and her own marriage was soon destroyed. Four years later, with nothing more to lose, she made the most impulsive decision of her life: to hike the Pacific Crest Trail from the Mojave Desert through California and Oregon to Washington State—and to do it alone. She had no experience as a long-distance hiker, and the trail was little more than "an idea, vague and outlandish and full of promise." But it was a promise of piecing back together a life that had come undone.
Strayed faces down rattlesnakes and black bears, intense heat and record snowfalls, and both the beauty and loneliness of the trail. Told with great suspense and style, sparkling with warmth and humor,
Wild
vividly captures the terrors and pleasures of one young woman forging ahead against all odds on a journey that maddened, strengthened, and ultimately healed her.
(Goodreads)
My Thoughts: I remember when Wild by Cheryl Strayed was published.
I love books and movies about nature and being outside and beautiful landscapes and adventures and travel. WIN, right? WELL WELL WELL, you guys, I had no idea how much more to this book there actually is than the hike that is represented by that one worn-out hiking boot on the cover.
Cheryl Strayed is a young married woman that loses her mother to cancer. This loss causes not only a grief within Cheryl that she can barely handle, but this cascade of increasingly bad decisions and behaviors that nearly destroyed her life and absolutely destroyed her marriage. It seems that Cheryl hits what I would consider rock-bottom and then decides that she needs time alone, time to be by herself to work out the issues within her heart and mind, the grief she could barely overcome, and the guilt she had over mistakes she made after her mother died. SO! Cheryl Strayed decided to do what almost no other person that I have heard of ever decides to do: she decides to hike the incredibly lengthy Pacific Coast Trail with no experience whatsoever. She has pretty much no trail knowledge and almost no physical stamina — she does have the need to prove to herself that she can conquer this beast and come out on the other side, though, and that is ultimately what this story is about and why it is really spectacular.
I'm going to be straight-up honest: the first time I tried to read this book, it just didn't work for me. I tried to listen to the audiobook and follow along with my Kindle but I ultimately just could not both listen to AND read with my eyes what Cheryl was doing to herself. It is hard to witness someone be in such bad shape and make bad decisions, you know. The beginning of this book is not easy, friends. It's almost like Cheryl is bound and determined to make as many irresponsible, decisions as she can, and I just had to stop listening. This was something that was so hard for me because I RARELY EVER HAVE THIS REACTION TO BOOKS. I really hardly ever have times when I just cannot stand to go on because I am so upset by the actions of a character. I did not want to "DNF" the book – but I needed a break from Cheryl's issues.
The thing is that the longer I let the book sit, unread…the longer I worried for her. I worried for not only her safety, but I really wanted to know if and how Cheryl would be okay! I HAD to pick the book up again and restart it to see what finally pushed Cheryl onto the Pacific Crest Trail — and then I had to know how she would handle the situations that I know can arise for serious hikers on serious backpacking trips. THIS IS THE PART OF CHERYL'S JOURNEY THAT I TRULY LOVED.
Bears, rattlesnakes, starvation, being without water, days without human contact, losing a shoe, being lost, meeting other hikers with potentially questionable intentions, being completely broke, being nearly frozen in snow — these are the types of things that really made the book stand out to me. I loved reading how Cheryl had no choice but to DEAL with these situations. This is where she had to MAN-UP and make it. Out on the trail by herself, it was just Cheryl and her thoughts. She was working her life out, one issue at a time. And MAN what an adventure she had while she was doing it. So incredible. I'm really proud of this woman that I have never met for going from the depths of the bottom to the literal tops of the mountains out there in the Western US.
Ultimately, at the end, I am so glad I restarted and finished Wild. I even picked the audiobook back up once I got to the point where Cheryl actually began hiking. I feel sad that Cheryl had such a hard time with grief – those of us that have experienced tremendous loss know that everyone copes with it differently and perhaps I was not giving Cheryl the chance to cope with her losses in the best and/or only way that she could. Perhaps I judged her a little in the beginning, and I feel really badly about that. I truly do. I feel thankful that I gave her story another chance because it was inspiring to me to see a woman be strong when she truly did not think that she had it in her. I feel happy that this gigantic adventure in her life was enough to completely change it and to seemingly help Cheryl on a path to forgiving herself for some previous mistakes and to also forgiving her mother and moving to a place where her grief did not overcome her in every aspect of her life.
I cannot wait to see this movie. Honestly, I hope there is more of the outdoors-adventure-backpacking parts of the book in the movie than anything else because on screen, some parts of her life are going to be hard and probably also infuriating to watch. I recommend Wild by Cheryl Strayed to fans of memoirs and books that are maybe a little life-changing and books that help us understand how people that may be a little different than us live and cope with big life issues. Cheryl Strayed and I are possibly not very much alike but ultimately I have this immense interest in this huge adventure that she had, and I am thrilled that I took the time to give it another chance.
Audiobook Notes:
The audiobook format of Wild
by
Cheryl Strayed
is published by
Random House Audio
and is 13 hours and 6 minutes, Unabridged. It is narrated by Bernadette Dunne
who is a seasoned voice actor with many titles to her credit. I found it easy to get lost in the narration provided by Ms. Dunne; she is extremely easy to listen to. I would easily recommend this book as a first read or reread to audiobook listeners.
***********************************************************************
Wild will appeal to fans of:
Fantastic Setting: Pacific Crest Trail, Western US
Romance: None, although there are stories of relationships in the beginning of the book.
Adventure/Survival Stories
Wild by Cheryl Strayed
is currently available for purchase.
***********************************************************************
Have you read Wild? Do you plan to see the movie?
It looks great. I can't wait to see it.