Publish Date: January 20, 2015
Publisher: St. Martin's Press

Series: Waverly Family #2


It's October in Bascom, North Carolina, and autumn will not go quietly. As temperatures drop and leaves begin to turn, the Waverley women are made restless by the whims of their mischievous apple tree… and all the magic that swirls around it. But this year, first frost has much more in store.

Claire Waverley has started a successful new venture, Waverley's Candies. Though her handcrafted confections—rose to recall lost love, lavender to promote happiness and lemon verbena to soothe throats and minds—are singularly effective, the business of selling them is costing her the everyday joys of her family, and her belief in her own precious gifts.

Sydney Waverley, too, is losing her balance. With each passing day she longs more for a baby— a namesake for her wonderful Henry. Yet the longer she tries, the more her desire becomes an unquenchable thirst, stealing the pleasure out of the life she already has.

Sydney's daughter, Bay, has lost her heart to the boy she knows it belongs to…if only he could see it, too. But how can he, when he is so far outside her grasp that he appears to her as little more than a puff of smoke?

When a mysterious stranger shows up and challenges the very heart of their family, each of them must make choices they have never confronted before. And through it all, the Waverley sisters must search for a way to hold their family together through their troublesome season of change, waiting for that extraordinary event that is First Frost.


I've read a couple of Sarah Addison Allen's books in the recent past. I read The Girl Who Chased The Moon and The Peach Keeper very quickly and loved them.This author uses a perfect blend of contemporary and magical realism that I adore plus a wonderful setting (she loves a North Carolina setting; I really connect to that place because I live in North Carolina!).


I only very recently realized that the upcoming First Frost a sequel to Garden Spells. I haven't read Garden Spells but am excited for the extra nudge to go ahead pick it up. With a January release date, I ought to go ahead and get started!



*********************************************************
YOUNG ADULT: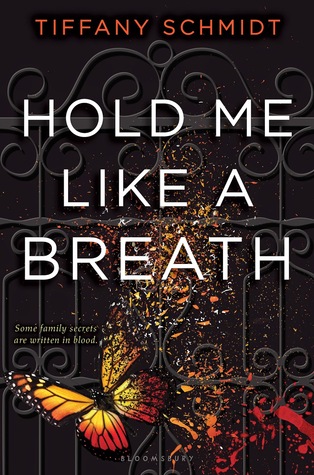 Publish Date: May 19, 2015
Publisher: Bloomsbury
Series: Once Upon A Crime Family #1
Penelope Landlow has grown up with the knowledge that almost anything can be bought or sold—including body parts. She's the daughter of one of the three crime families that control the black market for organ transplants.

Penelope's surrounded by all the suffocating privilege and protection her family can provide, but they can't protect her from the autoimmune disorder that causes her to bruise so easily.

And in her family's line of work no one can be safe forever.

All Penelope has ever wanted is freedom and independence. But when she's caught in the crossfire as rival families scramble for prominence, she learns that her wishes come with casualties, that betrayal hurts worse than bruises, that love is a risk worth taking . . . and maybe she's not as fragile as everyone thinks.
Okay, yeah, I'm intrigued by the mafia-vibe of this one. Black market for organs? Sounds a little interesting. Sign me up! The synopsis sounds great.
There are so many great books coming out soon.
What are YOU waiting for?