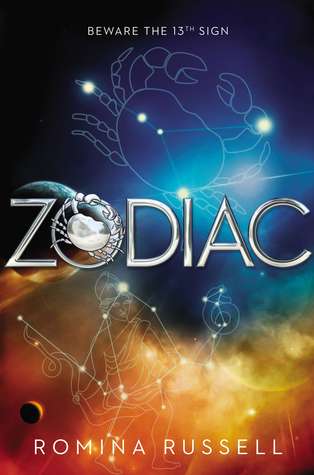 Zodiac by Romina Russell
Series: Zodiac #1
Published by Razorbill
Publish Date: December 9, 2014
336 Pages
Source: Publisher
Find It: Goodreads / Amazon / B&N

At the dawn of time, there were 13 Houses in the Zodiac Galaxy. Now only 12 remain….

Rhoma Grace is a 16-year-old student from House Cancer with an unusual way of reading the stars. While her classmates use measurements to make accurate astrological predictions, Rho can't solve for 'x' to save her life—so instead, she looks up at the night sky and makes up stories.

When a violent blast strikes the moons of Cancer, sending its ocean planet off-kilter and killing thousands of citizens—including its beloved Guardian—Rho is more surprised than anyone when she is named the House's new leader. But, a true Cancerian who loves her home fiercely and will protect her people no matter what, Rho accepts.

Then, when more Houses fall victim to freak weather catastrophes, Rho starts seeing a pattern in the stars. She suspects Ophiuchus—the exiled 13th Guardian of Zodiac legend—has returned to exact his revenge across the Galaxy. Now Rho—along with Hysan Dax, a young envoy from House Libra, and Mathias, her guide and a member of her Royal Guard—must travel through the Zodiac to warn the other Guardians.

But who will believe anything this young novice says? Whom can Rho trust in a universe defined by differences? And how can she convince twelve worlds to unite as one Zodiac? (excerpt from Goodreads)




My Thoughts: Zodiac by Romina Russell takes off and pretty much never really lets go – this is a mostly-action-driven story from beginning to end. I think that is one of my favorite things about it.


The story starts out with a bang when a major catastrophe occurs, causing widespread destruction and devastation beyond what anyone could have expected or foreseen…except for Rho. Sort of. Rho had sort of predicted something like this, but neither her friends nor the powers-that-be would take her seriously. She has this interesting ability to see things that no one else can see, and it has been a source of contention between her and everyone else she knows because it has diminished her credibility – what she is seeing out there is really difficult to believe. It's only in the aftermath and the destruction that Rho is called upon again to discuss her premonition, her vision, whatever it is that she saw. As a result of this discussion with several people in important positions and a couple of strange tests, it is determined that Rho will be the next Guardian of House Cancer — this means that she is basically the head of her House and will receive on-the-job training for this role since the previous Guardian was killed during the recent catastrophe. With the majority of the galaxy still disbelieving her theories and predictions, Rho has a tough job ahead of her. As her predictions begin to come true, though, she begins to earn trust and more leadership. This is really neat in many circumstances…however, for a 16-year-old student thrust into the job with no training, it can be a bit overwhelming.


Rho is a likable character and truly has a heart for people – this is how she was raised and something that is important to her. I love that she tries to place others before herself. However, she is young and completely inexperienced as far as her new role as Guardian goes — for this reason, I expected her to make some not-great decisions. I feel like Rho learned from some of these errors easily but sometimes she learned from her mistakes in very difficult ways. The further into the story I read, the more difficult it became for me when Rho made bad choices here and there, because they always affected other people. I know that with all that Rho went through — trying to rally the people together to fight against an unknown enemy, trying to keep her chin up despite opposition — she made progression as a character by the end of the book and I am hopeful that in the next book, she will be even stronger. I enjoy reading strong female characters like Rho. I;like seeing how they will react when life changes unexpectedly for them – this happened to Rho several times throughout the book and what is great about her character is that she always tries to do the right thing, even when it seems impossible.


Zodiac had several intense scenes – particularly the action-driven moments of battle or confrontation between characters or in times of attack. I found myself really hanging onto these times and enjoying them much more than I even expected to. It was so easy for me to visualize these attacks and fighting sequences, which made me feel that they were well-written, particularly for a setting as vast as space. I also enjoyed reading how each planet/moon configuration was laid out whether there was mostly water on the surfaces or lush forests or vast fields of grain. Even within the space vessels, I had a great sense of the setting.


As far as the romance goes…there is a love triangle. I wasn't expecting this! I had decided that I liked the direction I thought the romance was going and then here comes another guy! WHAT WHAT WHAT — needless to say, with a triangle you really never know how things will end up, and Zodiac kept me guessing until the end of the book. I liked both potential love interests as characters quite a bit, actually, but to me there was an obvious choice for Rho and I did not choose correctly! This, coupled with Rho's mixed feelings about both guys made me feel like I wish the triangle was not present in this story – I like these characters so much as who they are.


Ultimately, I did like this story quite a bit. I was concerned that I wouldn't be able to understand this story because of my limited knowledge of astrological/Zodiac stuff, but I found that it wasn't necessary to have prior knowledge of these things before reading. What I needed to know is given to me in the story, and I appreciate that so much. I love the way the author wrote a brave, young girl as the heroine and thrust her into near-impossible conditions. I liked watching how Rho would respond and whether or not she would repeat her errors or grow from them. I wish Rho would have concentrated less on romance and more on her new role as Guardian given how everything pans out by the end of the book, but when I think about it: a 16-year-old girl in a stressful situation, surrounded by guys…it sounds normal that she had confused feelings about a couple of the handsome ones. I'm excited to see what else happens for Rho as her story continues with the remaining installments of the series. I recommend Zodiac by Romina Russell to fans of YA science-fiction with romance and fans of space adventure stories.
**********************************************************
Zodiac will appeal to fans of:


YA Science-Fiction/Fantasy with Romance
Romance: Love Triangle.
Space Adventure
is currently available for purchase.
**********************************************************
I was fortunate to be able to ask Author Romina Russell to speak to us about being a "girl" writing science-fiction, where this genre seems to have been dominated by guys for such a long time. Here are here thoughts:
Truth is, I don't believe my gender has any bearing on ZODIAC, nor do I think it's a big deal that SF/Fantasy has traditionally been a guy-dominated genre (Romance is a female-dominated market, but authors like Nicholas Sparks have been able to break through)—however, I do think there's something to be said for Rho being a warrior of the heart and not of the body.
I wouldn't consider this a gender issue, though (there's an abundance of heroines who are both warriors and women)—it's more to do with Rho's Cancrian characterization than anything else. In ZODIAC, House Cancer is run by the Matriarchy, the eldest Mothers in the planet's twelve founding families. It's a maternal society where a husband takes his wife's last name, and women run the household and government.
I decided to create a protagonist with a female-oriented, nurturing background because I wanted to explore a different kind of hero in this universe: A character whose strength was in her heart and not her body. I was interested in taking a girl who wasn't naturally violent and seeing what weapon she would use to fight in a war. I wondered how she would save the world(s)…and whether or not she could.
I think the weapon Rho ultimately finds she can best wield is her voice. Her fuel is her love for her people, and her strength is her ability to bring all people hope.
So often in SF and Fantasy, the hero and his nemesis's problems are resolved with a blade or a bullet or a laser…but in ZODIAC, the climactic battle happens in the Psy Network, or the Collective Conscious. Rho fights back against Ophiuchus by deepening her Center: She retreats inward and connects to her innermost self and the soul of the Zodiac, and she does it by bringing out her best attribute—her honesty.
The more self-aware Rho becomes, the stronger she grows in the astral realm. I loved exploring this kind of psychic violence because it felt more relatable to me than wielding a physical weapon. So much of the damage that ultimately crushes us is mental, and most of our worst wounds don't leave physical scars. I think Rho's true battle throughout this novel—and series—is with her own mind and its perceived limitations for her potential. What she ultimately must realize is that the key to being a great leader lies not in the stars but in herself. Her courage could change the Zodiac's fate—as long as she believes it can.
**********************************************************
Thanks to the generosity of
Author Romina Russell and Penguin Young Readers,
I have one copy of Zodiac to share with one of you!


This giveaway ends Jan 3, 2015! Good Luck!