The Project:
I recently shared a very personal story on my Instagram about why reading *what I want* is so important to me.
But also: Haven't we all gone thru times where we find ourselves reading books we aren't enjoying or books we feel like we should be reading? Maybe you've also felt the pressure of review deadlines? Maybe the piles of those early copies have become overwhelming. Maybe you're a student with required reading for school and you just want to read what you want for a change, without worrying about writing an essay or taking an exam on characterization or theme. Friends, I HAVE EXPERIENCED ALL OF THESE THINGS TOO and I did not love those moments.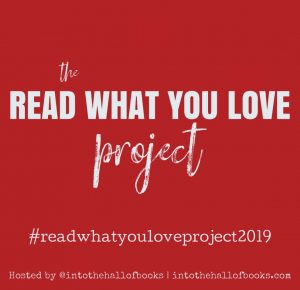 I wanted to challenge myself to read more of *what I want to read* in a way that would "stick" all year. So I decided to create a project for myself, to hold me accountable to myself for ENJOYING my reading time and to reading more of what I want.
I decided to read more of what I LOVE.
I would love for you to join me!! It's super low-key: Aim to read more of what you LOVE. Then share with #bookstagram (or your own blog, Twitter, or Litsy if you don't have Instagram) what you have loved reading and WHY. That's really all there is to it. There are no hard rules!! Everyone can do this. Even more, *I* can do this!! The main goal here for me is to make sure that I fully appreciate and remember what a true gift the ability to read is, to intentionally read more of what I love, and to share that with you guys.
I hope you'll join me! If you're interested, share somewhere why you want to read more of what you love in 2019 and be sure to use #readwhatyouloveproject2019. (Don't forget to tag me @intothehallofbooks on Instagram and Litsy or @BookwormAsheley or Twitter so I can read your posts!) Hopefully it will inspire others to read more of what they love too. You're welcome to use this graphic to show other friends you're participating in this project!! I'll be talking about what books I'm reading and loving (and why!) all year long.