Atlas of World War II
by
Neil Kagan
,
Stephen G. Hyslop
Published by
National Geographic
on October 30, 2018
Pages:
256
Source:
the publisher
Buy from Amazon
|
Buy from Barnes & Noble
Goodreads
This definitive, lavishly illustrated book from National Geographic features an astonishing array of vintage and newly created maps, rare photographs, covert documents, and eyewitness accounts that illuminate the world's greatest conflict.

This magnificent atlas delves into the cartographic history of WWII: naval, land, and aerial attacks from the invasion of Poland to Pearl Harbor and the Battle of the Bulge. Rare maps include a detailed Germany & Approaches map used by Allied forces in the final stages of the war, full large-scale wartime maps of the world used by President Roosevelt, and crucial Pacific theater maps used by B-17 pilots. Satellite data renders terrain as never before seen, highlighting countries and continents in stunning detail to include the towns, cities, provinces and transportation roads for a pinpoint-accurate depiction of army movements and alliances. Gripping wartime stories from these hallowed fields of battle, along with photographs, sketches, confidential documents, and artifacts color the rest of this timeless and informative book.
I received this book for free from the publisher in exchange for an honest review. This does not affect my opinion of the book or the content of my review.
REVIEW:
For some reason it seems like I always had more Revolutionary War and Civil War history taught in my classrooms when I was younger and in school, and I think that fueled the fire where my interest was concerned. As a result, I've always felt a little bit behind with what I know about World War I and World War II. I'm less able to strike up a good conversation and just chat freely about these periods in history than I am with other periods of time. But I want to know more and fill in these gaps.
Now that I'm homeschooling teenagers, I'm learning alongside my high schoolers. Nonfiction books with tons of photographs like this one are a favorite way that everyone in my house learns more about topics in history and science. I was thrilled when National Geographic sent this one to us for review.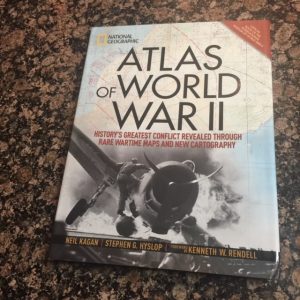 Atlas of World War II: History's Greatest Conflict Revealed Through Rare Wartime Maps and New Cartography is a beautiful tabletop book by National Geographic filled with information about WWII, from the rise of dictators around the world to the defeat of  Japan. There are multiple pictures on every single page, including more types of maps than I even knew existed. I already knew so much more about World War II after flipping through this book for the first time.
But this is not a book to flip through once. This is the type of book most would look through several times, if not many times. I feel like it will take me a while to read and really digest all of the information included in here between all of the pictures, captions, maps, and the regular written information in each section. The first time I looked through the book, I looked at all of the pictures and read their captions; the next time I looked at just maps; still another time, I picked certain parts that I wanted to read. And I still feel like I can continue to learn and enjoy the Atlas of World War II.
One of my favorite parts of this book is that it spends some time talking about escape maps for downed airmen and there are maps that show possible routes that they could have taken to safety. There is a fantastic picture included that shows tiny compasses that were hidden in parts of military uniforms or among their other supplies, like inside of buttons or as part of belt buckles. This fascinates me.
There is another picture included in the book that talks about cloth maps being hidden on the backsides of playing cards. Can you even imagine?
Not only have I looked through this book, but my teenagers have too. And I suspect that we'll keep looking at it. I SO wish I had more books like this about other parts of history. I've never owned a book like this one before, but I can see the appeal of owning them now, especially since my entire household enjoys reading nonfiction books. There is something very cool about having it right there on the shelf, there for the picking up, over and over and over. We usually check out similar books like this one from the library, which is an awesome privilege, but truly my kids check out the same ones repeatedly because they are very interested in certain topics and want to know as much as possible about them, and we are also sort of limited by the books that our library system has.
Atlas of World War II is wonderful and I highly recommend it for any person with an interest in the Second World War or students that are doing projects or furthering their knowledge of this period of history. This book does have a special interest in the cartographic history of the war and includes countless incredible map images, so people that love to look at maps will most likely be delighted to dive into this one.