The Devil And The Heiress
by
Harper St. George
Series:
The Gilded Age Heiresses #2
Published by
Berkley Publishing
on June 29, 2021
Source:
HFVBT and the publisher
Buy from Amazon
|
Buy from Barnes & Noble
|
Buy from Book Depository
Goodreads
Sparks fly when a runaway heiress bargains with a devilish rogue to escape a marriage of convenience.

No one would guess that beneath Violet Crenshaw's ladylike demeanor lies the heart of a rebel. American heiresses looking to secure English lords must be on their best behavior, but Violet has other plans. She intends to flee London and the marriage her parents have arranged to become a published author–if only the wickedly handsome earl who inspired her most outrageously sinful character didn't insist on coming with her.

Christian Halston, Earl of Leigh, has a scheme of his own: escort the surprisingly spirited dollar princess north and use every delicious moment in close quarters to convince Violet to marry him. Christian needs an heiress to rebuild his Scottish estate but the more time he spends with Violet, the more he realizes what he really needs is her–by his side, near his heart, in his bed.

Though Christian's burning glances offer unholy temptation, Violet has no intention of surrendering herself or her newfound freedom in a permanent deal with the devil. It's going to take more than pretty words to prove this fortune hunter's love is true…
I received this book for free from HFVBT and the publisher in exchange for an honest review. This does not affect my opinion of the book or the content of my review.
REVIEW:
This book was so, so good! The Devil and the Heiress features Violet Crenshaw, an American heiress living in London, and Christian Halston, Earl of Leigh. Christian desperately needs a wealthy wife with a fortune so he can rebuild one of his estate homes, and Violet has plenty of money. Not only is she beautiful, but she is independent, smart, and rich. Unfortunately, her hand is promised to someone else. When Violet finds out about her parents plan for a marriage arrangement with someone she does not love, she runs away and Christian ends up running with her. (I loved this.) Their already-disorganized plan goes completely bonkers when they have an accident in their carriage during a horrible rain storm. Both had injuries that required the extended care of a physician. Since they are far enough away from London that practically no one knows them, they pretend to be married and are given one room with one bed for their rest and recuperation. 
Friends, this is a fake relationship historical romance with forced proximity and I could not have been more delighted about that.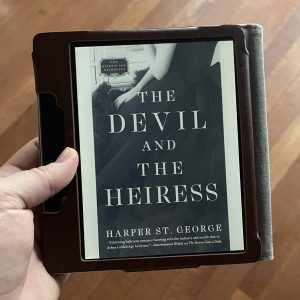 Violet Crenshaw is great. She doesn't care anything for the social customs of London. She isn't content to marry and hand over her fortune to someone she doesn't care about. In fact, she isn't really interested in marriage at all. Violet loves writing and her dream is to become a published author. This definitely isn't normal for the time and place, but Christian loves that she is driven and focused on achieving her dreams. If he is lucky enough to marry Violet, he has no plans to make her give up on her career just to stay home and host dinner parties. I love that about Christian. Ultimately, both Violet and Christian are willing to give up on their social status and their good name by throwing caution to the wind and approaching a relationship differently than their peers. Christian works hard for Violet's heart. He doesn't get annoyed with her or angry; he is patient and consistent in the love he shows her. He makes some big mistakes along the way, and this threatens their relationship, but Christian stays focused on her heart and it is so good when they finally work their issues out. And Violet isn't afraid to speak her mind and say what she is feeling. They're really a great match. 

There is so much to swoon over in this story. Ms. St. George writes historical romances that really speak to me and make me cheer for the featured couples to make their own way. They're so much fun to read and I can't put them down while I'm reading. I'm already so excited for the next book in this series, which features Violet's brother Max and Lady Helena March, who runs an orphanage and a home for young unwed mothers. 
BLOG TOUR SCHEDULE:
Tuesday, June 29
Review at Reader_ceygo
Guest Post at Novels Alive
Review at Probably at the Library
Wednesday, June 30
Excerpt at SplendeurCaisse
Review at Two Bookish Babes
Thursday, July 1
Review & Interview at Books & Benches
Friday, July 2
Review at The Romance Dish
Review at Madwoman in the Attic
Monday, July 5
Review + Excerpt at Elodie's Reading Corner
Tuesday, July 6
Review at andreajanel_reads
Wednesday, July 7
Review at Rajiv's Reviews
Thursday, July 8
Review at Gwendalyn's Books
Friday, July 9
Review at Nursebookie
Monday, July 12
Review at Anna's Book Blog
Tuesday, July 13
Review at Bookworlder
Wednesday, July 14
Review at Lu Reviews Books
Thursday, July 15
Review at Novels Alive
Monday, July 19
Review at The Lit Bitch
Review at Into the Hall of Books
Wednesday, July 21
Review at Historical Fiction with Spirit
Thursday, July 22
Review at McCombs on Main
Friday, July 23
Review at Chasing Leslie
Review at Amy's Booket List
Monday, July 26
Review at Chicks, Rogues, and Scandals
Tuesday, July 27
Review at Passages to the Past
GIVEAWAY:
Enter to win a $50 Amazon Gift Card!
The giveaway is open to the US only and ends on July 27th.
You must be 18 or older to enter.