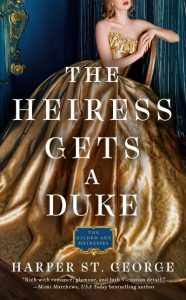 The Heiress Gets A Duke
by
Harper St. George
Series:
The Gilded Age Heiresses #1
Published by
Berkley Publishing
on January 26, 2021
Source:
the publisher
Buy from Amazon
|
Buy from Barnes & Noble
|
Buy from Book Depository
Goodreads
Even a fortune forged in railroads and steel can't buy entrance into the upper echelons of Victorian high society—for that you need a marriage of convenience.

American heiress August Crenshaw has aspirations. But unlike her peers, it isn't some stuffy British Lord she wants wrapped around her finger—it's Crenshaw Iron Works, the family business. When it's clear that August's outrageously progressive ways render her unsuitible for a respectable match, her parents offer up her younger sister to the highest entitled bidder instead. This simply will not do. August refuses to leave her sister to the mercy of a loveless marriage.

Evan Sterling, the Duke of Rothschild, has no intention of walking away from the marriage. He's recently inherited the title only to find his coffers empty, and with countless lives depending on him, he can't walk away from the fortune a Crenshaw heiress would bring him. But after meeting her fiery sister, he realizes Violet isn't the heiress he wants. He wants August, and he always gets what he wants.

But August won't go peacefully to her fate. She decides to show Rothschild that she's no typical London wallflower. Little does she realize that every stunt she pulls to make him call off the wedding only makes him like her even more.
I received this book for free from the publisher in exchange for an honest review. This does not affect my opinion of the book or the content of my review.
REVIEW:
August Crenshaw is heiress to the wildly successful Crenshaw Iron Works. She holds a position in the company and loves her work. She probably should be thinking about marrying, but she doesn't really want to as she would be expected to quit her job and manage her household. London society and social circles back home in America all gossip about her and think her "mannish."

Evan Sterling, Duke of Rothschild, inherited his father's estate and his massive debt. He desperately needs to come up with some cash so he can make much-needed repairs to his homes and buildings, upgrade his farm equipment, and provide adequate wardrobes for his mother and sisters. Evan has been bareknuckle boxing in secrecy, trying to earn some money to keep things afloat, but he learns that he must marry-and soon-or he stands to lose much of what his family owns.

August first encounters Evan when she sneaks into one of his boxing matches. Before long, their families and the rest of the London social scene are watching for an engagement.
I love everything about this "handsome Duke marries wealthy American heiress" story. I love reading about the high society and norms from this time. August's parents tell her that she will be betrothed to Evan, which will make her Duchess and increase her social standing (and the standing of her father's business!). Evan stands to gain a lot of money out of their marriage, which will mean he can be rid of the debt he inherited and begin to make improvements to the lives of the people that are employed by his estate. August's independence, smarts, and stubbornness provide a lot of tension up against Evan's feelings of admiration toward her. The very things that make her the subject of gossip are the things he likes most about her: her desire to be heard, her choice to keep working, her intellect and expertise in the way of finance and management. The growing attraction between them is exquisitely timed (swoon!), but August continues to maintain that she will not marry Evan. Initially it is because she can't imagine giving away her job and her money; eventually it's really simply because she doesn't want to be told who to marry.

There is so much good, delicious chemistry in this story. All of the restraints placed on romances during this time make time alone quite forbidden, so watching these two maneuver around family and house staff to steal a few minutes alone is so much fun to read. I LOVE the way the two have fruitful conversations about their feelings and their futures. I LOVE the way Evan is determined that August will have some say in her life and make her own choices. But the very best thing about this story is the way Evan pursued August. He is so respectful and gentlemanly. Historical romances are so sexy when the man respects the woman he wants to marry and when allows her to make choices for herself. Evan is determined to turn August's heart to him so she will choose to marry him willingly, and he refuses to make any announcements until he has her heart. Watching her take her time with her decision is so, so good.

I loved this entire story. Once I started reading, I never wanted to stop and I found myself putting off chores and work so I could read just one more chapter. I loved reading about the time August and Evan spend together talking, riding horses, and meeting in secrecy made this book so much fun. I SO wish I had the next book in my hands but until then I see that Harper St. George has a nice historical romance backlist that I want to check out.
Blog Tour SCHEDULE:
Tuesday, January 26
Passages to the Past
Wednesday, January 27
Novels Alive
Thursday, January 28
Gwendalyn's Books
Friday, January 29
Novels Alive
Monday, February 1
Coffee and Ink
Historical Romance Lover
Tuesday, February 2
Madwoman in the Attic
Wednesday, February 3
Bookish Rantings
Thursday, February 4
Bibliostatic
Friday, February 5
Into the Hall of Books
Monday, February 8
Chicks, Rogues, and Scandals
Cross My Heart Writing & Reviews
Tuesday, February 9
Rajiv's Reviews
What Is That Book About
Wednesday, February 10
The Romance Dish
Thursday, February 11
The Lit Bitch
McCombs on Main
Historical Fiction with Spirit
Friday, February 12
View from the Birdhouse
Monday, February 15
Flea with a Degree
Wednesday, February 17
Reader_ceygo
Thursday, February 18
Reader_ceygo
Friday, February 19
Bookworlder
GIVEAWAY:
Enter to win a $50 Amazon Gift Card!
The giveaway is open to the US only and ends on February 19th.
You must be 18 or older to enter.