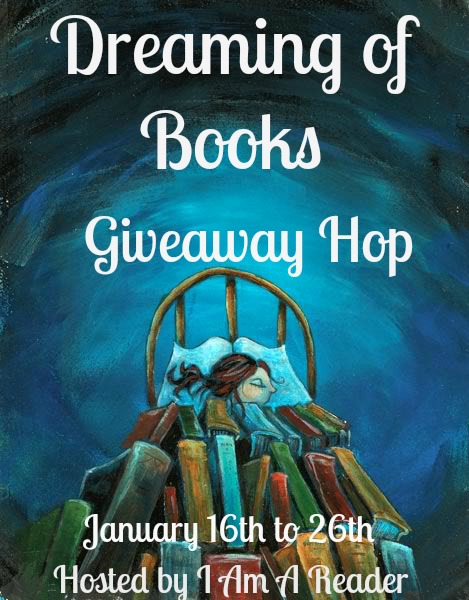 Click
HERE
for participating blogs!
When I saw the title and graphic for this giveaway — Dreaming of Books — I wanted to participate in this giveaway event because one of my favorite things to do is read at the end of the day, before bed.
A couple of months ago, I participated in a '
Getting To Know You' giveaway
– I shared a few details about myself and asked giveaway participants to share something about themselves for an entry into the contest. It was probably the most fun I've ever had with a giveaway because I found that I'm very much like many of you guys out there and that we're all a little quirky.
Get to know me, "Dreaming-of-Books" style:
I ALWAYS read before bedtime. Every. Single. Night. If I don't read at least a little bit, it will take me forever to fall asleep…

…however sometimes I'm so tired that I only make it through two or three pages before I fall asleep with the book or my Kindle in my hands.

I prefer reading for-fun books before bedtime. I like to save review books for morning reading or throughout the day when I get a chance. (Just like at night, I read every single morning without fail.)

I recently went through a stage of reading only my Kindle at night because it is so lightweight and only requires one hand vs. a physical book that is heavier and requires a second hand to turn the page – THAT'S SO LAZY, isn't it?!

Sometimes I listen to audiobooks at bedtime, but I have fallen asleep while listening several times and had to go back and find my place. I need to remember to set the sleep timers on those things!

I can stand a little bit of background noise earlier in the day BUT the closer it is to bedtime, the quieter I like it while I'm reading. This is a challenge sometimes with a house full of people. (:
I could list a few more night-time reading habits or quirks, but I want to hear from YOU. I love the idea of getting to know other readers and bloggers better!
I'm going to be giving away a book of your choice,
up to $15, from either Amazon or Book Depository.
Open Worldwide ~ Ends January 26
Click HERE for the list of participants!