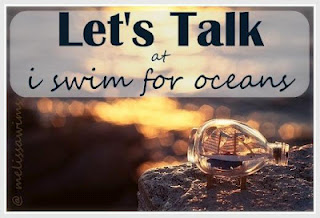 Click here to see Let's Talk!
I'm so excited that Melissa at i swim for oceans likes discussion posts because sometimes I get chatty and have things to say. Melissa has opened her Let's Talk event up to the rest of us and I'm excited to be a part of it. Thank you, Melissa!

This week's question:
What are your top goals as a book blogger?
1. Keep those comments coming…and by that I mean keep visiting other places and leaving my thoughts behind. In the past week or two I've been so super darn busy but that has to change, friends. I've neglected my blogger friends and their blogs, but not on purpose! I've always tried to keep a but of an organized chaotic schedule about moving around the blogosphere to my favorite places and reading the thoughts everyone puts out there. I need to make sure I keep doing that. Plus…I've always always always stressed how important it is to pay it forward and try to visit those who regularly visit you. Gotta get back to that business, you guys. Lately I think I've frequented like only one blog and this is unacceptable to me!
2. Keep talking about books…books I love, books I didn't love, books I've read, books I haven't read yet…all of them. I started this whole thing to find a place to talk about books, so that is the whole idea behind my little space on the interwebs. I just want active conversation. It doesn't have to be on the blog – bring it to twitter, I don't care. Let's just talk about books or bookish things! Don't be shy.
3. Keep encouraging other bloggers on their goals…everybody needs validation, a pick me up, or an opinion sometimes (but only when they ask for it). It isn't hard to make someone's day by telling them you like the new format of their review or their new feature or whatever. Stuff like that means a lot to people!
I am not sure that I really have ever had a list of goals for this blog. It's always been more of a thing I just like to do, a stress relief, a place to talk to about books. Having a list of anything is pretty much a guarantee that I won't do it – that's just how this gal rolls. So I think I'll stick with what I've got and just keep going like I'm going. I've been so very fortunate to find some people that I will probably talk to forever, even after this blog is long gone (I will weep when that day comes in the very distant future.). I also know for a fact that I nag coerce make some of you blogging/reading people talk about books with me, but I'm okay with that too because I think you're bookish and you get me. You get me!
***************************************************
What about you?
If you have a blog, do you have blogging goals?
What are they?