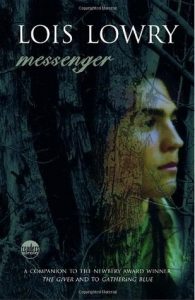 Messenger
by
Lois Lowry
Series:
The Giver Quartet #3
Published by
HMH Books for Young Readers
on April 26, 2004
Source:
Library
Buy from Amazon
|
Buy from Barnes & Noble
|
Buy from Book Depository
Goodreads
Messenger is the masterful third novel in the Giver Quartet, which began with the dystopian bestseller The Giver, now a major motion picture.

Matty has lived in Village and flourished under the guidance of Seer, a blind man known for his special sight. Village once welcomed newcomers, but something sinister has seeped into Village and the people have voted to close it to outsiders. Matty has been invaluable as a messenger. Now he must risk everything to make one last journey through the treacherous forest with his only weapon, a power he unexpectedly discovers within himself.
Review:
Messenger is the third installment in Lowry's The Giver Quartet, and it is beautiful. In this story, we meet Matty again. Matty was first introduced in Gathering Blue as Matt. In this story, Matty lives with Seer in Village, and has grown a few years older and more mature. Village is a place that is accepting of people with differences, unlike the place with Matty used to live in Gathering Blue…and where Kira still lives despite her handicap. The people of Village are a kind and loving group of people, accepting of everyone despite their differences. However, as the book progresses, Village takes a turn in the opposite direction and things unravel quickly. The citizens become greedy, unkind, and rude. They look out only for themselves, and the Village citizens decide to close their borders and stop sharing their resources with others.
It is very tough to describe this book to someone who has not read the first two books in the series, and it is even harder to describe this book to someone who has not read this series at all. Basically, it is another example of Lowry describing an example of a possible future society. It is brilliant and moving and amazing. Once again, just like in The Giver and Gathering Blue, Lowry is able to give us another example of how greed can turn a population of people against each other, how good people can turn bad, and how even the best of systems can easily become corrupt.
In this book, Forest plays a huge role. Forest is present in the first two books as the separator of communities…but in this book, we see that Forest is actually alive, or rather, animated. Forest tends to "warn" people it does not like by scratching them with a sharp branch or twig, etc. If these "warned" people try and travel through Forest again, Forest will kill them. Matty seems to have favor with Forests, having traveled through many times over the course of many years without incident or warning. He has no fear of Forest and knows its paths quite well. To this end, Matty has become Village's messenger and a very respected citizen in Village.
Messenger has an abundance of secondary characters and they are rich and complex (if you guys know me, you know I love a complex character). These secondary characters are very important to the story because it is through their change over the course of the story that Matty and Seer begin to realize that Village is shifting and that changes are happening. When the people begin changing, Forest begins to change as well. When Forest begins to change, Matty knows that his days of traveling through safely are numbered. He has to make a final very important journey through Forest to retrieve Kira and bring her to Village safely. This journey through Forest dominates the second half of the book.
Lowry uses descriptive language to paint a picture of how rapidly Forest declines from a place of beauty and life into a place of dense undergrowth, scary noises, rotting carcasses and trees, and foul, rancid smells. Matty and Kira struggle to journey back to Village untouched and find it virtually impossible. It is amazing how Lowry used the Forest and the journey to symbolize the downfall of Village and the community within it, and how the few "good" people struggled to remain "good" and untouched by the corruption and greed.
Lowry's writing style is very simple and easy to read, so if you haven't read these books, it will not take you long to read through all three of them. They are worth the read…The author does a great job of weaving all three of the books together and at the end of Messenger, we have this neat little well-rounded package, complete with a bow on top. You close the book, you take a breath, and you have to think for awhile.
I have chosen not to touch on the end here in this write-up because I cannot figure out how to do it without bruising the integrity of the story. I won't do that. I will say, though, that I want my husband to read this series. And when my children are older, despite being controversial, I want my children to read them as well. I want somebody close-by to have a book club and feature these books so I can sit and talk about them for hours with other people. They are so discussable in lots of different ways.
If I were in school again and had to do a big project, I would no doubt pick these books. I could do research on themes, symbolism, conflict, character analysis…my goodness, I'm about to explode! And I'm not even a writer…
As with the previous two book in this series, I read this book as part of the 2011 Dystopia Challenge.