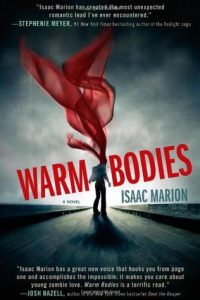 Warm Bodies
by
Isaac Marion
Series:
Warm Bodies #1
Published by
Atria Books
on April 26, 2011
Pages:
256
Source:
Library
Buy from Amazon
|
Buy from Barnes & Noble
|
Buy from Book Depository
Goodreads
R is a young man with an existential crisis--he is a zombie. He shuffles through an America destroyed by war, social collapse, and the mindless hunger of his undead comrades, but he craves something more than blood and brains. He can speak just a few grunted syllables, but his inner life is deep, full of wonder and longing. He has no memories, no identity, and no pulse. Just dreams.

After experiencing a teenage boy's memories while consuming his brain, R makes an unexpected choice that begins a tense, awkward, and strangely sweet relationship with the victim's human girlfriend. Julie is a burst of vibrant color in the otherwise dreary and gray landscape that R lives in. His decision to protect her will transform not only R, but his fellow Dead, and perhaps their whole lifeless world...

Scary, funny, and surprisingly poignant, Warm Bodies is about being alive, being dead and the blurry line in between.
Review:
WARM BODIES BY ISAAC MARION IS THE MOST FUN I'VE HAD READING A BOOK IN AGES! That is all.
'R' is a zombie that cannot remember anything of his life before his death. He cannot even remember his name. He knows nothing of his former life as a human. He lives in an abandoned airport with other undead zombies. He spends his time shuffling around that airport and occasionally venturing out into the surrounding city to feed on the brains of the living humans. But R despises the feeding habits of the undead. Unlike the other zombies, he hates the killing and is remorseful about it. He even washes his hands and face of the blood of his victims after feeding.
One day, he eats the brain of a young teenage boy and is able to experience the boy's memories. He sees the dead boy's girlfriend, Julie, and feels a very deep need to protect her. R has no desire to eat her or kill her. R saves Julie from other zombies that try to feed on her and dangerously brings her back to the airport to stay with him. From this point, they start a really strange and awkward relationship that is actually kind of sweet. And it is also from this point that things get really interesting in the story…
Warm Bodies is probably my favorite zombie book ever. Initially in the story, it is the same as all of the other zombie stories…something has happened and the world is in a post-apocalyptic state. People are hiding out in buildings to protect themselves and zombies are slowly taking over the world. But pretty soon, we realize that something is different about R. When he finds Julie, however, he begins to become even more different.
Julie is a teenage girl who has grown up in a barricaded stadium that is ruled by her father. There are soldiers. There is a curfew. Everyone is taught survival classes. There is very little food. Basically, Julie is just tired of living life the way she does and dreams of a better life. When she meets R, the two of them together begin a relationship that makes the reader really want them to succeed, even though one of them isn't even alive!
I love, love, love the way the author chose to characterize R. I love everything about him. I don't think I would have changed a single detail about that zombie! I fell hard for him. I adored the way he had such a primal instinct to protect Julie, even though he shouldn't have had any feelings or emotions whatsoever. His character underwent some pretty profound changes, too, throughout the story. I can't really talk about them without giving the ending away.
When I read books, I am usually able to see them unfolding in my head like a movie. The really good books stay in my memory like movies I've seen before. I almost think I could take this book and make a movie out of it myself…it was that good. I would recommend it to everyone…adults and young adults. Do yourself a favor and put this one on your TBR list!