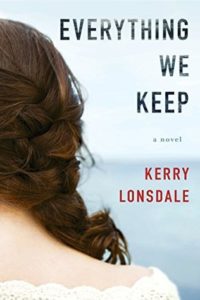 Everything We Keep
by
Kerry Lonsdale
Series:
Everything We Keep #1
Published by
Lake Union Publishing
on August 1, 2016
Pages:
306
Source:
the publisher
Buy from Amazon
|
Buy from Barnes & Noble
|
Buy from Book Depository
Goodreads
A luminous debut with unexpected twists, Everything We Keep explores the devastation of loss, the euphoria of finding love again, and the pulse-racing repercussions of discovering the truth about the ones we hold dear and the lengths they will go to protect us.

Sous chef Aimee Tierney has the perfect recipe for the perfect life: marry her childhood sweetheart, raise a family, and buy out her parents' restaurant. But when her fiancé, James Donato, vanishes in a boating accident, her well-baked future is swept out to sea. Instead of walking down the aisle on their wedding day, Aimee is at James's funeral—a funeral that leaves her more unsettled than at peace.

As Aimee struggles to reconstruct her life, she delves deeper into James's disappearance. What she uncovers is an ocean of secrets that make her question everything about the life they built together. And just below the surface is a truth that may set Aimee free…or shatter her forever.
I received this book for free from the publisher in exchange for an honest review. This does not affect my opinion of the book or the content of my review.
Review:
I've been captivated by the cover of Everything We Keep by Kerry Lonsdale since I first saw it last year. There's just something about looking at the back of a person staring off into the distance that intrigues me. I don't know why. But since I first saw this cover, this book has been on my radar. Now that I've read the book, this cover totally makes sense.
This story isn't totally women's fiction and it isn't totally romantic suspense; I'd say it's somewhere solidly in the middle. The first half of the story is a slow-build as it deals with Aimee's grief and the rebuilding of her life after the death of her fiance. There is a focus on her relationships – which is great because she has great friends – and the shifting of Aimee's dreams since her dreams were tied to her fiance's. This includes the growth of a relationship with a guy, Ian. It's clear pretty early on that Ian is interested in Aimee, but she makes it clear that she isn't ready at this point to commit to anyone because she is still grieving.
The pace picks up significantly once Aimee begins to focus more on the time James spent in Mexico immediately before he died. She travels there and suddenly she finds clues all over the place. This is where the book became suspenseful and the mystery part of the story became much more fun for me. There was one point at about 3/4 through the book when I remember thinking: I have no idea how all of this is going to work out! I could not foresee all of the twists the story would eventually take (like with Phil – didn't see that one coming!).
One thing that occurred to me while I was reading was that Aimee's decisions were a little crazy sometimes and her thought processes were a little all over the place. But when I took a breath and remembered that she was grieving and that grief makes us do things we wouldn't normally do, it was easier to cut Aimee some slack.
The last part of Everything We Keep makes me excited to move ahead with the sequel. I love that this was a little on the suspenseful side with a little bit of mystery thrown in, and it didn't make me hold my breath or make my heart pound because my nerves were all over the place. I love those types of crime-thriller books when I read them, but I really love this type of lighter fare too.