Click here to see Let's Talk!
I'm so excited that Melissa at i swim for oceans likes discussion posts because sometimes I get chatty and have things to say. Melissa has opened her Let's Talk event up to the rest of us and I'm excited to be a part of it. Thanks, Melissa!


According to Melissa:
"Let's Talk will feature questions or prompts, which I will answer too. Love it or hate it, weigh in or don't, it's my hope that Let's Talk will at least get you thinking…and maybe even get you discussing with the rest of us!"
This week's topic:
Cliffhangers – love them or hate them…
I'm not gonna lie – I hate cliffhangers.
I think I just get so invested into a book in such a physical way sometimes
– heart pounding, holding my breath, etc. –
that when the book just stops
There have been a few cases that I don't mind the cliffhanger,
but these have been mostly when I have read a series late
and have the next book beside me and ready to go.
However, even this is rare because I rarely read series books
I love Cassandra Clare's Mortal Instruments and Infernal Devices
books so much
but I haven't read
City of Fallen Angels nor Clockwork Prince
yet because I've heard
they have the worst cliffhanger endings ever.
(And we all know Cassie Clare likes to make us wait…)
(FOREVER…)
(FOR THE NEXT BOOK…)
So I'm not gonna read these until the next books are out.
And if THEY have cliffhangers, I'll wait again for the NEXT book
and then read them all together.
(Honestly, I'm fine with the Mortal Instruments series ending after the third book.)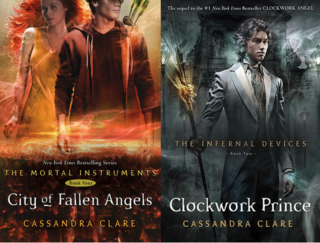 If I'm wrong about either one of these having a cliffhanger ending,
PLEASE CORRECT ME. But I don't want to read them yet if they do.
I want to read Delirium by Lauren Oliver
and then Pandemonium
but I've heard there is a cliffhanger at the end of Pandemonium.
SO – is it worth reading the two of them to feel like I'm incomplete?
I honestly don't know yet.
I don't know! I don't know! I don't know!
The Chaos Walking Trilogy has been talked about by others in terms of
cliffhanger endings, but I read them all after the entire series was finished
so this wasn't a problem for me.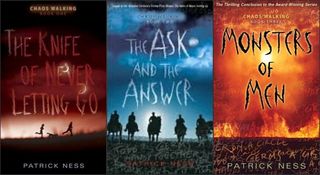 The Chaos Walking Trilogy by Patrick Ness
This series is complete so I tell anyone who is like me
to go ahead, sink your teeth in, and give it a go.
*****************************************************
What are some other books
with cliffhanger endings?
I know there are a ton,
but I'm drawing a blank…