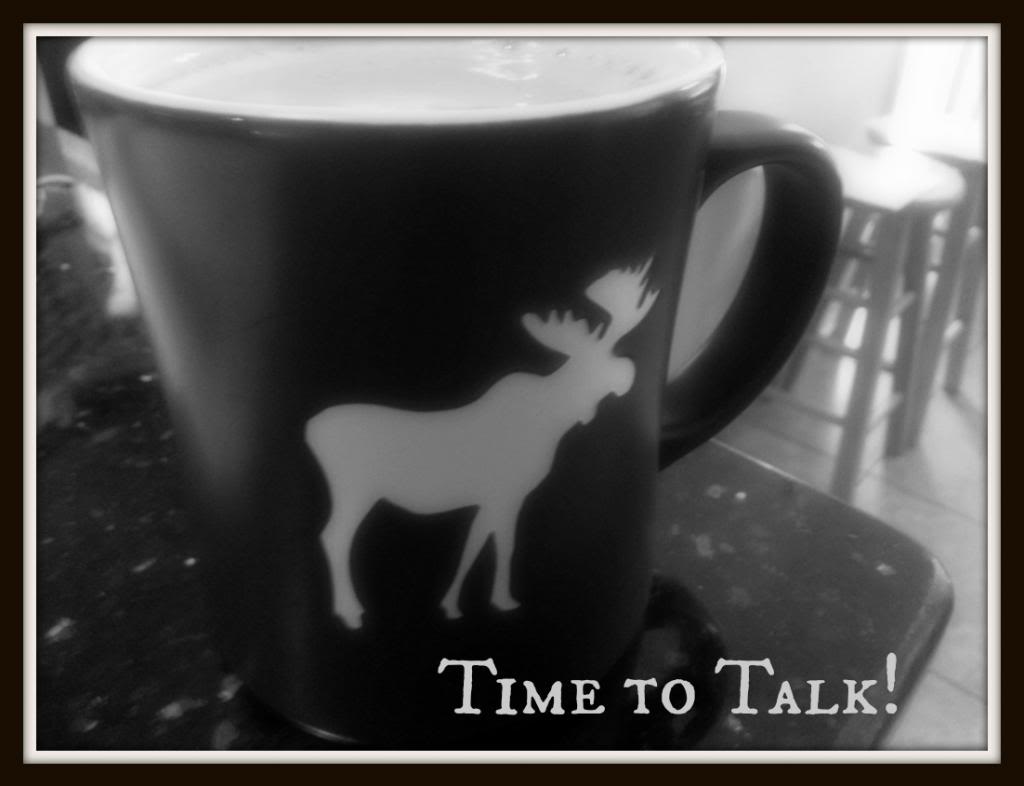 This picture is mine. I got up this morning looking for this
mug but I CANNOT FIND IT HELP ME PLEASE.
Okay so over the weekend there was a little bit of drama, wasn't there? YEP.
WE ALL HATE THE DRAMA and I know that I'm not alone when I SHAKE MY HEAD and ROLL MY EYES when I pull up Twitter to see what everyone is reading only to find out that what everyone reading is something incredible stupid, because the drama usually is
.
But this time I think it is not only stupid but more than that.
Read, if you would like. Then I have a few thoughts.
If you've already read the article, PLEASE let me share my thoughts
so I can move on from this mess.
*****************************************************
1.
My heart pounded as I read this article.
It actually read like a thriller-y novel, don't you think? I mean, I was pacing the floor and my eyes were wide and I felt like I had to DISCUSS with people. I was riveted. My initial review of this article is: if I had read this author's book, I would have probably reviewed it in a very dramatic way because I was feeling
hella dramatic
, which is now a little on the terrifying side. But I digress.
(Disclaimer: I cannot speak to the author's novel as I have no idea about it at all. I have not read it.)
2.
Stalking is never okay!
We all know that. Or at least, I
thought
we did, until I saw that people were arguing back and forth about this. In this article, the author not only admits to stalking by actually using the word stalking, she gives out information about the person that she stalked. My opinion is: HELLO NO THIS IS NOT RIGHT. Not allowable.
(Also note that the publication printed this thing, THEY PRINTED IT, WHAT?!)
HERE HERE HERE, THOUGH:
3. I finished the article and began to really pay attention to what the world was saying for a few minutes – the responses of readers of the article, bloggers, and authors. I WAS AND STILL AM ALARMED. No matter how hard I have tried to move onto other things over the weekend, to get this negativity out of my heart and mind – I just cannot until I say a few things. So here I go.
*****************************************************
4. Being online means that we are all connected, which is very cool. I've been blogging for almost five years now and I still LOVE LOVE LOVE the interaction between bloggers and readers and authors and publishers. It's a cycle. It's really an incredible community and we live in this super-amazing time of connectivity because it wasn't very ago that the only way to be connected was an actual piece of paper fan mail.
5. With that connectivity comes responsibility. YES, if we are bloggers we have an online presence. YES, authors are online and are encouraged to have an online presence. YES, publishing companies are online and have an online presence. And YES, I think it is awesome that readers are able to be online with platforms like Goodreads. And with ANY online presence inside of a book community or outside of it, THERE IS RESPONSIBILITY.
Period, the end. I don't care who you are. That is all.
6.
I think it would be a big shame if we all reverted to FEAR and stopped interacting and sharing our opinions and being a community of people that love books. I think it would be the opposite of what brought this community together in the first place if everyone gives into fear because of an article that was published in poor taste and was written in poor taste about events that happened that never should have happened.
I REALIZE that sounds very cheesy and preachy
but I FEEL THIS so much right now.
*****************************************************
7.
In response to authors that have tweeted about being fearful of interaction with readers and bloggers:
Please don't be afraid to talk to your audience. The internet is a big place and this community is amazing. Readers and bloggers are generally amazing people and LOVE it when an author interacts with them! After blogging for a very long time, I still get ridiculously excited with I see a tweet "favorited" or retweeted by authors that I love – whether self/indie or traditionally published. PLEASE DON'T STOP INTERACTING! Please do not let the actions of a small few make you feel afraid. And thank you for remaining graceful when you face criticism. That must be so hard! And I'm sure it is a practiced skill – to be able to focus less on the negative and more on the positive? I cannot imagine that pressure. Be encouraged to keep doing what you do!
8.
In response to the people that I have seen mention that bloggers are bullies, they are glad they are not bloggers, or they are glad they are no longer blogging about books:
This makes me sad because generalized statements are not usually entirely accurate. Also, reading blogs is a choice and I would encourage you guys to rid yourself of any blogs or reviewers that you feel are bullies. You don't have to support that behavior and there are plenty of other fantastic reviewers and bloggers to read instead! There are plenty of great recommendations that can be provided if you need some.
I am so proud to be associated with this community because
this event does not define it.
9.
This behavior is NOT the norm, and a culture can change.
One way this can happen is to stop perpetuating it! We can actually BE the change by not perpetuating the negativity and poor online behavior. Certainly we can speak our minds and back up our thoughts, but we have to remember to be responsible about how we do it. There is NO NEED to bash, bully, stalk, cyberbully, in-real-life bully, or do anything like that. And that includes Twitter-ranting, you guys.
Let's turn things around and be positive. Let's make this something to learn from instead of something that a few dwell on to the point it becomes a stain. Alrighty? Okay!
*****************************************************
I am still SO PROUD to be a part of this community, but I need to be able to move on from this to a degree. This whole thing was disgusting and scary and horrible and I have thoughts about it that I probably should reserve for discussion behind the wall of a public forum. But more than anything, I think we can all take this time to
re-evaluate ourselves and see if we're comfortable with our online presence
because HELLO PEOPLE MAY BE WATCHING. And that goes both ways –
it could just as easily have been a reader going overboard on a writer
.
I am not a bully and will never bully anyone, and I don't want to be lumped into that crowd. I understand that crap like that will happen when people become upset and need to vent. I get that. So here I am, and here are some of my feelings.
*****************************************************
Share your thoughts if you have some, but remember that I'm pushing a move toward POSITIVITY after a dramatic time. Share your opinion, but please be responsible. Thanks!