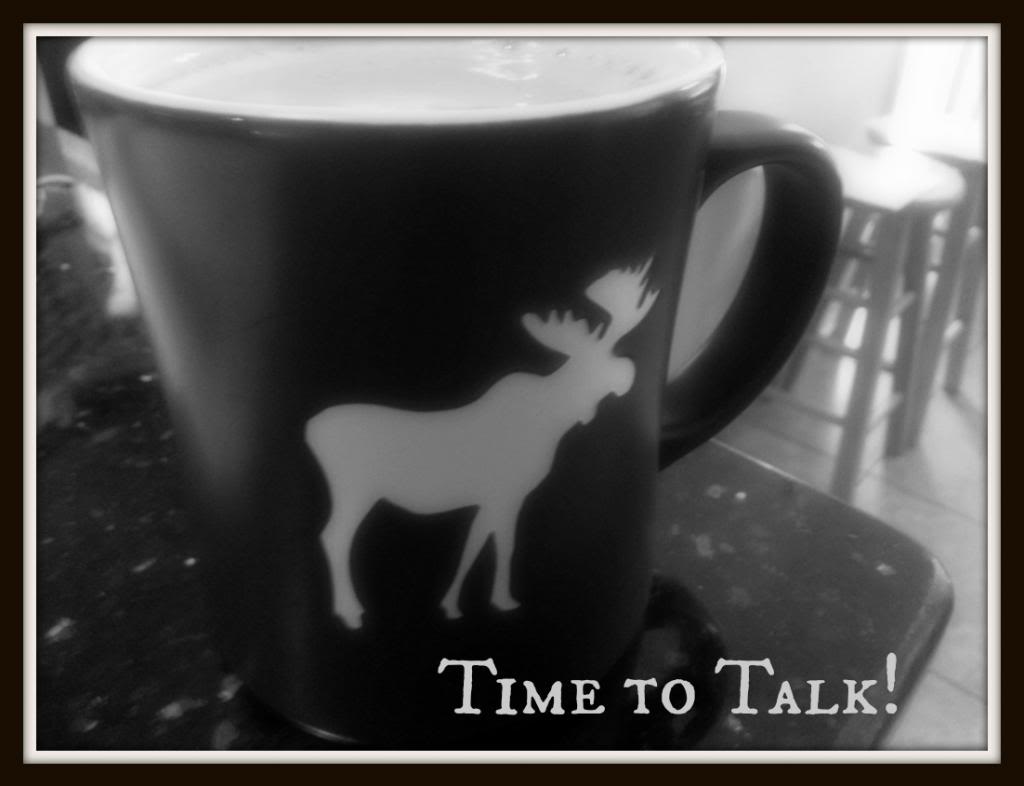 Yo! This picture is mine, as is this coffee cup.
So let's talk while I drink it.
Everybody loves a good discussion, right? Bookish people
love
to talk about all things bookish. It seems like I read on quite a few blog posts related to bookish-resolutions for 2013 that people wanted to do more discussion-related posts. I can't remember if I put something like that on my bookish goals post (I'm too lazy to look) but if I didn't, I may as well have. I always have thoughts churning in my head, so why not share them with you guys.
***************************************************


For the past few days, I've been thinking a lot about how some people really have a huge impact on the way I read. I KNOW = SHOCKING. Why is this shocking, you ask? Because I am the quirkiest of the quirky readers, very set in my oddball ways. In fact, up until about (almost exactly) one year ago, I didn't realize that other people read much differently than I do. Then my reading world got upturned big time, and it has been some kind of different for me, let me tell you!
There are a few ways that other reading friends have challenged me over the past year, and I want to highlight them. But I'll have to do it over the course of more than one day. I know y'all don't mind because you're awesome like that.
I would read all of these wonderful YA books and enjoy the mess out of them. I would love them! I would talk about them with other people – about this character and that character, this setting, and so on. I was completely oblivious to the fact that there is this one trend in YA, and it is that "mysterious guy" that keeps popping up everywhere. We all read about him, we all know him, and we all (probably) can't get enough of him. He's the guy that is broody. He may have the tattoo here or there or maybe everywhere. He may have a mommy- or daddy-issues. Perhaps he's got a violent temper, even. Maybe he doesn't really treat the female characters very nicely. He may only have one of these characteristics, or maybe he has a mixture of them. Why do we all think this is so attractive, over and over? Why do we love this?

I never realized that this same cookie-cutter character was in YA (and now NA) over and over and over until it was pointed out to me. But then I started noticing it and couldn't help but see the mysterious guy everywhere. You guys, it's so true! Now, I'll admit, in some instances I adore the broody and mysterious characters – I can list a few stories in which that character has fit the story perfectly and I have loved it. But in almost every story? Is this really necessary?
Some of the stories that I've loved SO HARD from YA lately have had mysterious guys in them: First Comes Love by Katie Kacvinsky, Masque of the Red Death by Bethany Griffin, Enclave by Ann Aguirre, the Shatter Me series by Tahereh Mafi, the Lux series by Jennifer Armentrout, Perfect Chemistry by Simone Elkeles…I could go on and on. I'm not saying they're all bad…I'm just saying SEE, THEY'RE EVERYWHERE!
I spent some time asking this same person – the one that pointed this trend out – about some of the male YA characters that DID NOT fit this stereotypical mold, and then I read some of the books with those characters in them. The examples I was given were fantastic. Those male characters were total opposites, not mysterious at all, and it was very obvious. Then, to go a step further, I spent some time asking some other reading friends – guy YA readers – if they felt the same way about this mysterious guy being all over the place in YA. Turns out, the guy readers that I know in my life have noticed it way more than the girl readers have. I was shocked and appalled yet again. I'm usually good about picking up on things, but I was surprised that I had fallen for this without knowing it and that this is such a thing.
The moral to this story? Over the past exactly one year, I have learned to really examine these books and characters – to pay attention to ALL male YA leads. We all know really great male leading characters are hard to come by in the YA market. When I find them, I want to know if they're what I now consider great male YA leads, or if they're what I consider the fluffy, fun-to-read ones.* There's a difference, in my opinion. Both are completely okay, but my guy reading friends want to know before they purchase a book or audiobook, you see. This is something that I like to point out on my blog. Also, if it is something that is offensive to my guy reading friends, I want to notice it, to pay attention to it, so I can make good recommendations when I come across a great male leading character versus one that I don't think my guy reading friends would really care for.
*note: Remember that sometimes there can be a purpose to being mysterious. There can be great mysterious characters if it fits into the story.
I want to be able to say "You know what? Will from Slammed by Colleen Hoover is a GREAT male leading character for _____ reasons or Banyan from Rootless by Chris Howard is a GREAT male leading character for _____ reasons." Had I never engaged in the "mysterious guy" conversations with my friend a while back, this reading habit would have never, ever changed. It may not seem like a big deal to any of you guys, but it was a huge, huge deal in my reading life. Probably the biggest of the year, actually. I'm so grateful.

***************************************************
Some of my favorite non-mysterious
male leading characters in YA:
***************************************************
I have other habits that have changed because of reading friends.
But this was enough for one post. More soon, I promise!
What about you guys?
Have you ever had any reading habits change
because of someone else?
Also, can you think of some good examples of
MYSTERIOUS & NON-MYSTERIOUS guys
from YA/NA?
Seriously, humor me here.
It works in some stories – it does! But not every one, I tell you.
I'm totally conscious of it now where I didn't really notice it before.
That's kind of big.
I'll be back with Part Two of this discussion soon!